B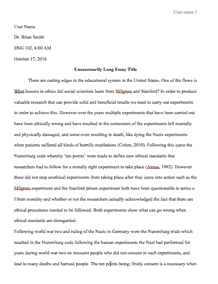 University/College: 
University of Richmond
This essay has been submitted by a student. This is not an example of the work written by our professional essay writers.
Throughout my profession in health sciences, I have tried to attain extensive knowledge in patient care, customer service, organizational skills, computer software expertise, typing, leadership, managing personnel and assets supporting evidence for assertions as well as telephone etiquette. I began my professional journey after completing my B.S in Allied Health Sciences. Since then, I have gained a lot of strengths and knowledge. My education has allowed me to use the acquired skills and knowledge on the job through course application. My greatest strengths are that I am a peoples person who is very passionate about achieving the highest working standards. I am also of the knowledge that there are areas in my profession that require opportunities for growth and improvements. These areas consist of paying more attention to details and on managing priorities.
I still have a lot to learn, but I believe I have the capacity to tackle any assignments that are assumed and assigned to me. I have had numerous opportunities to enhance my skills and increase my experience in the field of applied health sciences. I have experienced personal growth after having taken two different courses in American Government and Principles of Management. I have also had a social-religious growth as a result of completing courses in two academic areas, Religion, and English Literature. In addition, I have grown professionally through professional experiences as an Emergency Medical Technician (EMT) and a Controller in Planning and Execution. Finally, I have also been able to experience professional growth which occurred as a result of course work completed in Principles of Management and Business Ethics. What I have learned over the years and consider important in an organization is a specific mission, vision, good leadership, and goals that are outlined.
One of my greatest strengths is that I am a people person, meaning that I can work effectively with others. During my professional career, I have been able to create positive work relationships and rapport with individuals outside and within a group. My interpersonal and communication skills have helped a great deal, which has resulted in getting unspoken issues, underlying issues and facing them with minimal hostility, defensiveness and alienation from people. I proactively ensure that I build effective work relations through appreciation and respect for those with different perspectives, interpersonal styles, and backgrounds. Additionally, I am very passionate about my work, and this has fuelled by my desire to make myself better through further learning and work experiences. Organizations value and appreciate workers who are passionate about what they do because such people assume accountability and responsibility for completion of projects, and also ensure that there is an aspect of the project that is neglected. My passion in what I do has helped to accept the responsibility for both negative and positive outcomes of my projects and through this, I am able to look into my mistakes and refocus on the success of my work.
Consequently, one of the areas I need improvements on is on paying attention to details. In the line of my professional being a detail oriented person is a vital component. This is because improving in this area will motivate me to be good at everything I do, and this will leave the people I work for satisfied with my job. I have major problems in an organization my work schedules, and if I plan to open up a business, this will be vital in managing my employees and schedules. Finally, I need improvement in managing priorities. This is because my profession comes with so many responsibilities such that failure to manage them effectively will lead to work not being completed and done in an efficient manner.
In regard to this assessment of my opportunities for growth, strengths, and weaknesses, I am now able to create a development strategy based on this professional assessment. I will be determined in my educational development by obtaining a masters degree in Public Health. I also intend to attend more seminars to keep myself abreast of the technological advances and current events in my professional field to further augment my strengths. In addition, I will make an effort of sharing my experiences and knowledge that I have acquired in order to provide a positive role model for those who want to pursue this profession. I also intend to volunteer in more challenging tasks that will help me in improving on my weaknesses of being detail oriented. To manage priorities more efficiently, I intend my time wisely by allocating adequate time to each task that is undertaken.
Moreover, I plan to develop realistically and through long-range strategies and plans and use the available resources to start a home healthcare business. In conclusion, I intend to use the business to actively to try and find out areas for further learning and use this feedback to take advantage and create learning opportunities that will help in my professional and business growth. With the implementation of this business idea, I hope to acquire a sense of confidence that I can use in my business and in other external venues.
Request Removal
If you are the original author of this essay and no longer wish to have it published on the customtermpaperwriting.org website, please click below to request its removal: