B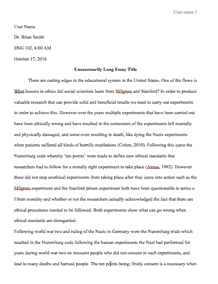 University/College: 
George Washington University
Type of paper: 
Cover letter
This essay has been submitted by a student. This is not an example of the work written by our professional essay writers.
The letter hereunder provides the general overview of my involvement in community welfare programs mainly working with children and their family members at different levels. It highlights my skills and competencies, as well as my professional experience in the same area.
I have over ten years experience working as a social worker with my current position being a support worker for a clinical commissioning group. The positions duties include helping families recovering from alcohol and drug abuse, doing alcohol and drug testing to clients, supporting the team in delivering recovery interventions, handling general administrative duties among many others. Before I took up this position in 2016, I was in self-employment as a childcare practitioner from 2010 to 2016. The tasks of the job included overseeing, organizing and maintaining a child-friendly environment for all the children under my care. I also planned, observed and kept records for all children, providing some of the files to their parents and guardians, or even using them as a reference source for my management purposes. The documents provide feedback to parents about their kid's progress as well as recommendations to ensure the efficient development of their children. Before that, I had also been as a nursery nurse and engaged myself in groups providing social care to older adults in the community.
While handling those duties, I came across several disabled children. I was able to not only offer the necessary support given to others but also ensure they get the extra care demanded by their nature. I was able to meet their extensive care needs and provided progress feedback to their parents as I did to other kids.
Given this wealth of experience around children and their caregivers, I think I have sufficient background to offer support and guidance to parents of disabled children in London Borough. I have worked one on one basis to deliver group sessions in most of my previous assignments. Over my professional experience, I have gathered sufficient knowledge about parents and children, including benefits available to children with disabilities. Other than the experience which is needed, I have also sufficient skills and knowledge regarding the same subject.
I have vast skills to help offer practical support and guidance to parents of disabled children. My leadership and time management is essential in ensuring the parents have the important figurehead to look forward to, as well as meet all responsibilities in time. In my previous work, I prepared records and consistently provided well-organized information to parents, which means my communications skills are highly efficient to meet the demands of the clients. In my previous capacity, I extensively engaged people from different walks, in various environments. I am therefore someone who is friendly as well as outgoing, something which is quite essential working with families.
I currently live in London Borough, and I am well conversant with the place since most of my job as been around the place. In addition to this information, I am a parent of an autism child. The child, other than my professional experience, has provided with extra experience on how to handle children who need special attention due to their disabilities.
With all the above information, am confidence I am well qualified to offer support and guidance to families with disabled children, as well as offer all other related duties and responsibilities.
Request Removal
If you are the original author of this essay and no longer wish to have it published on the customtermpaperwriting.org website, please click below to request its removal: