B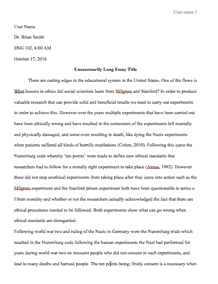 University/College: 
Harvey Mudd College
Type of paper: 
Research paper
This essay has been submitted by a student. This is not an example of the work written by our professional essay writers.
According to Grosse et al., (4) regarding per person cost, cancer remains the most expensive followed by heart attack (Grosse et al., 5). Grosse et al., (4) approximate that in the last fiscal year, cancer, and heart attack that majorly occurred in older adults accounted for over 52 percent of the United States health care expenditure. Additionally, chronic conditions that come along with other illnesses and health complications rose to over $130 billion in the year 2015 (Grosse et al., 6). The other significant health conditions including stroke, obesity, Aids, Car accidents, drugs, and work-related accidents constitute over 57 percent of the overall health care cost (Gaskin et al., 718). Continued rise of obesity amongst children below, the age of 13, expenses have increased primarily for those families without health insurance. The ten critical conditions accounted for averagely 55 percent of the country's health care spending in the year 2015. However, expenses for persons having an additional chronic disease were approximately 16 times than individuals without chronic conditions. With the advent of the Obama Care, expensive health conditions resulted in increased medical expenses with a yearly growth rate of 6.2 per annum (Grosse et al., 6).
Grosse et al., (6) indicate that the total national spending amounted to $3.2 trillion in the year 2015, with the ten most expensive diseases such as cancer, heart attack, obesity, and diabetes gobbling up over 50 percent of the amount. Figures for the aged under care for chronic complication show increased expenditures of 4.9 percent of the total spending. Hospital care constituted over 32.3 percent of the total cost for the chronic diseases with cancer alone taking up over 10 percent of the total amount. With approximately an expense of $8,400 per individual, Grosse et al., (7) argue that the above figures paint a sorry financial state for both insured and uninsured patients suffering from the above health conditions.
The situation is no better in China. Despite increased health facilities both private and public, Chinese citizens continue to incur substantial expenses for chronic illnesses mainly targeting the wealthy. China has less qualified doctors, public hospitals are no better, and many of the private health institutions are purely for profit initiatives (Hu 335). The situation has left the wealthy with the option of seeking for better health care in high-end private facilities. However, the majority of Chinese nationals are coming to accept private hospitals with the government streamlining and developing community-based clinics. With increased government funding, the Chinese health care expenses have steadily raised to slightly over 18 percent of the country's GDP in 2015 totaling $3 trillion. Hu (335) argue that cancer, heart attack, accidents, emergency care, obesity, drugs, and strokes account for the most expensive diseases to treat in the country. Despite state-run insurance schemes, patients still have to incur costs that range from drugs (over priced and over prescribed) to appointment and miscellaneous medical expenses that continue to balloon the amount per person.
However, compared with the United States, the Chinese healthcare is slightly affordable and is tailored to meet the needs of the poor. Unlike in the United States where lack of money can spell doom to a chronic health condition, Chinese health care system is slightly affordable, and with several kickbacks, a patient can receive treatment. Although Chinese health care programs and expenditure is not perfect plans to bring together the New Cooperative Medical Service and the Urban Employee Basic Medical Insurance, may reduce, and enable the poor to access expensive medical services (Hu 335). These plans have seen the insurance market grow steadily to over $35 billion catering especially for the rich with complicated medical conditions such as stroke, cancer, obesity that is most expensive and prevalent (Hu 335). For instance, home-based care for cancer patients in China incur an expense of over $1 million, an amount that is out of reach for the poor (Hu 335). Other diseases such as drug addiction, obesity, Aids, and emergency care similarly incur high costs due to specialized treatment prescribed in private health facilities.
Work Cited
Gaskin, Darrell J., and Patrick Richard. "The economic costs of pain in the United States." The Journal of Pain 13.8 (2012): 715-724.
Grosse, Scott D., et al. "The economic burden of incident venous thromboembolism in the United States: A review of estimated attributable healthcare costs." Thrombosis Research 137 (2016): 3-10.
Hu, Ruwei, et al. "Types of health care facilities and the quality of primary care: a study of characteristics and experiences of Chinese patients in Guangdong Province, China." BMC health services research 16.1 (2016): 335.
Request Removal
If you are the original author of this essay and no longer wish to have it published on the customtermpaperwriting.org website, please click below to request its removal: