B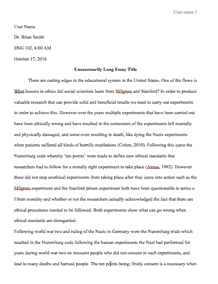 University/College: 
George Washington University
This essay has been submitted by a student. This is not an example of the work written by our professional essay writers.
English 102 has improved my knowledge of English considerably. The way I write my academic papers is different in quality when compared to how it was before the start of the course. Specifically, I have managed to reduce many of my superficial mistakes that distorted the flow of my text as well as improving the quality of research based academic papers I produce. On top of that, I have learned how to make use of academic writing styles in the correct format aside from learning how to develop proper research questions that are pertinent to my essays.
My weakness in reading and why it is important
However, I am still facing challenges when it comes to critical reading. Critical reading is an important aspect of English 102. Furthermore, it plays a significant role in my understanding of scholarly works. The key to understanding another researcher's work involves being able to develop an academic analysis of various research papers or books. An academic analysis is made possible by examining an issue and any possible contradictions to determine whether it satisfies its claims or if it fails in its argument. It is necessary for a person to have the necessary reading skills to develop a critical and satisfactory analysis of a particular topic or thesis. The lack of the requisite reading skills proves to be a challenge for me when it comes to the development of academic analysis.
Furthermore, my shortcomings with regards to reading impede my ability to understand the various research strategies as well as rhetorical techniques that have been implemented by investigators. Comprehending the various research strategies is crucial in my coursework since it gives me the chance to develop a deeper understanding of the research papers that I am using. A more in-depth understanding of various scholarly works is necessary because it permits me to develop additional questions beyond the ones that are outlined in the research papers that I am using. In the end, I gain the capacity to extend my knowledge beyond what is written on scholarly documents. This forms part of my critical analysis.
Lastly, critical reading skills are important to me because I have to understand the various or specific applications of different research or writing methodology so that I may apply the same in my future papers. Research methods are not universally acceptable.
Way forward/ possible solutions
To develop my critical reading skills, I will adopt a seven step reading strategy. The process begins with first taking a preview of the learning material. Previewing entails developing a general idea of what the document is all about. Such information can be obtained from the abstract, introduction or table of content. The point of such an analysis is to identify the content inside, its arrangement, and the rhetorical situation.
The next step involves contextualizing the documents content. Contextualizing places the meaning of the text within the parameters that its writer intended. This means coming up with a comparison for the authors intention with a current situation or a different piece of work. After contextualizing, I will move on to questioning the content. Questions are critical in the development of a deeper understanding of academic works especially those that are hard or technical. The questions will be designed to highlight the most important points within certain sections. They should be drafted in my words instead of copying from the text.
Once I have drafted questions for all critical sections of a particular text, I will move on to developing personal responses. Personal responses are designed to develop a comparative evaluation of documents claims with regards to what I know or believe.
Next, I will highlight the most important points in a rephrased manner. This step also includes summarizing the document. Highlighting the key points allows me to understand the organization of the article. A summary is a synopsis of the core objectives of a document. Highlighting provides a view the entire flow of ideas. During the process of highlighting and summarizing, I have to separate supporting text from the main points. Therefore, highlighting will show me the overall arrangement while the summary will allow me to collate the ideas in a new format.
Subsequently, I will assess the line of reasoning put forth by the writer. I will undertake this assessment so that I may determine whether the text is logically sound. When an author is developing a piece of literature, they are likely to make claims that may not be necessarily true. Thus, by assessing the text, I will be able to make an independent evaluation based on the amount of evidence provided and whether it is credible. The above steps are applicable in evaluating one document at a time. As such, the last step in my reading process would be to identify different pieces of work that address the same topic. Through this, I will find the differences or similarities that exist within the various texts and the different approaches that are available.
English 102 has been very beneficial to my academic progress. It has significantly improved the quality of academic papers that I produce. Without developing my critical reading skills, I will hamper my academic progress. I understand that I have a weakness when it comes to critical reading. I hope that by implementing the steps I have laid out, I will develop my overall skills with regards to English 102.
Request Removal
If you are the original author of this essay and no longer wish to have it published on the customtermpaperwriting.org website, please click below to request its removal: