B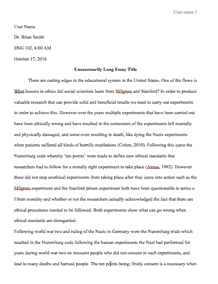 University/College: 
University of Richmond
Type of paper: 
Research paper
This essay has been submitted by a student. This is not an example of the work written by our professional essay writers.
The study was aimed at exploring the relation between alcohol consumption, before and during pregnancy, and the risk of preterm birth. Data on preterm birth; delivery before gestation week 37, were retrieved from the medical birth registry of Norway. The study was observational as it focused on variables which the researcher had no control over, by just stating observations from the conditions present in their context.
The data was retrieved from the Birth Registry. This information had been obtained through research by the institution, by offering questionnaires to pregnant mothers through a postal invitation after they signed up for routine ultrasound examinations at their local hospital. Surveys proved to be very effective considering the nature of this study. It helped reach more participants where otherwise it would have been impossible to reach using other means or taken a longer time to factor in all the responses. The method also guides the subjects to only the relevant areas of interest to the researcher. The method also supports more scientific analysis than other forms. It is also simple to construct and carry out the process of data collection. However, it has a few limitations that include; no way of determining respondents honesty, a different interpretation of research questions by various participants, and not limited to respondents being forgetful or not thinking within the full context of the situation.
The collected data is quantitative, as the information was concerned with discovering facts about a phenomenon that is preterm birth by trying to connect its association with alcohol consumption.Considering the low number of heavy drinkers in pregnancy, the data allowed us to create another category to measure the amount of intake with drinkers from the other category of drinkers or non-drinkers. This would provide more insight on whether the quantity of alcohol consumption would factor in increasing the chances for a premature birth.
The study did not, however, consider other conditions that may factor to preterm births. This would lead to a bias conclusion. The error realized would be negligible for this particular study thus does not affect the outcome of the survey.
With the type of data being examined, pregnant women best fit to constitute the main characteristics of the study. They were thus the only characteristic in the specific demographic of this study.
References
Henderson, J. Gray R, Brocklehurst P. systematics review of effects of low-moderate prenatal alcohol exposure on pregnancy outcome. BJOG 2007; 114:243-52
Jones K, Smith D. recognition of the fetal alcohol syndrome in early infancy. Lancet 1973;302(7836):999-1001
The prevention of perinatal mortality and morbidity. Report of WHO Expert Committee. Worl Health Organ Tech Rep Ser 1970;457:1-60
Saigal S, Doyle L.W. an overview of mortality and sequel of preterm birth from infancy to adulthood. Lancet 2008;371(9606):75-84
Request Removal
If you are the original author of this essay and no longer wish to have it published on the customtermpaperwriting.org website, please click below to request its removal: