B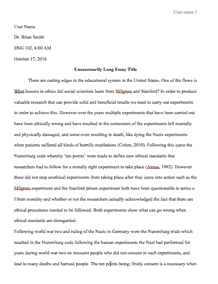 University/College: 
Sewanee University of the South
This essay has been submitted by a student. This is not an example of the work written by our professional essay writers.
To actualize my dreams, I, therefore, plan on pursuing a degree in mechanical engineering from Leipzig University in Germany. Back in high school, I headed the young engineers club a club that composed of students with interests in engineering courses. Later on, after clearing high school, I joined bladehoc motors as their social media ambassador. I am overwhelmed about my future, and I believe that the opportunity the scholarship will provide will be a life-transforming opportunity.
Once I get to the Leipzig in Germany, I will first visit the BMW plant. This will, of course, be the most golden moment of my life. That way I will at least get to know more series of vehicles that BMW makes that are not in my home country. From this interest that I have created in German cars during my school, and post-school life made a collection of my art drawing of different car designs. So I believe that during my visit to Leipzig I can talk to the design manager about my skills that I believe if enhanced through skillful training and more practice I can emerge an excellent designer.
Away from enhancing my skills I also have interests in extending the more models that are unavailable in my country of origin there. So I believe this will be the best opportunity to market my country a potential customer to BMW. I believe that the goal of every company is maximizing welfare and as for BMW setting up a subsidiary in another region would be an excellent idea.
This opportunity will also be golden to me since I have not been flown on a plane before or even used an electric train. I will be excited to crisscross different cities in Germany using their electric train. My family has seen my interest in cars and the small projects that I have successfully undertaken as bladehoc motors brand ambassador. Unfortunately, they are not in a position to raise enough money for me to study in Germany.
I believe that your opportunity stands for young brilliant but needy minds. Like this organization that believes in tapping the underlying potential in people, I would also like to be an asset to BMW for as long as I live. I believe in myself, my parents and friends also believe in me. I hope that your organization can make this happen for me through awarding me your scholarship.
Request Removal
If you are the original author of this essay and no longer wish to have it published on the customtermpaperwriting.org website, please click below to request its removal: