B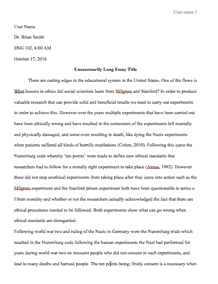 University/College: 
Harvey Mudd College
This essay has been submitted by a student. This is not an example of the work written by our professional essay writers.
State Farm Insurance is among the top companies in the US and Canada that offer insurance services as it ranks at number 41 out of 500. The company was established in 1922 and now provides more than 100 products and services with over 94,000 employees. This paper is about the strategies used by State Farm Insurance to implement, evaluate and control activities in its insurance industry. It is important for these strategies to be effective so as to minimize deviations from companies projections as intended.
State Farm insurance uses differentiation as its method of strategy implementation. The company is different from other companies like Geico and Progressive as besides having car insurance, home insurance and life insurance the company has a mutual fund that offers an opportunity for bank loan and investment. The buyers have a lot of influence as they compel the company and its competitor to compete regarding varieties of insurance packages and the price of each. State Farm has been able to retain its customer as a result of offering excellent customer service and fair prices that allow them to save up to $489 on car insurance. However, the supply power is low, and there is a threat of substitute services. State farm is also confronted by rivalry among the existing competitors (Dobbyn & French 2015).
State Farm does have an international equity fund that aims at long-term growth of capital. Anyone can invest in the international equity fund as they long they can withstand the volatility and fluctuations in the global stock. The structure of the company maximizes on strengths, knowledge, and attention to the potential foreign investors. The potential international investors ought to understand that foreign investments are associated with high risks of currency fluctuations political as well as economic policies.
With the help of governance and ethics, State Farm has been able to point out compliance risk and safeguard the company from reputational and legal destruction. The company encourages objectives to increase profits and enhance good customer service. State Farm supports consistent compliance commitment together with shared values of the company for the advantage of its agents, clients, and associates (Honka, 2014). The companys business units offer support for anti-fraud, anti-money laundering and records management. Also, State Farm provides privacy and compliance technology in its business units.
State Farm outlines its values in all the activities that involve the communities in which they operate as well as its global initiatives. The company evaluates three main aspects. Firstly, State farm is environmentally responsible as it has an internal committee that is known as the Green Tea that aims at sustainability. The organization also trusts in leadership and training of other people in environmental sustainability and leadership programs. The program aims at educating young drivers especially those in their teenage on how to make viable decisions that impact their leadership roles.
According to State Farm innovation implies working actively to improve the lives of other people. For example, the company has developed mobile Applications like car capture My Time Deposit and Home Index among others. State Farm has also developed other programs for home monitoring, connected care as well as illustrated planning tools for retirement. State Farm is highly diversified as it promotes inclusiveness, opportunities for all employees. In its market place, the company the serves clients from various lifestyles and backgrounds as it endeavors to fulfill the needs of its customers. State farm has a diversified customer base as it makes sure that all people including those with disabilities can access its digital content.
State farm however has legal restrictions regarding marketing, rate making actives, and underwriting that have been imposed by State Insurance laws in the entire industry. There are instances when such laws do not allow State Farm Insurance Company to terminate a coverage policy once it has been issued. Other restrictions are only applicable to consumers like homeowners and group health insurance. However, the company has fewer limitations that relate to commercial and business insurance.
State Farm conducts strategic control and evaluation to be able to determine whether a particular strategy is effective in attaining the goals of the organization as well undertaking corrective mechanisms whenever there is a need. The company conducts an evaluation of marketing plan to individually to assess both qualitative and quantitative metrics that are related to strategy and implementation. As such, using quantifiable metrics, State Farm can be able to identify its total sales as well as the number of customers that it has reached. Regarding qualitative factors the company, the company can be able to measure the level of satisfaction of its clients and determine if it has achieved its goal from the stage of implementation. For instance, if the company has not attained its goals, then the adjustments are made to enhance results and performance (Michalos, 2017). In State Farm Insurance Company, controls are instituted during the evaluation of results and performance. These checks generate marketing plans that provide benchmarks for analyzing how good the programs achieved its set goals. Also, the controls provide the company with something to look up to when initiating the plan. Some of the controls include market share and marketing budgets. All these controls and evaluations are important and should be operational for the success of State Farm Insurance.
References
Dobbyn, J., & French, C. (2015). Insurance law in a nutshell. West Academic.
Honka, E. (2014). Quantifying search and switching costs in the US auto insurance industry. The RAND Journal of Economics, 45(4), 847-884.
Michalos, A. C. (2017). The loyal agents argument. How Good Policies and Business Ethics Enhances Good Quality of Life: The Selected Works of Alex C. Michalos, 53.
Request Removal
If you are the original author of this essay and no longer wish to have it published on the customtermpaperwriting.org website, please click below to request its removal: