B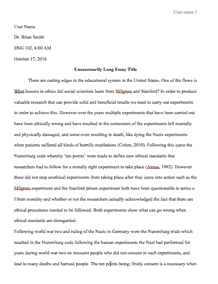 University/College: 
University of Richmond
This essay has been submitted by a student. This is not an example of the work written by our professional essay writers.
Operations management is the design, execution, and improvement of the organizations systems that convert the available resources into required goods and services. Most of the organizations invest their major financial and human resources into activities of making products or delivering services (Porter, n.d). A normal company carries out different functions as part of its operation. Every business has to divide its activities into functional categories when it is beginning even if it is formed and operated by a single person. This means that operations management is critical to the success of any organization.
Operations management has much importance which makes it an essential course to be undertaken by people who wish to run successful companies. First, manufacturing companies takes care of many processes and operations beginning from obtaining raw material to when the goods are sold. This means that a manager who should oversee this whole process should have comprehensive knowledge of what is happening in order to run the company more efficiently. Second, in a service industry manager has to understand various processes beginning with understanding the needs of a customer and acquiring the feedback from the customers. The service sector gets the feedback from the clients and then transfers the information to the manufacturing industry requesting the kind of products they want. A person with comprehensive knowledge of operations management ensures that a company offers products or services that attains the needs and demands of their customers all the time (Harvey, Heineke, & Lewis, 2016). In functional operations management, the marketing team collects and gathers information from the customers and uses it to design goods and services.
Competitive advantage is a condition that gives a firm or a nation an opportunity to produce products or services at lower cost or in a more desirable quality or fashion for customers (Amadeo, 2017). The conditions allow the producing entity to generate more superior margins or sale than its competitors. Competitive advantage is attributed to various factors such as brand, cost structure, distribution network, quality of the product, and customer support. A company can utilize various strategies to create competitive advantage. One, the firm should ensure it is the price leader by providing quality goods/services at a lower price. The company can achieve this by improving its operational efficiency continuously. Big corporations take advantage of economies of scale by buying in bulk. Second, the company should master the concept of product differentiation. This means that the firm should be able to deliver better benefits than other companies can do. A corporation can achieve differentiation by offering high-quality or unique products (Amadeo, 2017). Additionally, the company can achieve this by delivering it on time and ensuring the products reaches clients better.
Operations managers can use the ten value chain to analyze the process that takes place within a company. The ten OM supports strategies are essential tools that can help to understand how the production processes are related to one another and how variations in a single process can lead to change in the overall profit margin or revenue (The Importance of Operation Management, 2004).
Question 6
A). Labor Productivity= Total Output/Total Man-Hours (Esposito, 2017)
Labor Productivity= 160/80
=2 valves
B) The new output is 180 valves hence
Labor Productivity= 180/80
=2.25 valves
C) Percentage increase= 2.25-2= 0.25/2100= 12.5%
References
Amadeo, k. (2017). Use These 3 Harvard Business School Strategies to Beat Your Competition. The Balance. Retrieved from https://www.thebalance.com/what-is-competitive-advantage-3-strategies-that-work-3305828
Esposito, E. (2017). How to Calculate Productivity at all levels. SmartSheet.com. Retrieved 5 July 2017, from http://people.tamu.edu/~v-buenger/466/Comp_Adv_to_corp_strat.pdf
Harvey, J., Heineke, J., & Lewis, M. (2016). Editorial for Journal of Operations Management special issue on Professional Service Operations Management (PSOM). Journal of Operations Management, 42-43, 4-8. doi:10.1016/j.jom.2016.03.005
The Importance of Operation Management. (2004). In WriteWork.com. Retrieved from http://www.writework.com/essay/importance-operation-management
Porter, M. (n.d). From Competitive Advantage to Corporate Strategy. Retrieved from http://people.tamu.edu/~v-buenger/466/Comp_Adv_to_corp_strat.pdf
Request Removal
If you are the original author of this essay and no longer wish to have it published on the customtermpaperwriting.org website, please click below to request its removal: