B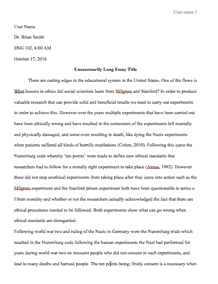 University/College: 
Middlebury College
Type of paper: 
Critical thinking
This essay has been submitted by a student. This is not an example of the work written by our professional essay writers.
Being presented with a perfect opportunity to perform a task that one desire is the superlative sign that you have the ideal career. In my life, I have always envisioned working in an organization where my knowledge and expertise are fully exhausted. Similarly, it has been my intention to pursue a career in a human service field where I can copiously apply my vast leadership skills and save many helpless lives. One of the most cherished accomplishments of my life is joining an institution to pursue Human Service Leadership, and when the time comes for graduation, I will be more than willing to go and seek for opportunities to transform my knowledge acquired into a practical framework with and aim of changing the lives of many individuals.
It is a dream of every human to realize his ambitions and even go further to attain the highest level (Mary, 2005). I am not excluded in this notion, and I aim to attain further education and gain more experience in the field of Human Service leadership. To do this, I would also like to pursue a course in Leadership and Management. This will aid in achieving my career. Upon my graduation, I intend to team up with the World Health Organization (WHO) as an intern in the less developed country to assist in their mission of offering services to the less privileged. I intend to join their task force as a leader who would facilitate the training and empower the less fortunate achieve their potential. I believe this will help me gain the required experiences to secure a stable and permanent job.
Further, to grow my career base, I will register for a master degree in health service within a year and a half upon my graduation, during which I will be doing a part-time job at a nearby health center. This is because I believe knowledge in Human Service Leadership as well as in the field of health services would make me a person who is all rounded in offering leadership in the field of health and care (Hasenfeld, 2015). I would be contented once I am appointed as the CEO of a prestigious health center- that is my career goal. Attaining highest education level, adequate training and the required experience is the ladder in accomplishing this goal.
Sometimes one may be torn between working and engaging in a leisure activity. In my opinion, too much work without rest is detrimental to health. According to occupational therapy, too much work without pleasure time perhaps could affect our health (Sosna, 2014). Ones health can be improved with the incorporation of meaningful activities which are pleasurable and that work and leisure are balanced appropriately. I get motivated when I get good rest from the bustle of the work environment. Balancing work and leisure time sometimes is a challenge. I find pleasure in working out at the gym or taking an evening run. I believe one should not go to the gym at his free time but rather create the time for the gym.
During the end of the year, I will be taking time off work to delve into some activities that interest me. Leisure makes one to establish a balanced perspective as well as develop a positive attitude to life. The primary way to balance work and leisure prioritizing the tasks at hand so that they are completed promptly. Further, planning ahead gives us great satisfaction. It will enable me to know when I need to take off and the periods I need to be at my workstation. As an emphasis, I will create time for gym and also travel with family and friends as I find it fulfilling to get to know new places.
References
Mary, N. (2005). Transformational Leadership in Human Service Organizations. Administration in Social Work, 29(2), 105-118. http://dx.doi.org/10.1300/j147v29n02_07
Hasenfeld, Y. (2015). What Exactly Is Human Services Management? Human Service Organizations Management, Leadership & Governance, 39(1), 1-5. http://dx.doi.org/10.1080/23303131.2015.1007773
Sosna, E. (2014). Your Life Plan: How to Set Yourself on the Right Path and Take Charge of Your Life. Chichester, West Sussex, UK: Capstone.
Request Removal
If you are the original author of this essay and no longer wish to have it published on the customtermpaperwriting.org website, please click below to request its removal: