B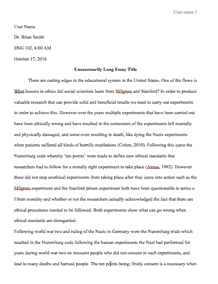 University/College: 
Wesleyan University
Type of paper: 
Personal statement
This essay has been submitted by a student. This is not an example of the work written by our professional essay writers.
Knowledge is key in any profession particularly when one wants to become among the best in the profession. I find it important to make use of any education opportunity on being well acquainted with my profession and to use the best academic facilities such as Manchester University. Taking part in a masters program in Human Resource Management and Industrial Relations at Manchester University is a great honor.
After an extensive research on a suitable university for pursuing my course, I find Manchester University as the most suitable institution. The university is in a city which is integrated by elegance and modernism. Since Foundation year, I have lived in Manchester for more than three years, and hence I am used to living in this inclusive city. The advanced facilities and good academic atmosphere provided by the institution highly impact my academic progress. The university also has a high comprehensive capacity and an academic ranking from a global perspective in addition to its students experiencing a high employment rate and satisfaction with their academic environment. Therefore, Manchester University is my number one choice.
From my academic experience, I am suitable for engaging in a masters program in Human Resource Management and Industrial Relations. During my undergraduate studies, I studied several courses that are related to human resource such as Analyzing organization and social diversity & employment for which I received excellent scores. I took part in an international academic conference and an international symposium that covered significant topics in management. The conference included the International Association for Chinese Management Research (IAMCR) which was held in June 2016 at Zhejiang University. The title of the conference was Culture and Chinese Management. The symposium was the Ninth International Symposium on Multinational Business Management held in June 2017 at the School of Business, Nanjing University. Its subject was Entrepreneurship, Organizational Change and Employment Relation Management. I learned a lot, from both forums, on the relevance of effective human resource management for any institution.
One of the reasons for selecting the course is the influence of my family. My mother is a professor and a Ph.D. supervisor in the area of Management. Her commitment to her career increased my interest in social sciences since my childhood. Growing up, I was also taught on the need for having adequate communication skills and being open-minded when interacting with people. Therefore, my interest in the field has been developed since childhood. When in both primary and secondary schools, I acted as class monitor which I believe contributed highly to my ability to organize and lead individuals. The course also touches on interesting and relevant areas such as Employment Relation, Organizational Behavior and Human Resource Management which I believe will be important when operating in an actual work environment.
I believe that the degree will not only provide me with an academic diploma but also an academic experience which I perceive will equip me with essential skills. The involved units will also add to my professional resume. My career plan is to head back to China and hopefully work in one of the prominent institutions as an HR manager.
The practical work that I have enjoyed is during my internship in an HR department. The experience enabled me to learn a lot on how to handle human resource and to ensure that the goals of a company are achieved. The experience also developed my social skills which assist me whenever I am in a social setting; either formal or informal.
For my interpersonal skills, I believe that I am patient, a good listener, a good leader, in addition to being able to exercise self-control. I also have adequate communication skills which can be attributed to my social life whereby I have plenty of friends. For my practical skills, I am proficient in IT, particularly when dealing with office software and video/audio editing software such as Corel Video Studio, Sony Vegas, Adobe Premiere and Adobe Audition.
From a personal viewpoint, I believe that I need to sharpen my academic prowess in human resource management. I view a masters program in Human Resource Management and Industrial Relations at Manchester University as an opportunity for professional development. Hopefully, I will be able to engage in research studies that would contribute greatly to human resource management.
Request Removal
If you are the original author of this essay and no longer wish to have it published on the customtermpaperwriting.org website, please click below to request its removal: