B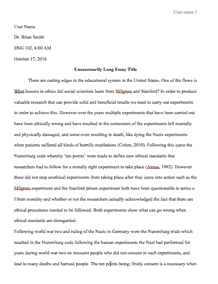 University/College: 
Boston College
Type of paper: 
Critical thinking
This essay has been submitted by a student. This is not an example of the work written by our professional essay writers.
Looking back at what I have experienced makes me feel I have become an industrious man with time. I have always nurtured the art of self-discipline, utmost respect to humanity as well as self-actualization. My conscious is clear, and I firmly believe in my values as well as interests to drive me towards attaining my long-term as well as short-term goals.
Firstly, as a quick recap, it is important to exemplify my values and interests as an individual. My professional values and personal values act as the basis for determining what rational or irrational decision is, and this reflects in my daily actions. My life has been influenced by my siblings, mother as well as educators who play key roles in shaping my core values. These values are particularly inclusive of, courage, high integrity, progressive excellence, services delivery to humanity, responsibility, and attitude. These values have in several ways been able to illustrate certain elements of rule-based, virtue-based and the ultimate-based aspect to achieving and ensuring that my actions are in line with my values and interests.
As I grew up, my mother shaped my general outlook on life. She has always been a very integral part of my interests. She has always shown commitment towards encouraging me to be a good leader in all that I do. A leader to myself as well as to my peers. Another group of individuals that have contributed to shaping my world view is my work colleagues. I have to attest that this is a group of talented people that are always full of positive energy. They with respect encourage me to stay focused in what I do that directly affects my personal life as well as professional goals.
What is important to me in life is living a fulfilling life of supporting others in the society. I have always believed in guiding people to attain their goals in life. I have particularly been fascinated about Human Service Leadership which also happens to be my major. I mean, it feels sometimes relieving to sit and ponder on how one has put much input in offering a leadership role for someone who needs it. But again it sometimes gets to bother me that I cannot be there for each and every person that needs me, and for this reason, I usually urge my peers to focus on making the world a better place for each and everyone to live.
My philosophy about the balance of work and leisure is that I believe it is the role of work to offer a means to achieve fulfillment in leisure activities. This is simple; I firmly believe that when one works hard, he or she needs to set aside a considerable time for leisure to reminisce and reflect on the outcome of the hard work. In this regards, one has to establish a clear framework that serves to prioritize issues. There is an immediate need to identify the career requirements that are demanding and setting targets in such initiative (Schoenfeld, 2000). Moreover, there is also need to prioritize leisure activities that improve full body stamina and general health. It is through work that one should find a reason to set aside leisure time.
Upon my graduation, I aspire to be a great leader in the human service field where I can continue in the development of my leadership skills and widen the scope of my understanding of Human Service Leadership field. Additionally, I aspire to establish an organization that would offer exemplary leadership services to various organizations. This is a noble course as I believe the world needs an avenue to acquire iconic leaders who can be emulated as role models in different spheres of life and professional development.
In my opinion, success is defined as the ultimate fulfillment of a person that leads to ones happiness. Success and happiness are highly subjective, and they are simply interlinked. For some individuals believe that their happiest moments are when they possess luxury items. It is, however, not a proper measure of success as it is not unanimously agreed on. To some, being with family defines their happiness, and this lot family determines their success. Also, health can be a measure of success. When a child is sick in a family, for instance, parents usually get the bad feeling when they see the young one struggle with health. It causes the parents to be sad. For this reason, people hold health services to be crucial in life (Hasenfeld, 2015). They prolong life and make people feel successful in life. Also, my definition of success is also based on the aspect of overcoming setbacks. As a leader, I believe in the transformational leadership where one has to work with other people to attain a goal collectively (Mary, 2005). This can be so helpful in overcoming barriers together and in the end, it makes everyone feel successful.
Summarily, I have made a decision to focus on personal goals as well as professional standards. I have made a decision to become a transformational leader who will not only facilitate the transformation of organizations state but also impact positively the lives of those that I interact with. For this reason, I put focus on improving my key values from time to time and that I will at all times put a special focus on improving on courage, high integrity, progressive excellence, services delivery to humanity, responsibility, and promotion of positive attitude as so it is important that I honor my obligations both at personal and professional levels.
References
Mary, N. (2005). Transformational Leadership in Human Service Organizations. Administration in Social Work, 29(2), 105-118. http://dx.doi.org/10.1300/j147v29n02_07
Hasenfeld, Y. (2015). What Exactly Is Human Services Management? Human Service Organizations Management, Leadership & Governance, 39(1), 1-5. http://dx.doi.org/10.1080/23303131.2015.1007773
Schoenfeld, C. (2000). A Tradition of Leadership at the University of Wisconsin. Change: The Magazine of Higher Learning, 15(10), 34-43. http://dx.doi.org/10.1080/00091383.1981.10569819
Request Removal
If you are the original author of this essay and no longer wish to have it published on the customtermpaperwriting.org website, please click below to request its removal: