B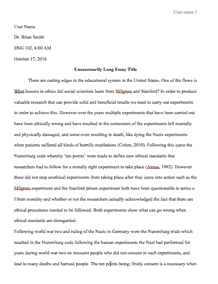 University/College: 
Vanderbilt University
This essay has been submitted by a student. This is not an example of the work written by our professional essay writers.
The primary reason for attending school was to improve my life. Earning a college degree is one of the proudest accomplishment of my life. Attending college open doors broaden career options and opportunities for professional and individual growth, which cannot be got anywhere else (Chambliss, 2014). Aware of the rigors graduate study, I have completed an undergraduate degree that has equipped me with the quality of education to achieve my goals. I got experience, expanded my vision, experienced new areas of interest; develop networking connections and new friends, accomplished new goals that define me in ways that I cannot imagine. Besides, going back for my Masters excites me because education has remained part of my life. I believe I am an excellent candidate for reinstatement-I do not go into the application half-heartedly-because this has been my fanatical objective for over a year. Enrolled at a local community college, I experienced a different world: excited by such a new encouraging environment, I excelled academically. I believed that if I worked hard, I would be successful; I possess the ability to take advantage of each opportunity if I want something badly enough. I believe that my success is because I approached my studies as a professional and worked with most professors as one of the best qualified in my areas of interest. Whenever I settled for a B+ or A-, I would consult and ask what I could do to improve-Ultimately, I used the advice I received to improve and strengthen my work. I see my commitment to education and life experiences as an asset to achieve my goals and shape my future. I believe I have determination and tools that will allow me to excel and succeed in any challenging and stimulating environment. I feel I am ready to perform in my master program academically, financially and mentally because I have honed necessary skills to excel.
My high self-esteem and the desire to meet my goals enabled me to achieve academic success. However, I had a difficult time and unforeseen problems that led to a lack of satisfactory academic progress. I do not to put the blame on anyone, but I would like to explain the circumstances. After one year of study, my family informed me they would not be able to pay for my tuition. I tried to balance the full course load while I work part time and still participate in extracurricular activities. My father was the main breadwinner, but when he lost his job, there was no enough money to pay for all the expenses and provide for a four-member. My mother barely made enough even to support my tuition. Although I attended college full-time, I worked part time to assist or take some burden off my fathers shoulder and pay for my expenses like MetroCards, food, and books. There were many instances when I had to choose between going to work and studying because I needed money. This was extremely challenging since I was struggling to make ends meet with the few bucks. During some semesters, I became a part-time student because of the financial burden. This means taking more time to graduate, and it is still the same cost of a full-time student. After some few months, my father, despite the help from my mother and my part-time job, could not afford to pay for bills. We had to move to Odessa, Texas because it offered affordable housing options. It is hard to settle in new environment-joining organizations, finding a new church, making new friends, and taking leadership roles. The move was tough on the family. I was upset and stressed up; still, my performance did not hit the floor. During this time of financial burden, my father became ill, I had to drive home some weeknights and every weekend to care for my dad and my little sister and help with household duties. My mother was not available to care for the family because his job was so demanding. The long driving hours and household duties at home cut into my study time. Even while at school, I was very disturbed and distracted with my fathers illness and was not able to focus on my education.
As I reflect on my weaknesses and strengths, my greatest weaknesses have become my biggest strengths (Covey, 2014). Struggling to stay afloat due to financial burdens should not be a struggle that college students should face. A change and a comprehensive approach should be considered to assist students in paying for tuition; this should be all right and not a privilege (Sheffield, 2016). I currently have my associates whom I am very proud of because they have helped my journey to achieve my degree. I have already applied for financial assistance through the Tuition Assistance program (TAP) and Pell Grant, which will be extremely helpful. The university also has programs that assist students with their daily expenditures such as SEEK and ASAP. During my degree program, I was not informed about such programs. I have consulted the financial aid office, and they confirmed that I am eligible for the program if I am reinstated. Such financial assistance will help me focus more on my studies and less on working to pay for my daily expenses. This will make a big difference in my life. Fortunately, my dad recovered and got a better work, so I do not need to travel, work part time, and travel home as often. I have come to love Odessa and its people who are very friendly. I have made more acquaintances and life in this town has brought hope to my family, because, unlike before, life has become smooth and more blessings and doors continue to open. My mother got a better job that is not so demanding and she will now have enough time to care for the family. My family is no longer stressed up or upset because my father is financially stable and able to pay bills. I have learned to manage time, and I have become a more organized person due to the lower stressed levels. My organization skills have improved significantly. I am more confident and goal oriented. Although stress is part of life and may happen in both my personal life and career, having high integrity level and strong values is important to me. I would be proud to be part of the University if I am reinstated. I am looking forward to the rest of my University experience, and to the working world beyond.
References
Chambliss, D. F. (2014). How college works. Harvard University Press, Massachusetts.
Covey, S. R. (2014). The 7 habits of highly effective families. St. Martin's Press, New York City.
Sheffield, J. T. (2016). The Quality of Life and the Financial Burden of Living on Campus versus Living Off Campus at The University of West Alabama: A Cost versus Benefit Analysis of Renovating Selden Hall (Doctoral dissertation, The University of West Alabama).
Request Removal
If you are the original author of this essay and no longer wish to have it published on the customtermpaperwriting.org website, please click below to request its removal: