B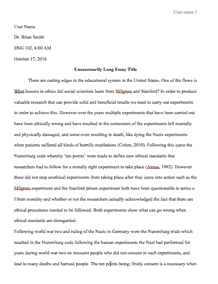 University/College: 
Vanderbilt University
Type of paper: 
Research paper
This essay has been submitted by a student. This is not an example of the work written by our professional essay writers.
Early financial literacy education at home and in secondary schools is the best option in this case. Fundamentally, the effects of financial literacy education in high schools have been proven to continue to influence the attitudes and behaviors towards money management for students. It is important to recognise that that earlier financial literacy as a solution to management of money by the college students prepares students to take charge of their financial responsibilities in future. As young adults who learn to love independently, they will be able to know about the ways of budgeting and making wise financial choices everywhere they live (Arthur, 2012). Additionally, this solution helps them to effectively manage any possible risks that may come their ways, such as the unmanageable debt while in college. Finally, financial literacy education is the only solution among the ones described which allows and equips students with the knowledge, skills, and confidence to, take charge of their lives and build a more safe future for themselves and their lives (Mandell& Klein, 2009).
Part of the unsolved problem
According to Fernandes, Lynch Jr& Netemeyer (2014), early financial literacy helps to solve the problem of poor money management among the college students. However, there are several challenges associated with this method such as the reluctance of parents to talk to their children about issues regarding financial matters. Most of the college students find themselves in an unnecessary and preventable disadvantage. As parents and schools try to prepare young men and women for the rigors of adult life, they appear to, be unintentionally neglecting one of the most significant impacts on it(Arthur, 2012). Even at the presence of this challenge, early financial literacy is still considered the best solution because it is not only taught by parents, but also in high schools. In this way, it continues to influence the attitudes and behaviors towards money management for students
Putting the best solution into operation
Major difficulties to be faced
Limited Students motivation
While it is evident that earlier financial literacy education may succeed in high schools, students may demonstrate lack of motivation towards such knowledge acquisition. Motivation is primary factors that influence the ability to learn. In this sense therefore, lack of motivation on the part of the students my slow down and affect the overall process of financial literacy education.
Limited preparation on the part of teachers
Insufficient preparation on the part of the teachers, especially in regard to being well-equipped with the required resources and materials may pose a great challenge to the implementation of this solution.
Possible ways of overcoming difficulties
Provision of support and incentives to teachers
Notably, the teachers should be well supported and incentivised to develop their confidence and expertise. This means that the financial education should be promoted as a process to build values and support the informed everyday life decisions. In addition, teachers should be provided with the available and relevant training.
Improving awareness among the students
Improvement of the awareness regarding the significance of financial literacy education plays a crucial role in students motivation.
Best way to overcome difficulties
The best way to overcome the challenges that exist when putting the solution into operation is to instill a motivation to students through encouraging the programs that increase awareness (Lusardi & Mitchell, 2014). When motivated, students will be able to learn about appropriate techniques that help them to effectively manage any possible risks that may come with their ways, such as the unmanageable debt while in college.
References
Arthur, C. (2012). Financial literacy education.In Financial Literacy Education (pp. 1-12).SensePublishers.
Fernandes, D., Lynch Jr, J. G., & Netemeyer, R. G. (2014).Financial literacy, financial education, and downstream financial behaviors.Management Science, 60(8), 1861-1883.
Lusardi, A., & Mitchell, O. S. (2014). The economic importance of financial literacy: Theory and evidence. Journal of Economic Literature, 52(1), 5-44.
Mandell, L., & Klein, L. S. (2009). The impact of financial literacy education on subsequent financial behavior
Request Removal
If you are the original author of this essay and no longer wish to have it published on the customtermpaperwriting.org website, please click below to request its removal: