B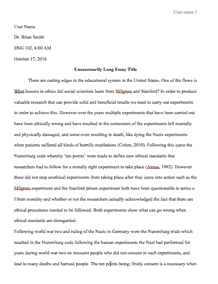 University/College: 
University of California, Santa Barbara
This essay has been submitted by a student. This is not an example of the work written by our professional essay writers.
Pursuing Occupational Therapy Assistant program (OTA) in Harcum College is a combination of achieving a childhood dream and being on the right path towards realizing my academic and career goals. My choice of your highly-esteemed college is informed by several reasons. First, I am interested in joining Harcum because of its excellent reputation for producing top-notch graduates, who excel in their various fields. I am also drawn to the program due to its high graduation rates and high pass rates on licensure exams. Consequently, I firmly believe an opportunity to pursue the program in your college will help me accomplish my academic goals on time.
I am also very eager to join your school due to its excellent student-faculty ratio, which allows each student to get more personal instruction. I believe that the opportunity to get in close contact with the lecturers will be critical in enhancing the understanding of concepts taught, hence enabling me to achieve high grades in the prospective exams. Moreover, the accreditation of Harcums OTA program by American Occupational Therapy Association (AOTA) and the college himself means that the program meets the standards of educational quality agreed upon by members of the accrediting body. Therefore, the chance to pursue my dream course in your college will give me an edge in the job market. Furthermore, I am fascinated by the fact that the OTA program has over 600 hours of fieldwork education and blended learning methods, which increases access and flexibility of learning.
My strong professional background in healthcare makes me the best candidate for this program. Specifically, I have been a licensed nurse (LPN) since 2001 where I have worked in numerous nursing and rehabilitation facilities as a travel nurse and agency nurse. The opportunity enhanced my knowledge and skills in geriatrics and pediatrics. It also gave me a firsthand opportunity to observe occupational therapy in action as well as work closely with Occupational Therapists in providing care to the patients. While working with Occupational therapists, I was enthused by the way they help patients achieve functional independence after injuries and illnesses. Additionally, I gained invaluable interpersonal skills which are essential for a successful career in Occupational Therapy. Specifically, I learned that patience is important in treading through these everyday situations such as in handling frustrated or stubborn patients. I also appreciated the need to develop excellent communication skills, exceptional problem-solving abilities, and good organizational skills in order to develop a good-quality therapeutic relationship with patients and provide good care.
The need to pursue the program is also motivated by the need to pursue a new career path. As an aspiring Occupational Therapy Assistant, I am looking forward to every day, help the older adults live independently. Lastly, Harcums OTA programs philosophy is congruent with my personal goals of achieving self-awareness and self-actualization, making it the perfect college that will help me achieve my goals and open new doors for me.
In conclusion, I would like to kindly request for a chance to pursue OTA and further my academic and career ambitions. The knowledge, competence, and skills acquired in the program will be of great help in changing lives in the society. It would be a privilege and a proud achievement to say I graduated from Harcum College-The College of possibilities.
Request Removal
If you are the original author of this essay and no longer wish to have it published on the customtermpaperwriting.org website, please click below to request its removal: