B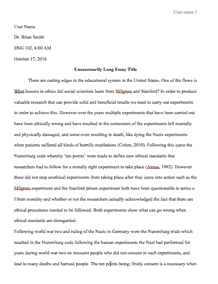 University/College: 
Vanderbilt University
Type of paper: 
Research paper
This essay has been submitted by a student. This is not an example of the work written by our professional essay writers.
Health social workers are medical professionals in the medical professions that help in helping people to meet emotional, financial and social needs in the society, they are the people that are found in the areas where there is delivery of health services to ensure that populations remain healthy and that there is proper management and prevention of diseases. Health social workers can serve in various capacities ranging from managers, patient navigators and therapists to tackle the various conditions that patients face. A majority of health social workers carry out their duties in health institutions while there are others that work in outpatient health centers. It is the health social worker that are responsible for discharging patients, handling new admissions, and highlight issues that health professionals should handle. Moreover, they are the people that help patients to locate services in their communities thereby making them to work both day and night for the improvement of health conditions in the community.
There are distinct duties of health social workers as they may be required to handle a variety of health problems for patients, and they also have the freedom to choose their career paths which call on them to weight risks and benefits of different options as regards to the medical practice. Additionally, they are the people whose professions require to write advance directives or to make end of life planning in the course of their medical practice. They are also required to make coordination between care for patients that are expected to require a continuum of services. In the cases when children require complex services, it is the health social workers that work with the whole family to achieve proper medical care. Moreover, they are also the people that carry out both regular routines in hospitals as well at attending to emergency cases, this makes their jobs to involve various services among them being counselling or therapy. The medical social workers who are permanently situated in health institutions can both treat and diagnose psychological conditions. With regards to their education, the medical social workers should have a masters although there are options within the broad spectrum of health social workers where other academic qualifications are required.
What Health Social Workers Do
There are various roles of health social workers in the modern society, and they help in boosting the provision of healthcare in various medical settings; this calls for the society to acknowledge and appreciate the work they do on a daily basis. The area of service of the health social workers is wide, and it involves various activities where they help patients to navigate the world of healthcare in the latters quest to acquire proper medical care (Behnke, Smith, & Committee on Substance Abuse, 2015). Some of the duties that the health social workers do are to assist patients in getting medical care, help them in paying for the services and recover from illnesses and injury. In this context, the health social workers offer advice to patients, the act as an advocate to the patients and air out their challenges to the relevant physicians and refer them to the right medical facilities or programs. In this manner, the health social workers ensure that patients get the right form of treatments and that their health conditions improve for the better (Abuse, 2015).
In the process of providing services to patients, the first activity that the health social workers do is to assess patients to know their needs. During the assessment, the health social workers interview the patients, their families and their doctors (Galanter, Kleber, & Brady, 2014). The assessment procedure enables the social workers to know the needs of the patients and how the same can be met to improve their health conditions. The other function of the health social workers is to coordinate services about the provision of healthcare to ensure that quality of services remains topnotch. In the process of coordination of services, the health social workers carry out duties such as practicing home healthcare, renting medical equipment, providing transportation to facilitate follow-up activities of doctor visits among other related activities. Such activities ensure that physicians duties are carried out easily and that there is improved efficiency during service provision (Abuse, 2013).
Furthermore, the health social workers help patients to get admitted to either the inpatient or the outpatient services to facilitate the provision of healthcare services. Related duties to the same include assisting the patients to find ways of getting sources of funding, filling out the necessary paperwork and finding the necessary support resources to the families of the patients (World Health Organization, 2014). Also, health social workers help parents and guardians of toddlers with the right education classes on issues such as childcare to enlighten patients and children on how to take care of their health conditions. In this manner, they advise the parents and guardians on how to manage Alzheimers disease, how to live with cancer and HIV. The health social workers are concerned about the health conditions of other patients in addition to their mental health (Lampert, Kaye, Urman, & Manchikanti, 2015). In some cases, they provide the right advice on healthcare policy, services, and legislative issues in the society and health institutions in this manner.
To ensure that patients are treated in the right manner and that they take part in the process of their treatments, the health social workers usually carry out sensitization of the patients on their rights (Behnke, Smith, & Committee on Substance Abuse, 2015). In this regard, the health social workers carry out various duties among them being the sensitization of patients on their right to be treated and with dignity, their rights to make decisions on their healthcare, and the rights of the patients to choose their doctors in whom they believe to give the right medical care. Other rights of patients in which the health social workers deal are such as the right to ask questions and expect a satisfactory answer and delivered in terms and language which they can easily understand, and the right to be free of abuse, exploitation, and neglect from any worker or patient in the health facilities. Finally, patients are entitled to the right to know the costs of treatments before they go through any medical procedure, the right to have access to their medical information, and the right to have emergency medical treatment regardless of their ability to pay (Abuse, 2015). It is the work of health social workers to enlighten patients on their rights and ensure that they enjoy their rights.
Health social workers deal with various people in the health institutions, among them, being doctors, nurses, patients and the patients of the families to ensure that anyone who needs help finds it at the right time (Galanter, Kleber, & Brady, 2014). To ensure that they carry out their functions in the right manner and effectively, health social workers need to acquire special skills that would help them to be more effective and efficient while discharging their duties. Some of the skills include listening skills, critical thinking, patience, organization and creating solutions to complex problems. The main duty of the health social workers is to help people that do not know where to find help when seeking a medical assistance in health institutions. Due to the nature of the jobs of the health social workers, their duties might be concentrated out of the offices but in the wards to visit patients (Abuse, 2013). They can work in various settings among them being hospitals, clinics, mental health facilities, nursing homes, among other health care settings.
There are other duties of a medical social worker, and some of them are such as they collaborate with other professionals in the healthcare settings to evaluate medical and physical condition of patients and identify the needs of the clients (Lampert, Kaye, Urman, & Manchikanti, 2015). By knowing the needs of clients, they get to plan treatments to which clients should be induced for proper recovery. When it comes to crises, health social workers play a critical role in that they advocate for patients to resolve crises where they intervene in situations to make sure that they assist clients. Moreover, health social workers assist the mentally challenged patients by referring them to the community resources which assist them to recover from both mental and physical illnesses and provide them with services such as legal aid, financial assistance, job placement, housing and education (World Health Organization, 2014). The social workers also refer patients to both educational and work programs in addition to community and social service programs.
There are also cases where health social workers carry out an investigations such as child abuse or neglect and they refer such matters for authorized protective action as necessary. The social workers also carry out investigation of social issues to create solutions to the social challenges in the society (Galanter, Kleber, & Brady, 2014). When it comes to managing stress, the heath social workers counsel patients both in individual and group sessions to help them recover from the dependencies, illnesses and adjust to various health conditions. In this relation, they also help patients that suffer from substance abuse by counseling them to help them recover faster. Furthermore, the social workers also help in developing and advising on social policy and aid in community development on matters of social and educational issues (Behnke, Smith, & Committee on Substance Abuse, 2015). Finally, they conduct research works to progress knowledge on the social work field, this helps in expanding knowledge on social issues.
Health Social Workers
Health social workers are people in health facilities that perform psychotherapy and diagnosis of mental illness to help in controlling the health challenges (Galanter, Kleber, & Brady, 2014). Secondly, they are the people that offer to counsel patients and carry out activities outlined in the treatment plans. In this manner, they assess new clients, identify areas of concern, and development of treatment plans in agreement with the needs of clients. On the occasions when social workers work in outpatient centers of substance abuse, the health social workers check voicemails and emails to check for any urgent matters to handle to ascertain that all activities in health institutions run smoothly. Health social workers also deal with a school-age youth where they carry out case management, billing, and related documentation, calling parents and court officers, and other parties that are interested in the welfare of the youth (World Health Organization, 2014).
Social workers might work with the parents separately or might together with the youth in handling mental, health and societal issues (Behnke, Smith, & Committee on Substance Abuse, 2013). In this case, working separately with the parents call for the social workers to assess familial aspects that might be playing a role in the increase of cases of disease and other health issues in the society. The health social workers are the people that reinforce changes that parents attempt to make in a childs environment. Some of the roles for the social workers include providing group therapy which makes all participants work towards a mutually identified goal. However, there usually arise cases where the social workers deal with emergency cases among them being suicidal ideation, cases of overdose which might be either intentional or accidental, runaway and other behavioral challeng...
Request Removal
If you are the original author of this essay and no longer wish to have it published on the customtermpaperwriting.org website, please click below to request its removal: