B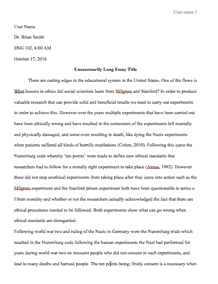 University/College: 
Sewanee University of the South
This essay has been submitted by a student. This is not an example of the work written by our professional essay writers.
I taught Ms. Zuhal Jami Transportation Engineering and Geo-Technical Engineering coursework at Kabul University Engineering Faculty. I have known her for the past five years, and during this period, I have found her to be a diligent and hardworking student who is always curious to learn more about engineering. Her diligence and hard work consequently put her among the top three students in her class of thirty-two students.
There is a natural inclination to engineering in Ms. Zuhal Jami that made her excel in all her coursework studies, and this made her engineering core very strong. Her extreme inquisitive interest in engineering completely distinguishes her from her peers and other students who topped in our department. Regardless of her gender, she managed to set an excellent example for her classmates and other engineering students. Ms. Zuhal is not only a topper, but she is also a person who gives priority to learning and education for all. Incidentally, when she worked as an intern at USAID (United States Agency for International Development), she prepared a GIS Workshop for civil engineering students at Kabul University and put in a lot of effort to ensure that the workshop received USAID funds.
Additionally, as my student, I observed that she always looked for more ways to learn. She looked for resources beyond those at Kabul Engineering Faculty to study Transportation Engineering and Geo-Technical coursework. She was also the only student in her class who reached out to commercial laboratories and requested them to allow her team to be present during the soil testing period, and she even asked the laboratory crew to teach her team the novel and recent methods that test engineering materials.
One of her unique characteristics is that she bases engineering on both engineering fundamentals and empathy. She is kindhearted and uses her skills as an engineer to convey humanity by assisting different people. This has, in turn, ensured that people who interact with her understand the positive impact that engineering has on the society.
I believe that Ms. Zuhal Jami will be an excellent addition to your institution and that the engineering world will advance because of individuals like her who serve the true purpose of engineering. She also has an impressive ability to turn visions into reality.
During my acquaintance with Ms. Zuhal, I have observed that she is very creative and disciplined. She also deeply cares about other people as depicted in the manner in which she strived to assist her fellow students in her class and the community, and she is an excellent time manager. It is because of these qualities that I strongly recommend her for the graduate program at your highly esteemed university. Please feel free to contact me for any clarification.
Sincerely,
[Recommenders name]
[Title]
Request Removal
If you are the original author of this essay and no longer wish to have it published on the customtermpaperwriting.org website, please click below to request its removal: