B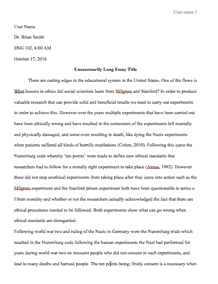 University/College: 
University of Richmond
This essay has been submitted by a student. This is not an example of the work written by our professional essay writers.
As a teacher, I will devote ample time in developing the relationships within the classroom to increase and recognize diversity and exceptional learners needs in my class. as a teacher, I will prioritize the task of understanding every student learning abilities since different students have different learning abilities or styles that are highly influenced by deeply rooted cultures ingrained to a student by their respective families or natural diversities like children with dyslexia and other learning disabilities. It is with great excitement that I look forward to refining my lesson plans to effectively reflect such diversity and uncover methods that provide every student opportunity to improve their knowledge and understanding of challenging concepts in the classroom. I believe it is crucial for a teacher to understand factors influencing different students' academic abilities based family, cultural background, past experience and community influence. Diversity is more of acceptance of the various minds within a classroom and recognizes thoughts and experiences of others collectively between teachers and students and between themselves. I will anticipate discussion and conversations about race, ethnicity or hate speech among students and will be in a position to offer effective responses in a bid to create a classroom experience that can provide an opportunity for every student to thrive and succeed in addition to being in a position to confront challenges that the might encounter.
First, I will identify and embrace the similarities and differences among students cultures and learning abilities in a positive manner. Such a strategy will create a basis for the development of effective communication and instructional strategies in my lesson plans that will model social skills such as respect and cross-cultural understanding. This will reinforce instructional strategies that reinforce multicultural, cross-cultural and intercultural interactions. Mainly students with the community participation, which will feature peace education experiential activities, culture and outdoor education among other diversity activities, will inform such interactions of games and activities.
The second step is to conduct a strength and weakness analysis on every student in an effort to determine their vulnerability and develop effective plans to help in their learning activities. This call for the involvement of their guardians to interpreted cultural or special needs for specific learners which will further my understanding of each child's personality and demeanor. My interactions with the students and their parents or guardians will help me to create a comfortable and effective environment, which will help me further understand the learner's attitude and interaction patterns that may affect their learning capabilities. On a personal level, I will effectively educate myself on topics on cultural and traditional practices to effectively interpret motivations values and attitudes that I may encounter among students. This will effectively eliminate instances that cultural ignorance or utterances may arise in a classroom environment.
Once in the classroom, I will seek to use more collaborative and interactive approach to teaching to develop new knowledge within a students previous knowledge which Spector (2016) referred to as cognitive learning. First, I will build relationships with and with students and specifically teach each student to match their behavior to each setting. For example, a discussion on differences between formal and informal settings such as family, school or community setting context will ensure that they switch to appropriate behavior within each context. Like in a scenario where a Native American makes an immigration and insensitive response in a class of African American, Mexican students my reaction will to first disagree with the rhetoric without coming off as an angry teacher. Later I will rephrase such comments to an acceptable response and later talk to both students after class.
According to Pinter (2017), a variety of instructional strategies and learning activities in a class offers students an opportunity to learn and relate their responses to their own communication and cognitive styles of learning. As a teacher, I will consider cultures and language skills to develop learning and instructional activities that take into consideration a student's appearance, sex, disability, ethnicity, religion or socioeconomic status in the community. Giving feedback on each learner to their guardians will be essential to providing and effective support learning and motivation system that is supported by the whole community. Such activities will encourage learning at home including homework, goal setting, and other curriculum-related activities.my lesson plans will incorporate objectives for personal development to provide increased opportunities for high and low achievers to boost self-esteem, self-attributes and confidence in classroom participation. It will ensure that assignments groups enhance learning abilities of diverse and exceptional students in school.
To influence learners with exceptional and diverse needs will need me to focus my attention as a facilitator of knowledge instrumental in developing positive attitudes and learning opportunities especially those with mental disability and need special attention. I will make such learners comfortable to befriend such students with special needs and understand their weaknesses. Activities and games will seek to include learners with special needs and be collaborative enough so that each learner can contribute to its completion and gain credit for achieving it. I will apply Separate grading systems for learners with dyslexia where progress will be emphasized for that better grades and high marks for final examination outcomes. My Classroom layout will a reflect diversity and special needs issues, for example, learners with special abilities to sit close to the teacher and chalkboard.
For myself, teaching will provide an opportunity to continually grow and influence learners overcoming cultural and physical barriers that students may encounter and make them society models the whole community can rely on providing all this in a conducive classroom environment. I am such a person and will always strive to be the best teacher that I can be.
References
Spector, P. (2016). Teachers as Cultural Workers. Letters to Those Who Dare Teach. The Edge: Critical Studies in Educational Theory. Westview Press, 5500 Central Avenue, Boulder, CO 80301-2877.
Huda, M., Sabani, N., Shahrill, M., Jasmi, K. A., Basiron, B., & Mustari, M. I. (2017). Empowering Learning Culture as Student Identity Construction in Higher Education. In Student Culture and Identity in Higher Education (pp. 160-179). IGI Global.
Pinter, A. (2017). Teaching young language learners. Oxford University Press.
Request Removal
If you are the original author of this essay and no longer wish to have it published on the customtermpaperwriting.org website, please click below to request its removal: