B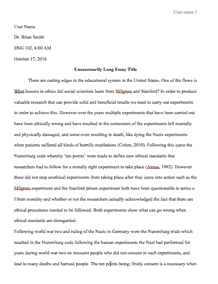 University/College: 
University of California, Santa Barbara
Type of paper: 
Admission essay
This essay has been submitted by a student. This is not an example of the work written by our professional essay writers.
What is something about yourself that is essential to understanding you?
I am a person who believes in living in the moment. I practice meditation that affirms this as my characteristic that defines who I am. Meditation gives me a chance to connect with my inner self and understand the mental patterns in my mind. With this meditation, I am able to understand and appreciate the importance of having inner peace, and refraining from all evil that may disturb my harmony. Meditation has enlightened my analysis of a number of issues. For example, I have come to realize the shortcomings of strong attachment to technology. The modern world is marked with people that are more attached to gadgets that to their fellow human beings. It is very common nowadays to see two people in a bus stage focused on their phones more than on each other. The attachment to technology makes people lose the meaning of co-existence. In other words, it becomes impossible for one to understand the character of their fellow human beings, even if it is their closest relative. I also believe in pragmatism. Currently, people are so detached from reality. There are myriad socio-political forces shaping the way we live. The climate change that the whole world is talking about is just right outside our doors. However, the belief in political theatric and rhetoric by unrealistic politicians has denied us the chance to scrutinize issues and come up with our own conclusions. For me, I prefer deconstructing issues as they come and make a realistic conclusion of the same. For instance, I understand the implications of climate change on food security and health, and therefore believe that the issue is real and that it requires immediate attention.
Describe how you plan to pursue your academic interests at USC. Please feel free to address your first and second choice major selections.
Getting a chance to study at the University of Southern California would be long-time dream come true. The university is famous for being a leading center of education in Business and Cinematic arts. These two specialties are my areas of interest. I am planning to make choice between business and film production. About the former, I have a good background in stock markets. As a student, I have set a record for becoming the best contestant in the International Stock Exchange Challenge. This is a platform that brings students interested in stock markets together to augment their skills in negotiation. In the past, I have participated for up to four rounds, and I have emerged a top performer in all the rounds. My skills in business studies have been molded over time by my participation in real life situations that call for a business mind. I have in particular involved myself in reading business articles to bolster my knowledge in this area. I also have interest in cinematic arts. Currently, I am in Thailand shooting a documentary together with a British video director. I enjoy everything in film production including script writing, editing, shooting, and directing. Cinema production is a developed business niche that has good prospects for video directors. However, success in this field requires mastery of business skills to enable on make meaningful income out of it. The decision between the two areas shall be made upon admission in to the university.
Description of Knowledge, Skills, Abilities, and Other Characteristics
Besides business and cinematic arts, I am a good soccer player. I am also a fan of football which I watch for my pastime. I believe that keeping the body fit is the secret to blissful living. Lack of exercise is a hindrance to the realization of ones goals in the long run. It contributes to poor cardio-pulmonary fitness and makes all other aspects of life uncomfortable. I normally play soccer twice a week or any other time when I feel that I need to relieve my mind of stress. Other than playing soccer, I am swimming coach and a swimmer also. I teach swimmers and water guards the method of resuscitating victims of drowning. I am also involved in athletics. I am swift runner for long and short distance races. I have in the past participated in a number of tournaments and made an excellent record by emerging among the top runners. I also play basketball and tennis when I am not involved in any other activity. I am a language enthusiast. I possess sufficient mastery of English and French. I also understand written and verbal Spanish and a bit of Arabic. These characteristics that I consider extra-academic are very important for a global citizen like I am. I understand that University of Southern California admits students from all over the world. In the business school, to be specific, people from all over the world are admitted in various courses. I, therefore, expect these people to be my classmates and discussion group members. In such instances, language barrier can be a problem in communication, and my knowledge of multiple languages will be a solution for me and other students.
Request Removal
If you are the original author of this essay and no longer wish to have it published on the customtermpaperwriting.org website, please click below to request its removal: