B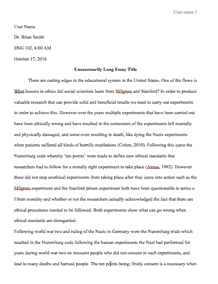 University/College: 
University of Richmond
Type of paper: 
Research paper
This essay has been submitted by a student. This is not an example of the work written by our professional essay writers.
Refugees are often compelled to flee their cradle homes or countries in order to be protected from war, persecution or natural calamities. Under such circumstances, the refugees are displaced, thus moving to the new environments (migration) away from their homes. While undergoing the process of resettlement in the new regions, the refugees suffer from psychological trauma when embarking on the journey of assimilating to the new societies. The process is associated with migration stressors which affect migrating individuals and their families.
Refugees are vulnerable to psychological trauma, in their pursuit of trying to assimilate to the new environments. Pre-migration trauma is among the social problems that the immigrants undergo in their new societies. Pre-migration trauma exposure is linked to psychological distress emanating from post-migration alleged discrimination for the immigrants. According to Keller, et al. (2017), there is a significant increase of immigrant families entering the US. Subsequently, the number of refugees detained as part of the governments implementation of aggressive deterrence strategy is on the rise.
For instance, in 2014, a 700-bed detention facility was launched in Artesia, New Mexico. Other institutions have since been opened Karnes County and in Dilley, Texas. This implies that immigrants are being secluded or discriminated. Their efforts of assimilating into the new communities are frustrated, socially and legally. The increasing number of refugees being detained and failure to control the escalating rates of migration makes refugees susceptible to the risks of developing depression, posttraumatic stress disorder (PTSD) and other mental health disorders.
According to the study of Keller, et al (2017) on the asylum seekers who had been arrested in metropolitan New York area had depicted high rates of psychological distress. 77% of the participants in the research demonstrated symptoms that are related to anxiety, with 86% and 50% suffering from depression and PTSD respectively. Similar studies conducted on refugees living in Australia also attested that refugees experiencing more extended detentions demonstrated higher levels of PTSD and depression.
These studies imply that immigrant imprisonment and other forms of discrimination have adverse impacts on the mental health of refugees. There is the need of incorporating the elements of the environment to help the refugees alleviate the intensity of their struggles. Environmental complexity is associated with reduction or increase of trauma-related condition, such as social withdrawal, depression, and others in psychologically disturbed individuals. It can, therefore, be contended that architecture can help refugees recover from trauma during the transition to a new environment.
Post-Traumatic Stress Disorder (PTSD)
Refugees are at increased risk of psychiatric morbidity such as post-traumatic stress disorder (PTSD). This can be attributed to the effects of forceful migration, the experience of traumatic events and enduring process of being resettled in the unfamiliar cultural settings with difficult socioeconomic circumstances. Kazour, et al. (2017) suggest that since the inception of Syrian civil war in 2011, the cruelty and severity of the war has compelled over 4.8 million people to flee their homes, seeking asylum in the neighboring countries such as Lebanon, Jordan, and Turkey. These immigrants have encountered conflict and related violence in Syria. Their displacement and subsequent flight have brought a significant suffering among these refugees. Such experiences are linked to escalating cases of critical mental disorders especially the most vulnerable populations such as children who are exposed to violence and conflicts. These events make refugees susceptible to the development of post-traumatic stress symptoms.
Kazour, et al. (2017) conducted a study on the PTSD in Syrian children residing in German refugee camp. From the survey, it was revealed that 45% of the families cited the civil war in Syria as the primary reason behind them living their country. During the flight, it was reported that close to 20% of the families were separated from their family members during the fracas o0f leaving Syria. Other elements that characterized the plight of these immigrants included diseases, hunger, and thirst. Furthermore, Kazour et al. (2017) assert that PTSD was detected in 26% of the children (0-6 years). Similar trends were identified in other age categories of the Syrian refugee families. This is an indication that refugees are significantly exposed to the dangers of the PTSD. This highlights the need for introducing intervention programs that help to lessen the severity of traumatic experiences among the refugees
Anxiety and depression
The levels of depression and anxiety among refugees are high and can be attributed to financial strain and failure to be assimilated into the new environment. The traumatic factors for fleeing the host country as well as facing a potentially lengthy and risky journey, culminated with the tedious and challenging process of resettlement increases the vulnerabilities of refugees towards mental health issues. Panic attacks, PTSD, depression, and generalized anxiety disorders are common psychological conditions that are highly prevalent among immigrants seeking asylum in new regions. According to the findings by Nasiroglu and Ceri (2016), it is stated that minimal efforts have been pursued to alleviate the dangers of anxiety and depression conditions among the refugees as compared to health issues such as infectious diseases which are often screened. This implies that there is the need of introducing intervention programs that can enable stakeholders to manage increasing levels of psychological trauma amongst the immigrants.
Refugees are often categorized into preflight, flight or resettlement. The immigrants in a preflight stage endure physical and emotional trauma which can be as the result of witnessing the killing of their loved ones and other social forms of social upheaval. Children refugees from war-ravaged countries might have taken part in violence, voluntarily or involuntarily as child soldiers. Such incidences have a lasting negative impact on the psychological or mental development of individuals thus increasing their chances of developing depression and anxiety disorders.
Furthermore, displaced people suffer from discrimination, experience significant deprivation and are frequently impoverished. Marginalized within their society and facing the emotional trauma of their uprooting experience, displaced people turn into excluded people who suffer the loss of economic opportunities, the breakdown of cultural identity, loosening of social and familial structures, interruption of schooling and increased poverty levels. Refugees also suffer from grief relating to dead or missing family members and, in extreme cases, resort to delinquency and begging in order to survive. This highlights the significance of introducing remedies that can help refugees overcome effects of depression and anxiety.
Post-Migration Living Difficulties
Migration to a new country is often a challenging experience for many refugees. The immigrants are compelled to abandon their familiar cultural norms, family members, jobs and property to start a new life in an unfamiliar territory characterized by new social, political and economic conditions. Regardless of depicting a high resilience when it comes to coping with severe conditions and trauma before emigration, refugees still encounter stressors upon arriving in the host nations. This is an indication that the post-migration stressors are determinants of mental health disorders among the immigrants.
Refugees usually feel lost in the new environment after fleeing from their country of origin. In the new society, they face discrimination, racial abuses, and xenophobia. In some contexts, the immigrants experience lack of receptivity by members of the host nation. Unemployment and economic is also another form of post-migration living difficulties associated with refugees. Most of the immigrants are confined in the refugee camps where their movements and abilities are restricted. This implies that they cannot freely seek for job opportunities where they can earn wage and salary to facilitate for their upkeeps. Members of the host countries are also reluctant to employ immigrants forcing them to continue languishing in poor living conditions in the refugee camps. Loneliness and homesickness, compounded by unsatisfactory housing conditions have contributed to the escalation of depression and PTSD among immigrants. Such stressors contribute to the increasing prevalence of traumatic experiences among the refugees.
The programs introduced to alleviate adverse effects of post-migration traumatic stressors should focus on creating the feelings of acceptance by encouraging the members of the host society to be welcoming and friendly towards the immigrants. There is the need of refugees should be involved and assimilated to the hosts country culture. They should also be granted access employment and other economic opportunities. Through architecture, it is possible to build structures and natural elements that can enable refugees who are suffering from traumatic experiences to be relieved of their pain. Such practices are associated with the positive impact on a persons mental health, which is paramount to the refugees battling with traumatic conditions.
References
BIBLIOGRAPHY Anderson, and Li. 2016. "Pre-migration Trauma Exposure and Psychological Distress for Asian American Immigrants: Linking the Pre- and Post-migration Contexts." Journal of Immigrant and Minority Health 728-39.
Aragona, and Mazzetti. 2013. "Traumatic events, post-migration living difficulties and post-traumatic symptoms in first generation immigrants: a primary care study." Annali Delli'lstituto Superiore di Sanita 169-75.
Dunlavy, Andrea Christine. 2010. "The Impact Of Acculturation, Trauma, and Post-Migration Stressors on The Mental Health of African Immigrants and Refugees in Sweden." Andrea Christine Dunlavy 1-96.
Kazour, Francois, Nada R. Zahreddinea, Michel G. Maragela, and Mustafa A. Almustafa. 2017. "Post-traumatic stress disorder in a sample of Syrian refugees in Lebanon." Comprehensive Psychiatry 4147.
Keller, Allen, Amy Joscelyne, Megan Granski, and Barry Rosenfeld. 2017. "Pre-Migration Trauma Exposure and Mental Health Functioning among Central American Migrants Arriving at the US Border." 1-7. http://journals.plos.org/plosone/article?id=10.1371/journal.pone.0168692.
Lindert, Ehrenstein, and Brahler. 2009. "Depression and anxiety in labor migrants and refugees--a systematic review and meta-analysis." Social Science and Medicine 246-57.
Nasiroglu, Serhat, and Veysi Ceri. 2016. "Posttraumatic stress and depression in Yazidi refugees." Neuropsychiatric Disease and Treatment 29412948.
Freedy JR, Magruder KM, Zoller JS, Hueston WJ, Carek PJ, Brock CD. Traumatic events and mental health in civilian primary care: implications for training and practice. Fam Med 2010; 42:185-92.
Kaltman S, Green BL, Mete M, Shara N, Miranda J. Trauma, depression, and comorbid PTSD/depression in a community sample of Latina immigrants. Psychol Trauma 2010; 2:31-9. DOI: 10.1037/a0018952
Fazel M, Wheeler J, Danesh J. Prevalence of serious mental disorder in 7000 refugees resettled in western countries: a systematic review. Lancet 2005;365(9467):1309-14. DOI: 10.1016/S0140-6736(05)61027-6
Holman EA, Silver RC, Waitzkin H. Traumatic life events in primary care patients. Arch Fam Med 2000; 9:802-10. DOI: 10.1001/ar...
Request Removal
If you are the original author of this essay and no longer wish to have it published on the customtermpaperwriting.org website, please click below to request its removal: