B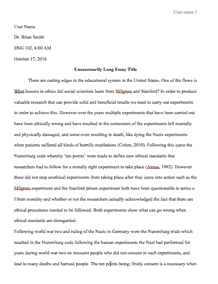 University/College: 
Middlebury College
Type of paper: 
Research paper
This essay has been submitted by a student. This is not an example of the work written by our professional essay writers.
Laws are significant aspects in the society as they serve as a base for building a resilient community. They are important in reducing risks that are posed by hazards, preventing threats and making the lives of people safer. Laws serve to protect every individual in the society from harm, injury, or any form of abuse. Also, laws promote the development of capacities in the management of disasters at individual, organizational, and institutional levels. Most commonly, rules and regulations are formulated and enforced by the state. Those who do not conform to the set laws are usually punishable by law. It is therefore important to note that there are different types of laws for various aspects of the society we live in. These include; foods and substance laws, environmental laws and regulations, copyright laws, disasters-related laws and so much more. All these rules help in building a more resilient and improved community system, thus improving the standards of living of the people. Laws related to management of disasters also call for the mainstreaming of disasters risk reduction regarding infrastructure, education, health, housing, and other sectors.
An essential factor not only in reducing but also in creating vulnerability to hazards is the law. Societal norms and expectations are usually created and reinforced by laws and regulations. Laws may be used to facilitate the sharing of power or reinforce the ability of those in power to enjoy it at the expense of the minority. Laws are used to define those who make decisions and represent the communities, and also how government agencies will respond to protect the masses in times of disasters (Spence, 2004).International disaster-related laws recognize the chief responsibility of the state in the protection of the rights of those affected by disasters. Similarly, populations that are vulnerable to disasters can use the same law to demand that their rights are respected and observed (Blaikie, 2014).It therefore important to note that law can influence vulnerability to disasters and thus more attention should be paid to the same (Becerra, 2012).
The ever changing structure of the society we live in calls for a more sophisticated framework of laws and regulations. For instance, the increasing number of disasters has prompted governments and other law regulating bodies to develop improved laws that will help in regulating these disasters (Van, 2006). This assignment therefore requires me to draft a law related to disasters that currently do not exist or change an existing one. The developed draft can then be forwarded to a legislator for consideration of drafting a bill. This will help in filling various legislative gaps that exist regarding the management of disasters. Also, it will call for more emphasis being put in other sectors of disaster preparedness and recovery (Paton, 2003).
International laws related to disasters aim at addressing various aspects of post-disaster humanitarian relief (Goodwin-Gill, 2007). These laws majorly focus on reducing the vulnerability of people whenever an accident occurs. Also, these rules and regulations can also be used in instances of conflicts e.g. political wars. Existing legislations provide for some guidelines that apply either directly or indirectly in the provision of international humanitarian assistance during situations of disasters. Most countries, however, do, not have comprehensive disaster management policies that can provide a basis for the relevant regulation. The regulation of international disaster response has not been given priority regarding preparedness and response to disasters. According to Hale (2005), multiple public agencies together with departments that play the critical role in disaster management should promote the enforcement of such laws, reduce human vulnerability during disasters. Gaps that exist in both national and international law regarding facilitation of international disaster response should be given much priority. For instance, the law relating to the role of the government and the administrative bodies regarding hazards regulation should be revised. Apart from enforcing the laws, relevant organizations have roles to play in times of disasters. This draft provides for an improved statement of purposes of the civil society in disaster management.
This draft aims at making slight changes in an already existing policy that accounts for the roles of the civil society during disasters. In most states, the people are usually vulnerable to disaster situations mainly because the responsible parties do not play their roles appropriately (Raschky, 2008). This law provides for the capacities of the civil society in terms of technical capacity and human resource. This draft will provide for the government agencies to audit capacities of the civil society involved in disaster management to improve accountability and service delivery.
Draft The civil society has a crucial role in providing technical and human resource in situations of disasters in the shortest time possible in order to reduce the communitys vulnerability.
The above draft will be of great significance as it will enhance prompt response by the relevant members of the civil society. This law ensures those responsible in management of disasters are quick and efficient in service delivery. Also, the law will promote accountability by the members of the civil society in the management of disasters, especially in high-risk areas. Resources and technical aid will be provided in time to help reduce the impact of the disaster to those affected. Moreover, this law will not only apply for the civil society, but also all other parties that are responsible in disaster management. It will ensure that disaster response, recovery and management are conducted in the shortest time and in the most appropriate way (Barnett, 2004).
There was the need to change this law as many countries experience delays by the relevant members of the civil service in situations of disasters. In most disasters, such delays often lead to greater destruction of property, injury, and even deaths. The most typical case is that of fires, whereby those responsible for putting out the fire take too long to respond. This causes further loss of property and injury, which could be avoided if they had arrived promptly. This law should, therefore, be enforced to ensure that the members of the civil society together with other responsible parties play their roles effectively. The Legislature should put strict guidelines concerning this law that should be adhered to by all means. Consequently, those who fail to adhere to this law should be punishable by law. Through this law, the vulnerability of the people to disasters will be significantly reduced thus building a more resilient community. Necessary resources and technical aid will be availed at the right time during emergencies and therefore reduce vulnerability. Commitment to strengthening both institutional and legislative framework helps to reduce the risks of disasters. Reforms to such laws will immensely help local governments to increase the resilience of the community and also reduce the impacts that natural disasters would have (Helmet, 2006).
References
Barnett, M., & Finnemore, M. (2004). Rules for the world: International organizations in global politics. Cornell University Press.
Becerra, O., Johnson, N., Meier, P., Restrepo, J., & Spagat, M. (2012). Natural disasters, casualties and power laws: A comparative analysis with armed conflict. In Proceedings of the annual meeting of the American Political Science Association. Loews Philadelphia, and the Pennsylvania Convention Center.
Blaikie, P., Cannon, T., Davis, I., & Wisner, B. (2014). At risk: natural hazards, people's vulnerability and disasters. Routledge.
Goodwin-Gill, G. S., & McAdam, J. (2007). The refugee in international law. Oxford University Press.Hale, T., & Moberg, C. R. (2005). Improving supply chain disaster preparedness: A decision process for secure site location. International Journal of Physical Distribution & Logistics Management, 35(3), 195-207.
Helmet, M., & Hilhorst, D. (2006). Natural disasters and climate change. Disasters, 30(1), 1-4.
Paton, D. (2003). Disaster preparedness: a social-cognitive perspective. Disaster Prevention and Management: An International Journal, 12(3), 210-216.
Raschky, P. A. (2008). Institutions and the losses from natural disasters. Natural Hazards and Earth System Sciences, 8(4), 627-634.
Spence, R. (2004). Risk and regulation: can improved government action reduce the impacts of natural disasters?. Building Research & Information, 32(5), 391-402.
Van Aalst, M. K. (2006). The impacts of climate change on the risk of natural disasters. Disasters, 30(1), 5-18.
Request Removal
If you are the original author of this essay and no longer wish to have it published on the customtermpaperwriting.org website, please click below to request its removal: