B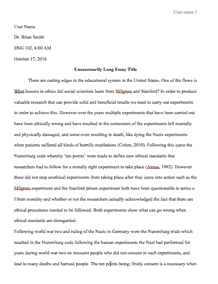 University/College: 
Middlebury College
This essay has been submitted by a student. This is not an example of the work written by our professional essay writers.
2 Samuel 13:1-16 presents a story of man named Amnon who used his strength to rape his sister and later despised her after satisfying his lust. Tamar then led a desolate life as she couldnt be married because of not being a virgin (New International Version). The same case applies to the victims of human trafficking and prostitution. It becomes difficult for them to lead a free life especially for the prostitutes who are often judged instead of being given support out of the profession. As human beings, each person feels the need for being respected, loved, appreciated and accorded similar rights and treatments of others. Every person wants to feel that he or she belongs somewhere, matters and plays a significant part in the lives of people that surround him or her. In other words, a person has the right to feel that he or she matters and hence not being subjected to unfair treatment. However, we live in a world where there is plenty of discrimination and judgmental attitudes. The individuals of focus are the women who take part in prostitution and those involved in sex trafficking by which the society tends to judge them harshly when compared to the men who take part in the acts. The Bible presents the need for respecting and loving others instead of judging and disrespecting them as each person matters.
Human trafficking is an abuse to the self-worth and the civil rights of individuals. Women who take part in prostitution are often shamed and considered to be individuals who lack characters and deserve to be publicly humiliated. They are not respected and are at times exposed to verbal abuse and rape (KSU Freedom Alliance). The Bible gives an example of a woman who was brought to Jesus to be judged because of her adulterous actions in John 8:1-11. The individuals that brought her to him wanted to stone her with reference to the Law of Moses. However, in verse 7, Jesus told them Let anyone of you who is without sin be the first to throw a stone at her, (New International Version). From Jesus view, no one had the right to judge her since every person had a flaw and hence not perfect. With such an example in the Bible, possibly, that is why most churches take part in assisting women who are caught up in prostitution and sex trafficking. In the U.S, a prostitute is subjected to beating at least twelve times a year, fifty percent of the population contract HIV/AIDS per year, and that about 95% of the population were subjected to abuse when they were children. Sex trafficking and prostitution are considered to be similar in the sense that the participants do not have a way out because of poverty, and they are subjected to a similar form of discrimination and violence. Also, statistics show that 92% of women in prostitution would want to leave the activity if they could solve their poverty issues. Furthermore, 90% of the women are subjected to verbal abuse and social disrespect which is against the Bibles notion of love (KSU Freedom Alliance). According to 1 Corinthians 3:7, It always protects, always trusts, always hopes, always perseveres, (New International Version) and hence the women deserve protection and care which they dont receive as a result of their activities. About eighty thousands of the sex solicitors are arrested annually (KSU Freedom Alliance).
Sex trafficking is described as the use of force to gather people and using them for commercial sex with the most affected population being women. The international Labor Organization estimates the number of victims of trafficking to be 20.9 billion from a global perspective. 68% of the victims are confined in hard labor, 55% of the victims are girls and women while 26% of the victim consist of children (Polaris). According to facts presented by Polaris, There is no official estimate of the total number of human trafficking victims in the U.S. Polaris estimates that the total number of victims nationally reaches into the hundreds of thousands when estimates of both adults and minors and sex trafficking and labor trafficking are aggregated, (Polaris).
According to Alvarez in the article When Sex Trafficking Goes Unnoticed in America more than 4000 cases regarding sex trafficking were reported in the U.S. she explains that getting the actual figure is a challenge since most of the people involved find it embarrassing reporting their engagement. She states, But its unclear whether the numbers are an accurate representation of the problem, because many cases arent reported, according to Monique Villa, the CEO of the Thomson Reuters Foundation, which works to combat human trafficking, (Alvarez). The women are also exposed to rape and beating which makes their life difficult.
There are several Christian groups that dedicate their efforts in ending sex trafficking and assisting the victims. They include the CBN Ministries, the Joyce Meyer Ministries, Faith Alliance against Slavery and Trafficking, Covenant House, COATNET and Agape International Missions (Ridder). The organizations provide support to the victims and families in terms of basic needs and emotional support. It is important to treat the population with respect and find ways to assist them rather than judging and discriminating them (Ridder). The Bible talks about unconditional love in John 3:16 that states "For God so loved the world that he gave his only begotten Son, that whosoever believeth in him should not perish but have everlasting life," (New International Version). Therefore, as Christians, it is important to love others the same way that God loves us.
Two ways that the community may engage in giving support to the prostitutes include; teaching them about Gods love and providing income generating activities that will assist them to support their financial needs instead of engaging in prostitution. By teaching them about Gods love, they receive the perception that they are not condemned but rather have an opportunity to redeem their lives. Examples of income activities that the community might create include baking, tailoring, and tutoring. The community may also seek help from government institutions for those who wish to pursue education in order to get better career opportunities. For the individuals purchasing the services from prostitutes, church leaders may persist on preaching the message of not leading others to sin but instead present a hand of help as every person desires to be respected. The community may also involve the police to monitor those that go for the services for them to act as examples illustrating that the act is unacceptable. To assists victims of human trafficking, there are several hotlines that focus on handling with such issues such that the victims are rescued. A good example is the National Human Trafficking Hotline 1 (888) 373-7888 in the United States (Polaris).
As stated earlier, the Bible presents the need for respecting and loving others instead of judging and disrespecting them as each person matters. The population found in prostitution, and sex trafficking is part of Gods family. Therefore, it is important to treat them with love, care, and respect in addition to assisting them instead of judging them.
Works Cited
Alvarez, Priscilla. "When Sex Trafficking Goes Unnoticed In America". The Atlantic. N.p., 2016. Web. 21 Apr. 2017.
KSU Freedom Alliance. "Sex Trafficking and Prostitution". KSU Freedom Alliance.org. N.p., 2017. Web. 19 Apr. 2017.
Polaris. "The Facts". Polaris. N.p., 2017. Web. 30 Apr. 2017.
Ridder, Karen. "7 Christian Groups Working To End Human Trafficking". Newsmax. N.p., 2015. Web. 19 Apr. 2017.
New International Version, The Bible.
Request Removal
If you are the original author of this essay and no longer wish to have it published on the customtermpaperwriting.org website, please click below to request its removal: