B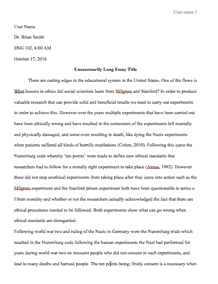 University/College: 
Vanderbilt University
Type of paper: 
Course work
This essay has been submitted by a student. This is not an example of the work written by our professional essay writers.
There are three organizations are beneficial to maintaining health care standards, implementing quality and safety competencies, as well as creating and setting initiatives for nursing professional in leadership positions. These are the Quality and Safety Education for Nurses (QSEN), the National League for Nursing (NLN), and the American Organization of Nurse Executives (AONE). QSEN is an organization that is responsible for preparing a new generation if nurses with the necessary skills and knowledge requirements to improve and maintain the safety and quality of healthcare within all types of healthcare institutions. The NLN is dedicated to developing nurses as professionals, nursing as a science, and organizing opportunities to network and issues research grants, as well as distributing standards and policies to its institutional members. On the other hand, AONE is an organization that is committed towards the dissemination and development of core competencies for nurse leaders in various care settings and variant levels of responsibilities. However, as AONE articulates, the competencies have been developed by nursing experts and professionals in the nursing leadership field, but have been approved by the Board of Directors of AONE. However, among these three organizations, QSEN competencies are mist applicable to a hospital readmission reduction practicum project. In essence, the competencies encapsulated by the organization is most closely aligned with the focus of the project. The subsequent sections highlight why this is the case. Therefore, the purpose of this blog is to provide an explanation as to why QSEN competencies are most applicable to the project.
QSEN competencies focus on meeting the challenge of future nurses by equipping them with key knowledge, skills, and attitudes (KSAs), essential for continuous improvement of safety and quality of healthcare systems where they work (Hunt, 2012). As such, QSEN competencies will be more closely intertwined with hospital readmission reduction practicums because it equips nurses with the necessary KSAs. Essentially, QSEN competencies, which are patient-centered care, teamwork and collaboration, evidence-based practice, quality improvement, safety, and informatics ensure that nurses are equipped with the right competencies for hospital readmission reduction practicum projects (Hunt, 2012).
Firstly, as Hunt (2012) articulates, patient-centered care focusses on the inclusion nurses in all the decisions, as well as providing compassionate care based on the needs and values of the patient. The competence will allow me, as a nurse, to take into account of the beliefs, perspectives, and cultures of the patient into consideration, and thus, be able to understand the patient better. The second competency, teamwork, and collaboration, relates to interdisciplinary cooperation and shared decision-making processes with my team. Essentially, the competency will allow me to value the expertise and perspectives of all members of my team, thereby enabling us to achieve our objecting or reducing hospital readmissions as it will allow us to work together.
The third competency, evidence-based practice will allow for the inclusion of evidence while undertaking actions towards reducing instances of hospital readmissions. It will enable me to use current evidence when providing care in the reduction of hospital readmissions, which can be retrieved from reading original research and reports about previously identified evidence. As such, the competency will allow me to capitalize on research in providing care. The fourth competency, quality improvement, relates to increases effectiveness and efficiency in collecting data, evaluating it, and subsequently improving the outcomes of the patients (Sherwood & Zomorodi, 2014). By participating in root cause analysis of readmission events and sentinels, I will be able to identify factors that are at play, and thus, b able to meet the objectives of the project, which include reducing the readmissions.
The fifth competency is safety, which will allow me to focus on the prevention of harming the patients. Since the project will entail taking actions to ensure that readmissions are reduced, by capitalizing on this competency will allow me to create an atmosphere of safety, such as open communication, as well as developing error-reporting systems that will significantly increase the safety of the patients (Sherwood & Zomorodi, 2014). Besides, I can help nursing students, as well as new nurses to comprehend the goals of knowledge sharing to promote hospital safety. Lastly, the sixth competency is informatics, which relates to the appropriate utilization of technology in the hospital setting for the promotion of safety and quality. In essence, the competency will allow for effective participation in designing, selecting, implementing, and evaluating information technologies that will support patient care in the hospital readmission project. Through the use of electronic medical records (EMRs), I will be able to track and control factors that promote readmission of particular patients, as well as ensuring that the risk of medicine prescription errors is eliminated, which might be a contributing factor to the readmission.
According to Kent et al. (2015), acquiring the right nursing KSAs allows nurses to reduce the incidence of medical mistakes and provides confidence to nursing students, and thus, adopting QSEN competencies will be vital for the hospital readmission reduction practicum project. Therefore, it can be concluded that these QSEN competencies can enable me to observe safety for patients, while also positively impacting the patient outcomes. KSAs acquired from QSEN helps transform the work environment for nurses, thereby allowing for increased effectiveness and efficiency in meeting patient needs. Therefore, QSEN will be best suited for achieving better outcomes for the project.
References
Hunt, D. (2012). QSEN competencies: A bridge to practice. Nursing made Incredibly Easy, 10(5), 1-3.
Kent, L., Anderson, G., Ciocca, R., Shanks, L., & Enlow, M. (2015). Effects of a senior practicum course on nursing students confidence in speaking up for patient safety. Journal of Nursing Education, 54(3), S12-S15.
Sherwood, G., & Zomorodi, M. (2014). A new mindset for quality and safety: the QSEN competencies redefine nurses roles in practice. Nephrol Nurs J, 41(1), 15-22.
Request Removal
If you are the original author of this essay and no longer wish to have it published on the customtermpaperwriting.org website, please click below to request its removal: