B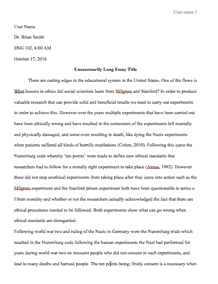 University/College: 
Middlebury College
Type of paper: 
Presentation
This essay has been submitted by a student. This is not an example of the work written by our professional essay writers.
People with disability have been as subject to violence, abuse, and exploration. It is the responsibility of the government and Non-Government Organizations to ensure that people with disability are taken care of (Farrior 2009). Moreover, the citizens play a crucial role in ensuring that people with disability are taken care of, and they are not subjected to violence, abuse, and exploration. Following the increasing public concern about people with disability in Argentina, the NGO have taken a significant step in ensuring that the rights of the vulnerable peoples are not violated (Gordon & Crehan 2000). People with disability in Argentina have been having the higher risk of abuse, violence, and exploration that their non-disabled counterparts. This affects them intensively as some of the NGOs do not come to the aid of such people.
Sadly, the lack of awareness of results into a systematic discrimination into which people with disability people with disability are subjected to programs that are related to their disability and not to programs that are related to violence and abuse affecting them (Stemple 2008). The victimization of people with disability mainly involves misuse of a person with a mental or physical incapacity. The NGOs in Argentina have identified some types of abuse that are common in the country, and they include sexual violence, emotional abuse, and neglect (Khan, Kapoor, & Cooraswamy 2000). The organization identifies some indicators of abuse which include firstly, signs to physical violence fear of caregivers, over-sedation, scalp injuries, delay in seeking treatment, and unexplained injuries.
The emotional signs include low self-esteem, confusion, suicidal, fear for abandonment, avoiding eye contact, and appearing nervous around caregivers (Grushka & DeMarco 2003). Consequently, the indicators for sexual abuse as identified by the Argentina NGOs include unusual fear for a person, stained, bloody, and torn clothes, pregnancy, sexually transmitted diseases, change of behaviors, and pain and bruising (Kidd & Witten 2007). The indicators for the financial abuse, on the other hand, include failure to pay bills, suddenly changing of a will, going without affordable necessities, unexplained missing items, unusual withdrawals from a bank account, and inaccurate knowledge of finances Grushka, Belliard, & De Biase 2010. Additionally, the neglect indicators include malnourishment, lack of electricity and heat, missing glasses, hearing aids, dentures, alcohol and medication abuse, skin conditions and pressure sores, untreated medical problems, wandering without supervision, and unkempt appearance (Dudzik, Elwan, & Metts 2002). These are some of the indicators that the that the NGOs in Argentina have identified as the main factors that people and other organization should look for people with disability when they are subjected to violence, abuse, and exploration.
To ensure the rights of people with disability in Argentina are respected the NGOs have several strategies and policies that ensure that the people receive the right services. Firstly, the NGOs ensure that there is a cross-cutting approach for the implementation of programs and policies that focus on full inclusion of people with disability across Argentina (Joly 2009). The actions and policies taken are in line and guided by the international and national standards including the program and convention of people with disability. This is in line with the submission of the country with the united nations of human rights treaty that ensures that all individuals are treated fairly, and people with disability are accorded with the special needs they require.
Additionally, NGOs in Argentina holds conferences across the nation to ensure that they raise awareness across the country to make sure that policies implemented in line with the global development plan which presents the indicators of abuse, exploration, and violence as discussed above. This makes sure that the people responsible for implementing such policies can educate people with such symbols and give them medication and care as soon as possible. The NGOs take an initiative to raise the general public awareness and education for the rights of people with disability. This mainly includes three areas which include accessibility, education, and employment (Banks, Mearkle, Mactaggart, Walsham, Kuper, & Blanchet 2016). It makes sure that when the people with disability in Argentina are hurt by problem know where they should report and the location of the institution they will receive support and care. Additionally, the Non-Governmental Organizations gives financial aid to families with members with a disability to ensure that they are well taken care of.
References
Banks, L. M., Mearkle, R., Mactaggart, I., Walsham, M., Kuper, H., & Blanchet, K. (2016). Disability and social protection programmes in low-and middle-income countries: a systematic review. Oxford Development Studies, 1-17.
Dudzik, P., Elwan, A., & Metts, R. (2002). Disability policies, statistics, and strategies in Latin America and the Caribbean: a review. Documento de trabajo del Departamento de Desarrollo Sostenible. Banco Interamericano de Desarrollo, Washington, DC.
Farrior, S. (2009). Human Rights Advocacy on Gender Issues: Challenges and Opportunities. Journal of Human Rights Practice, 1(1), 83-100.
Gordon, P., & Crehan, K. A. (2000). Dying of sadness: gender, sexual violence and the HIV epidemic. Social Development and Poverty Elimination Division (SEPED), Bureau for Development Policy, United Nations Development Programme.
Grushka, C. O., & DeMarco, G. C. (2003). Disability pensions and social security reform: analysis of the Latin American experience. Social Protection, World Bank.
Grushka, C., Belliard, M., & De Biase, M. (2010). Disability and Social Security in Argentina at the Turn of the Century. In International Congress of Actuaries, Cape Town, South Africa.
Joly, E. (2009). Disability and Employment in Argentina: The Right to Be Exploited?. NACLA Report on the Americas, 42(2), 5-10.
Khan, M., Kapoor, S., & Cooraswamy, R. (2000). Domestic violence against women and girls. Innocenti digest, 6, 1-30.
Kidd, J. D., & Witten, T. M. (2007). Transgender and Trans sexual Identities: The Next Strange Fruit-Hate Crimes, Violence and Genocide Against the Global Trans-Communities. Journal of Hate Studies, 6(1).
Stemple, L. (2008). Male rape and human rights. Hastings LJ, 60, 605.
Request Removal
If you are the original author of this essay and no longer wish to have it published on the customtermpaperwriting.org website, please click below to request its removal: