B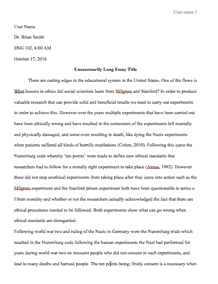 University/College: 
University of California, Santa Barbara
This essay has been submitted by a student. This is not an example of the work written by our professional essay writers.
Every entrepreneur has a goal that he or she envisions to achieve one day. My desire is to become an energy creator; therefore, I will exploit an expanding market in the present day while engaging in a socially responsible business. In reflection, it is evident that in the recent past the emissions from industrial growth have escalated while the concern to reduce waste in the environment reducing significantly. Even if many organizations understand the need to put waste to good use, many have overlooked that call and in turn created environmental harms than before. My long-term vision is to harness all the vital resources that can help in the successful conversion of waste into energy. As such, there will be a waste-to-energy plant that does not incinerate garbage but convert it to fuel and electricity.
By its appearance, this is a long-term dream, but with the correct approach, there is no doubt it will become realistic. After identifying the opportunity to exploit, the second step will involve the identification of the location, financial and legal requirements. Evidently, energy-creation business will be a big plant at the end but should start with a small enterprise in the first year that will grow as time advances. The third step will involve identifying where to be getting wastes and how they will be reaching the plant. Fortunately, the cost of production in waste-to-energy business is low since most of the garbage is free. As far as financing of the business is concerned, there will be a consideration of both internal and external sources.
Regarding the external opportunities available for such a business, there is an advantage that the global waste-to-energy market is only projected to grow in the coming years. In fact, it is noted to increase about 5.9% by 2020 (Cho, 2016). In this regard, there is little competition in it although it requires more capital than other businesses. More so, the Waste-To-Energy Research and Technology Council is determined to promote the growth of this sector by the provision of the best technologies. As a result, there are untapped market gaps as well as increasing support to promote industrial growth. On the other hand, personal strengths include financial management skills, knowledge of market dynamics, business skills, risk tolerance, creativity and endurance. All of them will prove vital in trying to accomplish my goal before five years.
Successful entrepreneurship must incorporate risk taking since it helps in learning and leading to a new path (Zeilinger, 2013). Avoidance of risk is my greatest failure in the past, and I came to learn several things about it. Firstly, when an entrepreneur takes a risk, it opens up to numerous unforeseen opportunities. People who avoid risk or perceive it negatively are unwise. As such, it became apparent to me that risk-taking is the path that leads to success. Secondly, it also dawned on me that taking risks helps in making a person stand out. As it applies in this scenario, one starts something new in an exceptional way; therefore, there is no satisfaction with the status quo. Above all, I came to learn that it is the only way to pursue personal dreams and there is no way an investor can achieve his or her dreams by playing safe. As a concluding note, my plan is not to copy what other entrepreneurs do but exploiting an opportunity which not only adds value economically but socially. I am confident that waste-to-energy business will undoubtedly help in the accomplishment of that dream.
References
Cho, R. (2016). Putting Garbage to Good Use with Waste-to-Energy. Columbia University: Earth Institute.
Zeilinger, J. (2013). 7 Reasons Why Risk-Taking Leads To Success. N.p.: The Huffington Post.
Request Removal
If you are the original author of this essay and no longer wish to have it published on the customtermpaperwriting.org website, please click below to request its removal: