B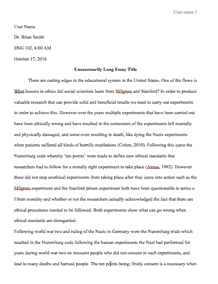 University/College: 
University of California, Santa Barbara
This essay has been submitted by a student. This is not an example of the work written by our professional essay writers.
In the United Kingdom, management and treatment of psychological illness form a critical aspect of its National Health Services (NHS). The 2010-2015 UK government policy on the mental health services reforms considers that poor health is the primary cause of disability among its populations (Great Britain, 2010). The government has set out deliberate actions that prioritize mental health with the NHS having well established NICE frameworks for the treatment of mental illness. Depression is one of the mental health complications which is common among people I the UK hence the need to form a proper policy and action link for its treatments. This relationship implies developing a seamless operational efficiency between the UK national health policy and the National Institute for Health and Clinical Excellence (NICE) guidelines (Great Britain, 2010).
My choice of assessing depression as a mental illness and its treatment is motivated by its prevalence in Saudi Arabia where it causes not only severe mental retardation but also lead to increased risks of death. Also, my career has also exposed me to the challenges of dealing with depressed people. Some of these depressed people are the elderly who often have social problems that may further be exacerbated by alcohol and cardiac diseases.
The National Institute for Health and Clinical Excellence provides relevant sets of information needed in recognizing and treating depression. Some of its contents include ways of caring for the depressed, step by step care approach, available treatment options and the individual characteristics of a patient (Depression in adults: recognition and management | Guidance and guidelines | NICE., 2017). The NICE framework also trains on various other mental health aspects including enhanced care approach, ways of scheduling treatments and continuity program of interventions. It also guides on how to handle perceived sources of danger such as relapse or the risk of suicide.
The UK government policy on the mental health is an elaborate one that entails definite steps of identifying people in danger, assessing their needs, prioritizing their most presenting conditions and treating them. The policy provides for the increase in access to better health services, integrating mental health into the national measures of population wellbeing and increased funding of the sector with the aim of attaining improved universal access to mental health services (Great Britain, 2010). The policy and NICE guidelines together make the treatment of mental illnesses, especially depression a pertinent health concern. Therefore, they not only enhance access to medical procedures but also provides families and medical professionals with various management options for the condition.
According to the NICE guidelines for treatment and management of depression, there are various options of interventions for depression. First, it is important to reassess the people suffering from depression before the commencement of any treatment or management. This approach is essential since evidence-based practice in medical care dictates that each patient has a unique response to an illness that must be targeted for better outcomes (Sturmey & Hersen, 2012). For instance, some depressed patients may have their conditions resulting from either work of familial networks.
In a case where a patient has the risk of suicide resulting from family or work-related stress, one of the initial steps is to resolve the stressors through linking the patients with appropriate professionals. The professionals subject the patients to a period of two weeks monitoring after which NICE recommends that they are treated with antidepressants in case they fail to receive the psychological intervention. The drugs that can be used include Quetiapine that prevents the risk of suicide in patients with bipolar depression (Stahl & Stahl, 2008). If the patient does not respond to antidepressants, then it is essential to assess their adherence to prescribed treatments which is followed by either increasing the dosage or changing to an alternative antidepressant medication.
Both the UK national policy and NICE guidelines emphasize the importance of managing depression both at the community level and nationally. The two identify the individual patients and their families as being an integral part of an active mental health treatment program (Sturmey & Hersen, 2012). Apart from medical treatment, the NICE guidelines underscore the need for adequate support that improves the patients quality of life. In addressing the plight of psychiatric patients, the role of a pharmacist includes advising them on adverse responses to the use of a specific antidepressant (National Collaborating Centre for Mental Health (Great Britain), & Royal College of Psychiatrists, 2010). Some of the common effects of antidepressants include sexual dysfunction and hypernatremia.
The NICE guides pharmacists on ways of facilitating the patient in understanding the adverse effects of the antidepressants and change medication if the possible. For instance, an unwanted response such as in hypernatremia may require stopping the use of an antidepressant. Nonetheless, there is an elaborate withdrawal procedure from antidepressants which include progressive reduction of the dose over a period of four weeks (Brooker & Waugh, 2013). The pharmacist should also advise the patient against using generic or herbal products that may deteriorate their conditions such as St Johns Wort, an herbal product. The level of adverse effects of antidepressant depends not only on the metabolic processes but also the use of other drugs such as contraceptives and anticoagulants. Therefore, in the treatment of depression, it is necessary to plan for a 2-4 weeks review of over the first three months or longer of intervention (National Collaborating Centre for Mental Health (Great Britain), & Royal College of Psychiatrists, 2010). This process will be helpful in determining if the response to treatment is excellent.
NICE underscores the evidence-based intervention for mental illness since it emphasizes the need to match treatments with the personal characteristics of a patient. Nonetheless, it alludes to the fact that treatment of psychological illness entails an integrated approach including self-help, therapies, and medicines. Each case of mental illness is treated uniquely (Stahl & Stahl, 2008). For example, if an adult has no chronic condition but suffers from depression then the therapeutic approaches, drugs and self-care program differs from someone who has a chronic illness. Moderate levels of depression may require a combination of therapies and self-care programs (Brooker & Waugh, 2013). However, severe depression requires a comprehensive therapeutic approach, medications and self-care programs.
The NICE guidelines and national policy imply the need for patients, their caregivers and families to take an active role in assessing available treatment options, diagnosis, and management of the evident health challenges (Fonagy, 2016). It is also vital that the health practitioners consult relevant caregivers about the process of treatment, expected outcomes and possible adverse effects, if any, of any medication.
The primary focus of NHS mental health policy and NICE guidelines concerning depression is on enhancing the quality of life of the affected. Ideally, mental health is an important issue that affects the holistic wellbeing of any person hence the need to proactively address it (Brooker & Waugh, 2013). The affected should have access to medical advice and monitoring by the pharmacist and other healthcare professionals.
Summary of content:
Title of policy or guideline Authors and References Summary of Key Points
2010 to 2015 government policy: mental health service reform National Health Services
Department of Health, UK.,
Rethink Mental Illness,
Mind and the Centre for Mental Health.
National Suicide Prevention Strategy Advisory Group,
British Association for Counselling and Psychotherapy, Recognition of mental health as the most significant cause of disability.
Prioritising mental health
Making mental health services efficient
Improving access to mental health services.
Prevention of suicide as an approach to mental health.
Depression in adults: Recognition and Management National Institute for Health Care Excellence (NICE) Emphasising care needs for people with depression.
The recognition, assessment and proactive management of depression.
Recognise depressive symptoms and their persistence.
Treatment selection must be based on depression subtypes and personal traits of the patient.
Quetiapine may help prevent suicide.
Consider combination for more efficacy or change to another antidepressant.
Monitor drugs adverse effect such as sexual dysfunction and hyponatremia
Avoid using herbal product and alcohol.
Advice patient about adherence to avoid relapses.
The continuation after a relapse has occurred and its prevention is essential.
References
Brooker, C., & Waugh, A. (2013). Foundations of nursing practice: Fundamentals of holistic care.
Depression in adults: recognition and management | Guidance and guidelines | NICE. (2017). Nice.org.uk. Retrieved 20 October 2017, from https://www.nice.org.uk/guidance/cg90
Fonagy, P. (2016). What works for whom? A critical review of treatments for children and adolescents. New York: The Guilford Press.
Great Britain. (2010). The essence of care 2010: Benchmarks for the fundamental aspects of care. Norwich: The Stationery Office.
National Collaborating Centre for Mental Health (Great Britain), & Royal College of Psychiatrists. (2010). Depression: The NICE guideline on the treatment and management of depression in adults. London: Royal College of Psychiatrists.
Top of Form
Stahl, S. M., & Stahl, S. M. (2008). Depression and bipolar disorder: Stahl's essential psychopharmacology. Cambridge: Cambridge University Press.Bottom of Form
Sturmey, P., & Hersen, M. (2012). Handbook of evidence-based practice in clinical psychology. Hoboken, N.J: John Wiley & Sons.
Request Removal
If you are the original author of this essay and no longer wish to have it published on the customtermpaperwriting.org website, please click below to request its removal: