B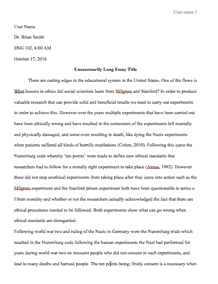 University/College: 
University of Richmond
This essay has been submitted by a student. This is not an example of the work written by our professional essay writers.
The concept of job stress is mostly confused with a challenge most of the time. However, these are two different concepts; a challenge motivates a person psychologically and physically to learn a new skill and master the job. On the other hand, job stress is a person being emotionally and physically hurt when the job requirements do not match the employee's capability. Therefore, according to a survey done by Northwestern National Life, families and work institute, and Yale University shows that 40, 26, and 29 percent respectively of workers go to work while stressed (Murphy, Colligan, Swanson, Hurell, Scharf, & Sinclair, et al., 2017). In most cases job stress is a result of the interaction of the employee and the work conditions. for instance, individual personalities and coping style of employees do not allow them to work in certain work conditions. Apart from personality, other factors that lead to stress include different work roles, poor interpersonal relationships. The signs and symptoms of job stress include reduced morale, headaches, stomach upset, shortness in a temper, disturbances in sleep, problems in concentrating and job dissatisfaction. Job stress majorly lowers a companys productivity due to poor employee performance (Murphy, Colligan, Swanson, Hurell, Scharf, & Sinclair, et al., 2017).
The Australian workforce has both participants who are stressed up and those who are not stressed up. According to Gallup Global, for every worker who is disengaged, 1.5 are engaged, but this is costing the country 54.8 billion Australian dollars or 51.3 billion Australian dollar yearly (Martin, 2013). The difference in emotional health among the employees forms part of the cost. This is confirmed in the 2012 report written by Australian Workplace Barometer, who believe that disengagement at work creates the significant portion of a worker productivity and health cost. Moreover, according to Gallups research, most of the disengaged employees experience sadness, anger, and stress (Martin, 2013). To mitigate this kind of psychological injury leaders should develop empowerment culture, develop an open communication system, and care for their employees. Also, other ways to alleviate such problems include leaders need to align the direction of their leadership, ensure employees contributions are appreciated and connect to the to the organizations goals and mission. This steps will make the disengaged workers motivated to come to work daily, hence reducing the cost of the company.
A persons health, the organization and the economics of a country are mostly affected by the work-related stress and psychosocial risks. Psychosocial risks are caused by poor organizational management example is organizational change management, poor design of work example is poor communication system, and poor social context of work example is sexual harassment (Osha.europa.eu., 2017). These risks are what that attribute to stress, depression, and burnout and workers experience stress when the job demand is mostly making them not being able to cope up with it. Therefore, employees are likely to develop mental issues, diseases such as cardiovascular or musculoskeletal. Employees stress will also negatively affect the organization for instance poor general performance of the organization, increased absenteeism, increased rates of injury and accidents among the employees (Osha.europa.eu., 2017). Additionally, work-related stress can contribute to early retirement which costs the organization or business and the society a lot of money. Therefore, a better psychosocial environment enhances employees performance, personal development, mental and physical well-being.
According to a survey done by Harvard school of Public health, National Public Radio, and Robert Wood Johnson Foundation, 44 percent of adults who are working complain that their jobs affect their health. Most people see their jobs are the source of their stress and their employers do very little to help (Pazzanese, 2016). For instance, nearly half of the workplaces do not have a health program for the employees. In the United States, 36 percent of workers suffer from work-related stress, and this costs the organizations and businesses 30 billion dollar yearly due to absenteeism (Pazzanese, 2016). In most instances, causes of poor health are not only caused by poor working environment but also situations that are stressful such as caring for a sick family member, trying to make ends meet due to small salary. Therefore, it is the role of the employer see improvements in what affects the employees health off the job. In some jobs or companies, they have employees health programs, but these resources are not utilized due to stigma linked with mental health and fear associated with lack of confidentiality. Employers, therefore, need to improve both the situation in the job and off the job to ensure productivity of the company.
The United Nations International Labor Organization, defines occupational stress as a global epidemic. People tend to emphasize the physical consequences are forgetting the alarming economic impact that it is creating. Work-related costs United States employers roughly 200 billion dollars a year because of compensation of workers, medical insurance, lower productivity, absenteeism, staff turnover, and expenses on stress related. Some of the stressful situation at work include readjustments of the business, firing, alteration of responsibilities, changes in financial status, having trouble with, a boss, and being switched to a different line of work (Maxon, 2017). However, stress is not a bad thing always it stimulates creativity and productivity. This is according to Professor Robert Ostermann a psychologist FDUs Teaneck-Hackensack Campus; he also argues that stress is a motivator. Ostermann also found out that three dimensions determine stress, they are life situations, work, and self. Therefore to trace the root of stress the balance between the causes of stress and available systems of support have to be considered.
On a day to day basis, more than half the employees are stressed at work. A study done by Accountemps, a staffing firm, revealed that in the last five years stress levels have increased among United States employees. Additionally, younger workers are feeling the most pressure with 64 percent of employees aged between 18 and 34 complaining of work-related stress, compared to workers aged 35 to 54 who only hold up 59 percent (Brooks, 2017). The main contributor to stress among employees include workloads that are huge, tight deadlines, expectations that are unrealistic, and the pressure of trying to maintain a healthy work-life. Employees require time to exercise, have a nice time with their friends or loved one, engage in a hobby, take vacations things that they are not able to do due to the fast growth of the business. Therefore, there is an increase in responsibility they have to meet imminent deadlines. Hence, they have to work for an extra tie with no time to relax which leads to stress. Stress is hazardous to a job since it reduces productivity, leads to increased turnover, and decrease morale. To combat work-related stress employees should spend their time wisely, ask for assistance, and take a chance to refresh. For the employers provide programs that will help employees to deal with stress, and assist in prioritizing (Brooks, 2017).
References
Brooks, C. (2017). Stressed Out! Unrealistic Expectations Put the Pressure on Workers. Business News Daily. Retrieved 17 June 2017, from http://www.businessnewsdaily.com/8486-effects-workplace-stress.html
Martin, Y. (2013). Helping Australia's Stressed-Out Workers. Gallup.com. Retrieved 17 June 2017, from http://www.gallup.com/businessjournal/166355/helping-australia-stressed-workers.aspx
Maxon, R. (2017). Stress in the Workplace: A Costly Epidemic. Fdu.edu. Retrieved 17 June 2017, from http://www.fdu.edu/newspubs/magazine/99su/stress.html
Murphy, L., Colligan, M., Swanson, N., Hurell, J., Scharf, F., & Sinclair, R. et al. (2017). CDC - NIOSH Publications and Products - STRESS...At Work (99-101). Cdc.gov. Retrieved 17 June 2017, from https://www.cdc.gov/niosh/docs/99-101/default.html
Pazzanese, C. (2016). The high price of workplace stress. Harvard Gazette. Retrieved 17 June 2017, from http://news.harvard.edu/gazette/story/2016/07/the-high-price-of-workplace-stress/
Psychosocial risks and stress at work - Safety and health at work - EU-OSHA. (2017). Osha.europa.eu. Retrieved 17 June 2017, from https://osha.europa.eu/en/themes/psychosocial-risks-and-stress
Request Removal
If you are the original author of this essay and no longer wish to have it published on the customtermpaperwriting.org website, please click below to request its removal: