B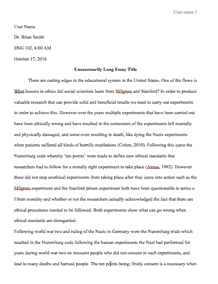 University/College: 
Middlebury College
Type of paper: 
Research paper
This essay has been submitted by a student. This is not an example of the work written by our professional essay writers.
Risk management and risk assessment programs play a critical role in defining the processes and medical procedures within the healthcare facility (Magnezi et al. 2016). For instance, risk management ensures reduction of incidences due to healthcare providers negligence and reduces the occurrence of preventable accidents. Whereas, risk assessment involves conducting training programs for the medical and healthcare providers to learn the proper lifestyle health habits (Goodrum & Varkey 2017). However, despite the differences in the program's goals, the occurrence of conflict between them is uncalled for, especially when they are part of the same program. In this regard, the programs should be implemented efficiently for the greater good of the medical and healthcare providers and the patients.
Apparently, safety forms the primary concern of all services offered in a healthcare facility. Hence, the inclusion of risk management and risk assessment programs dramatically assists in providing the required safety (Goodrum & Varkey 2017). Without the appropriate information and education on the importance of the two programs, patients are likely to suffer slowly regarding finances and receiving unsafe treatment (Dastjerdi et al. 2017). Additionally, the occurrence of conflicts within the healthcare facility is not an exception. However, the existence of the conflicts within the healthcare facility should not be associated with risk management and assessment being on the same program. According to Ofek et al. (2016), through conducting risk management and evaluation on the same program, achievements are evident regarding increased clinical quality and enhanced safety measures. This has led to increased functionality in the health facilities and improved well being of the people (Franck et al. 2017).
Notably, risk management program ensures health facilities have qualified risk managers who can assess, develop and implement effective risk management strategies (McElroy et al. 2016).). Indeed, risk management program offers the participants with the ability to effectively handle issues regarding risk. Mostly, the professionals involved in risk management programs are from different departments. For instance, finance, claims and insurance managers, clinical researchers, psychological and human healthcare and the emergency preparedness management. Involvement of the professionals offers an overall review of the risks and develops a comprehensive risk management strategy (Sussman et al. 2016).
References
Dastjerdi, H. A., Khorasani, E., Yarmohammadian, M. H., & Ahmadzade, M. S. (2017). Evaluating the application of failure mode and effects analysis technique in hospital wards: A systematic review. Journal of Injury and Violence Research, 9(1), 51-60. doi:10.5249/jivr.v9i1.794
Franck, L. S., Gay, C. L., Cooper, B., Ezrre, S., Murphy, B., Chan, J. S., . . . Meer, C. R. (2017). The little schmidy pediatric hospital fall risk assessment index: A diagnostic accuracy study. International Journal of Nursing Studies, 68, 51-59. doi:10.1016/j.ijnurstu.2016.12.011
Goodrum, L., & Varkey, P. (2017). Prevention is better: The case of the underutilized failure mode effect analysis in patient safety. Israel Journal of Health Policy Research, 6(1) doi:10.1186/s13584-016-0131-2
Magnezi, R., Hemi, A., & Hemi, R. (2016). Using the failure mode and effects analysis model to improve parathyroid hormone and adrenocorticotropic hormone testing. Risk Management and Healthcare Policy, 9, 271-274. doi:10.2147/RMHP.S117472
McElroy, L. M., Khorzad, R., Nannicelli, A. P., Brown, A. R., Ladner, D. P., & Holl, J. L. (2016). Failure mode and effects analysis: A comparison of two common risk prioritisation methods. BMJ Quality & Safety, 25(5), 329. doi:10.1136/bmjqs-2015-004130
Ofek, F., Magnezi, R., Kurzweil, Y., Gazit, I., Berkovitch, S., & Tal, O. (2016). Introducing a change in hospital policy using FMEA methodology as a tool to reduce patient hazards. Israel Journal of Health Policy Research, 5(1) doi:10.1186/s13584-016-0090-7
Sussman, R. G., Schatz, A. R., Kimmel, T. A., Ader, A., Naumann, B. D., & Weideman, P. A. (2016). Identifying and assessing highly hazardous drugs within quality risk management programs. Regulatory Toxicology and Pharmacology : RTP, 79 Suppl 1, S11-S18. doi:10.1016/j.yrtph.2016.05.025
Request Removal
If you are the original author of this essay and no longer wish to have it published on the customtermpaperwriting.org website, please click below to request its removal: