B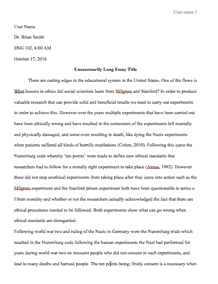 University/College: 
George Washington University
This essay has been submitted by a student. This is not an example of the work written by our professional essay writers.
As defined by Pidgeon, Ford and Klaassen (2013), resilience is the ability to adapt and cope in adverse situations and to respond in a desirable manner when the stressors get overwhelming. Resilience is facilitated by a couple of factors including an individuals life, resources and the environments. Nonetheless, Windle (2011) states that the experience varies significantly. Various definitions and characteristics of resilience have emerged. Resilience is coined from the Latin word resilire which means to bounce or leap back (Windle, 2011). From a longitudinal point of view, resilience is the power to leap back from adversity and proceed on with life. Within the educational context, therefore, education can be defined as the power to excel academically irrespective of the adverse situations that one faces (Windle, 2011). In essence, resilience is a prerequisite for academic excellence (Daniels, Billingsley, Billingsley, Long & Young, 2015). The examination of resilience within a lifetime development framework can pinpoint the adaptation points at all phases of life.
Characteristics of resilience in IB MYB
There are various defining aspects of resilience: hope, coping, self-efficacy, sense of self, pre-social attitude as well as determination (Condly, 2006). Resilience is the persisting aspect of an individual. Genetic, social and other constitutionally-based aspects determine resilience; they are also influenced by the experiences of life. Good intelligence has an important role to play, so does a simple, flexible, sociable temperament which together with a pleasing appearance attract positive reactions from others that in turn result in the inner sense of self, self-efficacy and determination which has continuously highlighted as a key constituent of resilience.
In essence, self-purpose is an important characteristic of resilience. Resilient students have aspirations, goals, achievement motivation, hopefulness, persistence and optimism (Southwick & Charney, 2012). Besides that, resilient students are self- competent; they are responsive, empathetic, caring and have a sense of humor and good communication skills. Lastly, as argued by Johnston, Bailey and Wilson (2014), resilience is characterized by autonomy. Resilient individuals have a sense of identity. They can act autonomously and control their situations, internal LOC, task mastery, self-efficacy, the advancement of resistive response toward negative stimulus as well as detachment from dysfunction (Rajan-Rankin, 2014).
How mindfulness meditation enhance resilience in IB MYP
As highlighted by Condly (2006), one way of enhancing resiliency amongst individuals is opportunities; meaning and abundant ones. Opportunities to take a break from resisting an inimical setting, opportunities to adventure in security and safety, opportunities to dream and to develop convictions; all these interventions need to be directed towards at-risk IB MYB students if they are to stand a chance of making it out of the undesirable situations effectively. One way offering the opportunity to enhance resilience is by facilitating mindful meditations (Condly, 2006). The interesting thing concerning resilience is that it does not involve personality traits; rather it involves a means of paying attention, behaving and thinking which every individual can learn. In the light of that, mindful meditation does play a crucial role in the enhancement of resilience amongst IB MYB students. In fact the more it is practiced; the more ones brain gets resilient. The expressive soup which follows a stressing situation could whip up adverse stories about oneself of other which continues consistently, beyond being valuable (Rowe et al., 2016). Mindful meditations help students to shift their attentions from negative ruminations to positive reflections about the future. In this case, optimism and hope is a choice. As a result, students can avoid seeing situations as intractable (Meiklejohn et al., 2012). Meditations; for instance, love kindness meditation advance a feeling of warmth when around others, which in turn tends to facilitate a sense of confidence and self, and hence buttressing resilience (Seppala et al., 2014). People cannot alter the fact that stressful incidents occur, however, they can learn to alter their responses. In essence, the tiniest of alterations matter and meditation helps.
References
Condly, S. J. (2006). Resilience in children: A review of literature with implications for education. Urban education, 41(3), 211-236.
Daniels, K. N., Billingsley, K. Y., Billingsley, J., Long, Y., & Young, D. (2015). Impacting resilience and persistence in underrepresented populations through service-learning. Journal for Multicultural Education, 9(3), 174-192.
Johnston, J. H., Bailey, W. A., & Wilson, G. (2014). Mechanisms for fostering multigenerational resilience. Contemporary Family Therapy, 36(1), 148-161.
Meiklejohn, J., Phillips, C., Freedman, M. L., Griffin, M. L., Biegel, G., Roach, A., ... & Isberg, R. (2012). Integrating mindfulness training into K-12 education: Fostering the resilience of teachers and students. Mindfulness, 3(4), 291-307.
Pidgeon, A. M., Ford, L., & Klaassen, F. (2014). Evaluating the effectiveness of enhancing resilience in human service professionals using a retreat-based Mindfulness with Metta Training Program: a randomised control trial. Psychology, health & medicine, 19(3), 355-364.
Rajan-Rankin, S. (2014). Self-identity, embodiment and the development of emotional resilience. The British Journal of Social Work, 44(8), 2426-2442.
Rowe, A. C., Shepstone, L., Carnelley, K. B., Cavanagh, K., & Millings, A. (2016). Attachment security and self-compassion priming increase the likelihood that first-time engagers in mindfulness meditation will continue with mindfulness training. Mindfulness, 7(3), 642-650.
Seppala, E. M., Hutcherson, C. A., Nguyen, D. T., Doty, J. R., & Gross, J. J. (2014). Loving-kindness meditation: a tool to improve healthcare provider compassion, resilience, and patient care. Journal of Compassionate Health Care, 1(1), 5.
Southwick, S. M., & Charney, D. S. (2012). The science of resilience: implications for the prevention and treatment of depression. Science, 338(6103), 79-82.
Windle, G. (2011). What is resilience? A review and concept analysis. Reviews in Clinical Gerontology, 21(2), 152-169.
Request Removal
If you are the original author of this essay and no longer wish to have it published on the customtermpaperwriting.org website, please click below to request its removal: