B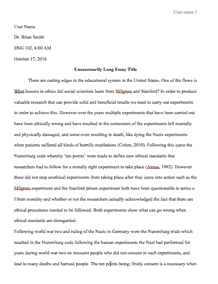 University/College: 
Sewanee University of the South
This essay has been submitted by a student. This is not an example of the work written by our professional essay writers.
A not for profit organization is an organization that makes use of its resources to pursue a given purpose of assisting the society as opposed to pursuing profits to benefit itself. Over the past decade, the influence and activities of the not for profit sector have depicted exponential growth. Non-profit organizations have become core to the making of policies, the delivery of quasi-public services, and the promotion of civic action. In addition to being very many, non-profit organizations have also become more universalistic in the way they deliver services and make policies, more commercialized and professionalized in their activities, and more non-partisan and secular in their affiliations (Hall, 2016). In countries that are democratic and industrialized, the non-profit sector has become an essential element in delivering and developing public goods and services.
Not for profit organizations are built to serve the interests of the public and are therefore exempted from federal income taxes. In the United States, the general interest on nonprofit organizations and volunteering activities became very strong mainly after the civil war. By the twentieth century, very many non-profit agencies were already in complete operation such as the American red cross organization and many philanthropic activities from wealthy industrialists at the time (Berg, 2013). Non -profit organizations may be either incorporated or unincorporated. Non-profit agencies are created for different reasons ranging from; supporting national or international amateur sports, charitable activities, literary, religious, and public safety reasons, or for the prevention of human and animal cruelty.
Majority of non-profit organizations are structured in the same way as the for-profit organizations. They have a board of directors, annual meetings, corporation officers, and by-laws. Very many non-profit organizations have a significant impact on their countries economies. Incidentally, in the US they provide 5.6% of the GDP. This sector also provides employment opportunities in different industries (Hall, 2016). The main areas include; culture, environment and animals, health, human services, humanities, and education among other sectors.
Statistics have shown that over 90% of all the not for profit organizations that are in existence today were created in the 1970s. Conversely, most NGOs that exist today were created over the past thirty years. Not for profit organizations vary in size ranging from informal grass root organizations which have limited funds and assets to multi-billion dollar foundations (Accenture, 2017). The sources of revenue for the different not for profit organizations vary with some depending on the sale of their goods and services while others are supported by donations and majority of them receiving their revenues from the government.
The environment for not for profit organizations is extremely competitive. A SWOT Analysis of the different non-profit organizations that exist is as follows; Not for profit organizations in many countries across the globe enjoy tax exemptions. This, therefore, enables them to offer goods and services at a discount due to the low tax expenses. Non-profit organizations also have people who volunteer for different roles. These volunteers enable the organizations to enjoy massive savings (Ogunjimi, 2017). The board of directors for non-profit organizations in many nations are also expected to be volunteers which is a significant advantage to the companies.
The weaknesses seen in different not for profit organizations are; first, the majority of non-profit organizations are not well able to cover their expenses with the revenue that they generate. Additionally, they are unable to match the salaries of their for-profit competitors. Many non-profit employees, especially in small companies, therefore usually look at job satisfaction as compensation as opposed to wages (Ogunjimi, 2017). Finally, many not for profit organizations face budgetary deficits which are depicted when purchasing goods from suppliers.
There are many opportunities that not for profit organizations have. First, most of these agencies receive grants from the government, private organizations, or other groups. Moreover, they can form alliances with other organizations and thus enjoy the benefits of working together. The different non-profit organizations are however highly vulnerable to economic crises. This is because many of these organizations are highly dependent on contributions (Caroll, 2013). Moreover, in circumstances where the organizations are accused of impropriety, the scandals can be very damaging and lead to poor perceptions of the organizations which will in turn adversely affect their operations.
Many people do not agree that non-profit organizations should invest in marketing strategies, but these are very beneficial to enable the organizations to grow and expand, as well as to be able to have access to different funding opportunities that will allow them to prosper. Not for profit organizations need to develop a target audience to whom they will market themselves (Thorton, 2017). In this case, they should identify the party that has the highest likelihood of supporting their cause and then create their advertising and promotion around that target.
Not for profit organizations also need to build a brand for themselves. The brand of a non-profit organization is depicted in the leadership, the content and look of all their communication, their services, and their alliances. The brand that a non-profit organization builds is what attracts supporters, donors, and clients to recognize, trust and remember the organization (Caroll, 2013). The brand is what separates a specific non-profit organization from other organizations and thus enables it to stand out.
A Non-profit organizations online and offline practices also profoundly affect how it is perceived. Offline activities include; print materials, small scale and large scale events, networking, and alliances. Conversely, online materials include; the organizations website, email communication, and social networking. Public relations is also a huge part of marketing the organizations (Thorton, 2017). This is because since non-profit organizations are there to benefit the community, there is a need to create awareness on their existence and their purpose.
Not for Profit Organizations in Dubai
Dubai has two free trade zones namely; the Dubai International Financial Center (DIFC) and the International Humanitarian City(IHC). The International Humanitarian City was established in 2007 as an independent free zone. It has now become the most active and largest logistics hub in the world for operations relating to humanitarian aid. It has registered entities such as the International Humanitarian, United Nations agencies and other commercial entities and registered organizations that supply products to these organizations. The Dubai International Financial Center is a financial free zone that is also independent, and that is focused primarily on services in the financial industry (Australian Government, 2017). Most of the charitable organizations in the UAE are hosted by Dubai and the trade free zones. The UAE has four major types of philanthropic organizations. These include; philanthropic societies, non-profit incorporated organizations, public welfare, and non-profit organizations.
The Islamic sharia law serves as the primary source of legislation for not for profit organizations in Dubai. Dubai has a deep-rooted culture of giving that originates from religious and tribal traditions. Majority of the philanthropic organizations in Dubai today were founded by members of the royal family or by the government. The donations that come from Dubai and the UAE as a whole are very significant. The UAE has been said to be the leading source of donations among countries in the Gulf Cooperation Council. This amount is more than one million dollars. The numerous foundations in Dubai and the UAE have been seen to account for billions of dollars both in foreign and domestic investment (ABCD, 2017).
There exists about 19 organizations that are registered by IACAD and 65 organizations that are registered by the IHC. The charitable organizations in Dubai are under strict control from the government. The ministry of social affairs in Dubai is the body that regulates the philanthropic organizations. The emirate of Dubai enacted a decree in 2015 on fundraising that put restrictions on the ability of charitable organizations to receive ad raise funds. The decree number nine states that organizations must seek approval in writing from IACAD before carrying out any fundraising activities (Australian Government, 2017). This, according to the government, is to ensure that donations are not misappropriated.
Critical Analysis of the Australian Business Council Dubai (ABCD)
The Australian Business Council Dubai is a business focused and dynamic community that is aimed at informing and facilitating connectivity in support of the growth of businesses in the Gulf region. The ABCD is a non-profit organization that has been in existence for twenty-one years and its one of the busiest business councils in the Gulf Cooperation Council (ABCD, 2017).
This is an essential organization in the Gulf region because it enables businesses to develop by carrying out networking activities and different social and information activities that increase cooperation levels between enterprises that operate in Dubai, Australia and the Gulf region (ABCD, 2017). This council works in conjunction with the local and Australian governments in a bid to support and provide advice on activities that improve the relationships and have an influence on policies for its members.
The organization has over nine hundred members, and it has seven different membership categories to citizens in Australia and various stakeholders with business relationships in Australia as well as companies that aim at marketing their products in Dubai and Australia.
This organization is also significant because it assists different businesses to get their products to the market and it also ensures that their products are well marketed using various means. This aids in developing the peoples standards of living and it also earns revenue for the Australian, Dubais, and the Gulf states governments (ABCD, 2017). The organization also encourages diversity to ensure that there is equality in the organization and to ensure all people benefit from its services regardless of their ethnic group, gender, or age. Therefore, this is an important organization because it provides access to government and commercial networks for businesses which is quite difficult for them to do on their own but is also vital in their operations. In turn, the businesses can run profitably and adequately serve the society.
The Future of Non-Profit Organizations
Over the past decade, the non-profit sector has grown very fast. It has also proved remarkably resilient to the changing world and the changes in the global economic climate. Different not for profit organizations have therefore been able to grow over the years despite the current challenges because they have been able to withstand disruptions and threats (Thorton, 2017).
Many people in various countries have lost their jobs due to the advancement of technology. Others, especially in developed countries have lost their jobs to outsourcing activities by their organizations. Jobs that have been profoundly affected are those in the transport, manufacturing, legal research, and accounting sectors (Casey, 2016). Contrary to the for-profit sector, jobs in the non-profit sector have increased highly in recent times despite the different global ch...
Request Removal
If you are the original author of this essay and no longer wish to have it published on the customtermpaperwriting.org website, please click below to request its removal: