B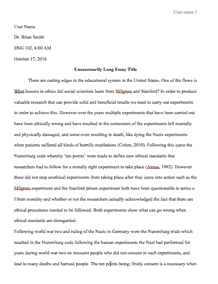 University/College: 
University of Richmond
This essay has been submitted by a student. This is not an example of the work written by our professional essay writers.
Organizational leadership is a second focused administrative strategy, which works on what is good for people and a team as a whole concurrently. Organization leadership requires the development of understanding for the worldview of the leaders and that of others. According to Burns et al. (2014), organizational leadership focuses on human psychology and expertise, which stress on advancing leadership skills and capabilities that are essential to companies. This means the individual potentials to face difficult times and grow at the same time is enhanced. Organizational leadership points out and differentiates a leader from a manager. However, a corporate leader does not dominate others. Rather, he or she guides the team members, offer them a sense of direction to realize organizational goals successfully and responsibly (Posner et al., 2015). Corporate leaders are supposed to be optimistic, empathetic and should understand what group members need. They should lead the actions of a team rather than that of individual members. Hence, this paper focuses on the importance of organizational leadership.
An exploration and understanding of organizational leadership conditions, as well as its importance, has been the goal for many organizations. Most firms have conceptualized the significance of organization leadership by considering two types of leadership namely transformational leadership and transactional leadership. Schein (2015) simply differentiates transformation and transactional leadership by expounding on transactional leadership for instance, the kind of leadership, which embraces the current structure of an organization as it, is and transformational leadership strives to renew the structure. Transactional leadership is defined along the lines of substantial compensation for work undertaken by an individual. Increased attention is given to transformational leadership, which is founded on the concept of cultivating leadership and allowing people to transcend their interests to act on behalf of the enterprise. For a successful leadership operation under this framework, it is important for leaders to recognize the possible needs, assets, or intentions of potential team members. It leads to the mutual advancement of capacities for both the team and the manager. Transformational leadership emphasizes on the type of leadership, which builds a relationship between the people who aspire to lead and those who decide to be followers. Yukl et al. (2013) explains that leadership take place when one or more people interact with each other in a way that both the leaders and followers raise and bring one another to a higher level of motivation and morality.
As indicated by Dobbs & Walker (2010), transformational leaders are essential to any firm as they are change agents, visionaries, and strategic risk-takers. They can quickly articulate companys core values that guide their character, have exceptional cognitive abilities, and believe in strategic deliberation before acting. They also believe in team members who show sensitivity to their needs. This leader is flexible and always uses their experience as their lessons. Transformational leaders act as an inspiration to others and motivate them to aim for higher goals for the product of the group, hence, maximizing the potential of individuals as well as the team.
Table 1.1 Transformational vs. transactional leadership Hamstra et al. (2014).
Transformational Leadership Transactional Leadership
Builds a persons need to have a meaning Builds a persons need to do a job and have a source of income
It is dominated with reason and values, ethics and morals Preoccupied with position and authority, politics and perks.
Work towards achieving long-term objectives without violating human values. Work towards achieving short-term goals and it is data-oriented.
Patient and proactive Mixes causes and signs and focuses on treatment rather than prevention.
Pays attention on the firms mission and strategies for attaining them Pays attention on tactical problems
Leads out to new directions Follows and fulfill expectations by working under the already existing system
Organizational leadership is founded on the structural functionalist theory of leadership which is based on bureaucracy (Slater, 1995). Each company is seen as being made up of complementing segments, each helping one other to create a smooth functioning organization. Modern organizations tend towards systemizations, standardization, and bureaucracy. For better or worse, it is why leadership in firms is necessary. Charismatic leadership matters less than experience from an institution and competency (Avolio & Yammarino, 2013). Charisma may grow for its stake and forget the purpose. Typically, leaders who demonstrate significant appeal to keep the vision on the move (Mumford & Strange, 2013) often lead companies with huge visions. The bigger the vision, the more the firm bends towards a visionary type of leader, hence, increasing the risk of charismatic dependency. Businesses with a leader who shows charisma depend on the manager forgetting that teamwork enhance a companys growth.
An American social psychologist Douglas McGregor came up with the X-Y concept in 1960 and he suggested that there are two main approaches to managing people (McGregor, 1960). The theory is the authoritative management style, which says that an average individual may tend to avoid work. Therefore, this person must be forced with the threat of consequences to work towards firms goals. This person prefers to be given directions; he or she avoids responsibilities, unambitious and is always after security above everything (McGregor, 1960). Theory Y is the participative style where the effort to work is natural and people tend to apply self-control and direction in the pursuit of company goals, without being controlled by an external force or threat of being punished. Organizational leadership tends to be more of theory Y than theory X. The central principle of concept Y is the integration of people, which helps them to achieve their personal goals by paying attention to the goals of their workplace. These people often look forward to getting the most out of their works through appreciation, satisfaction, and motivation. Theory Y assumes authority, rewards, and punishment are unnecessary to stimulate people as they can center their attention on the goals they pursue through self-control.
In conclusion, organizational leadership plays the critical role of maintaining a balance between understanding the workforce needs and the companys goals. Firms with the right leadership elements such as theory Y and transformational will have a staff who are satisfied with working for the company and who feel that their work has enhanced the growth of the enterprise. Employees must be treated as the most vital part of the entire system and rather than being treated like a workforce; they must be seen as the enterprise assets. While charismatic leadership may be desirable to a firm, it creates dependency on the leader hence affecting the vision of the company. Theory X, on the other hand, creates the tendency of pushing people around with the threat of punishment. It not only impacts employees development but also affects the growth of a company due to a demotivated workforce.
References
Avolio, B. J., & Yammarino, F. J. (Eds.). (2013). Introduction to, and overview of, transformational and charismatic leadership. In transformational and charismatic leadership: The road ahead 10th anniversary edition (pp. xxvii-xxxiii). Emerald Group Publishing Limited.
Burns, J., Shoup, J. R., & Simmons Jr, D. C. (Eds.). (2014). Organizational leadership: foundations and practices for christians. InterVarsity Press.
Dobbs, R., & Walker, P. R. (2010). Transformational leadership: A blueprint for real organizational change. Parkhurst Brothers Publishers.
Hamstra, M. R., Van Yperen, N. W., Wisse, B., & Sassenberg, K. (2014). Transformational and transactional leadership and followers achievement goals. Journal of Business and Psychology, 29(3), 413-425.
McGregor, D. (1960). Theory X and theory Y. Organization theory, 358-374.
Mumford, M. D., & Strange, J. M. (2013). Vision and mental models: The case of charismatic and ideological leadership. In transformational and charismatic leadership: the road ahead 10th anniversary edition (pp. 125-158). Emerald Group Publishing Limited.
Posner, B. Z., Crawford, B., & Denniston-Stewart, R. (2015). A longitudinal study of canadian student leadership practices. Journal of Leadership Education, 14(2).
Schein, E. H. (2015). Dialogic organization development: The theory and practice of transformational change. Berrett-Koehler Publishers.
Slater, R. O. (1995). The sociology of leadership and educational administration. Educational Administration Quarterly, 31(3), 449-472.
Yukl, G., Mahsud, R., Hassan, S., & Prussia, G. E. (2013). An improved measure of ethical leadership. Journal of leadership & organizational studies, 20(1), 38-48.
Request Removal
If you are the original author of this essay and no longer wish to have it published on the customtermpaperwriting.org website, please click below to request its removal: