B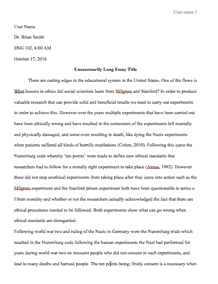 University/College: 
George Washington University
This essay has been submitted by a student. This is not an example of the work written by our professional essay writers.
Leadership Assessment helps the leader to understand their weaknesses and strengths in the organization. Considerably, leadership is associated with various concepts such as qualities, behavior, intelligence, vision, charisma, morals, function and situational interaction among the employees and clients. As a leader it takes a variety of different training, experience, and education combined to be an effective leader. As a leader of Health and Human Services, I am required to attend many leadership trainings, and conferences monthly to assist with the employees, and clients we serve. I have selected three different assessment tools of which I will use as a leader at Health and Human Services for my employees and managers to assist with growing the organization, and helping the employees to thrive at Health and Human Services.
Comparison of the Different Leadership Assessments
Trait assessment questionnaire
This assessment tools provides information particular to Health and Human Services on unique attributes of a leader where the individual could best serve the organization. I selected Trait Questionnaires provide a self-assessment tool by quantifying perceptions of a leader and selected peers or subordinates and points out areas that the individual has strength or weaknesses. The analysis is usually done using a scale of five questions strongly disagree and 5 strongly agree against 14 trait statements which include: articulate, perceptivity, self-confidence, persistence, determination, trustworthiness, dependability, friendliness, outgoing, empathy, sensitivity, diligence and conscientious ( Northouse ,2016).
Behavioral approach questionnaires
The second approach I selected is behavioral approach questionnaire. It provides a framework for assessing leadership based on the task and relationship dimension. Behavioral approach explores how the leader act and what they do with expanded research on actions of leaders towards followers in various contexts. This approach assists to employees to meet goals and objectives. There are 20 items that evaluate alignments on connections. Behavioral questionnaire respondents gauge the leader on such strengths or frequencies the leader portrays the behavior as never, seldom, occasionally, often or always. Behavior dimensions include if the leader: gives direction, acts friendly, set standards, treat others fairly, solve problems, communicates, is flexible, encourages or solves conflicts( Northouse,2016).
Situational approach questionnaire
The third assessment questionnaire is Situational Approach. It is based on the premise that different situations demand a different kind of leadership and therefore the leader is required to adopt the style on demand of the specific situation.it is based on the theory that leadership composes directive and a supportive dimension that are applied appropriately in a specific situation. The situational leadership model developed by Blanchard in 1985 best illustrates it. The approach has question on work situations. The situational leadership model gives responses on the score of the leader on secondary leadership styles, their flexibility and leadership effectiveness and hence suggests to the leader how best to behave in a particular situation at Health and Human Services( Northouse,2016).
As a leader of a social work organization, tasks with the role of leadership styles to fill a different position of the organization based on the ability of individuals in specific positions assigned, it is crucial to use all three-assessment tools to arrive at the best decision. I look for Social workers candidates for leadership positions should fill all three questionnaires to cover all dimensions. First, the trait approach assesses individual managers strength and weaknesses and how others generally view them. This will help me as the leader to decide if they possess the qualities to be a leader at Health and Human Services. Trait assessment questionnaires will help me gain insight into potential leaders based on their traits. The behavioral approach, on the other hand, compliments the training program to help managers improve their overall leadership behavior. A combination of assessment tools allows me to decrease ineffective leadership skills at Health and Human Services. Situational leadership approach is more practical and straightforward. It complements the complete training program during idea formation and its implementation phase. The rationale behind choosing these three assessment tools is that they all complement each other in the training program. The trait approach will identify what personal attribute a candidate in a leadership position must possess. A behavioral assessment will provide data on not only best behaviors for the leadership position but also what is ineffective in the certain leadership position, for example, an accounting officer needs less persuasive skills than project manager does or a field agent. Situational leadership assessment compliments the overall training program mostly by being practical to help managers learn and help in structural adjustment of the social work organization during the implementation phase.
The success in developing a strategy for Health and Human Services is crucial and requires enterprises to have a future-oriented talent capacity. The organizational goal is to implement and maintain a stream of professional leaders, with the desired skills, performing their competencies and within the acceptable time to contribute to a sustainable competitive power (Korn Ferry, 2015). Apparently, this particular perception to determine and control great prospective leaders has emerged fundamental in organizations with a significant focus to implement the trait, behavioral and situational approaches. However, according to Northouse (2016), these procedures have not received adequate research, and it is substantial to make a comparison between their functions and expected goals an organization.
Typically, the three approaches to leadership styles have distinct similarities such as to determine the development capacity of employees and the leadership model needed from the employers to deal with the advancement levels appropriately. However, individual differences among them are evident example the trait questionnaire is a self-analysis leadership tool that profiles traits such as stress, context and fatigue and how people can swing from one dominant profile to another for example if an employee in the Health and Human Services, lack of leadership will switch to a dominant profile to get things done. Behavioral assessment tools will measure the score of certain traits in employees and determine their leadership style based on traits they possess or do not possess. Situational assessment tools, on the other hand, categorize scores in the areas of position, permission, production, developing skills in others and pinnacle from the five levels of leadership.
Moreover, Northouse (2016) suggested that the trait strategy could be utilized for individual awareness and advancement. Therefore, as a leader I can measure the characters of their employees to understand their capacities and weaknesses in the organization. Similarly, assessment style that utilizes the behavioral concept, for example, the DISC approach reminds me as a leader to realize that their actions usually happens through their duties and association functions. On the other hand, the situational theory is characterized by the transformations that occur along a strategic continuum and expects leaders to adjust in their lead characters. It is contrary to both trait and behavioral concepts, which focus on discreet leadership styles.
Explanation of Specific Goals of Leadership
Various aspects concern the purpose of assessing the leadership style of employees, for instance, the potential and effectiveness to achieve the goals of Health and Human Services Agency. Therefore, about the trait, Maxwell leadership, and DISC assessment, the perceived goals and objectives include: According to the trait concept, the evaluation of leadership style aims at encouraging individuals that possess various traits that have a potential for success in business by the second year. Also, in pursuit of detailed studies, this concept plays a significant role in identifying unique functions and activities/tasks that leaders can be assigned, once a month. Northouse (2016) also asserts that this approach purports to assist people to discover certain traits in leadership by one month of employment.
Similarly, the behavioral assessment approach establishes various contributions to accomplish the actual product of the actions of leaders and the characteristics of behavior that was demonstrated. Besides, owing to the intense research invested in this approach, leaders aim at accomplishing an in-depth analysis of their leadership undertakings. Therefore, the behavioral approach enables an evaluation of activities and the determination for modifications to enhance leadership experience by the first year.
Furthermore, the implementation of situational outlook to leadership tends to achieve essential goals such as educating leaders in an enterprise by the first six months as a leader. For instance, numerous institutions and initiatives for training appreciate situational approaches to leadership models, as evidenced by many Fortune 500 firms (Northouse, 2016). Besides, the technical part of the concept can be easily understood and adopted. Therefore, from this approach leaders can easily comprehend versatile skills for individuals that can be applied in other settings like learning institutions.
Analysis How Leadership Assessment will Positively Impact Specific Training
As a leader of Health and Human Services, I selected these approaches to aim at creating opportunities to assist employees/managers to learn current skills and through taking these assessments to assist the organization to thrive. The concept purports to impart confidence in their role this is measured by the employees quarterly evaluations. The integration of trait, behavioral and situational assessment styles has potential to determine successful leadership styles and contribute to active task operations and achievement of organizational goals.
Conclusion
I want my employees, and clients to have a wonderful experience at Health and Human Services. The assessments will help self-awareness, and growth opportunities for leaders, and employees. In conclusion, it is essential to appreciate the input of some solutions from the leader and employees or instead several leadership styles to implement all subordinates. Therefore, in leadership styles assessments, a competent manager should comprehend that the appropriate leadership model is mostly a product of the level of challenges in a task as well as the evolution of an employee in performing the work at Health and Human Services
References
Church, A. H., & Rotolo, C. T. (2013). How are top companies assessing their high potentials and senior executives? A talent management benchmark study. Consulting Psychology Journal: Practice and Research, 65(3), pp. 199-223
Fleenor, J. W. (2011). Trait approach to leadership. Encyclopedia of Industrial and Organizational Psychology, SAGE Publications, pp. 831-833
Korn Ferry. (2015). Assessment of leadership potential. Research Guide and Technical Manual, pp. 2-20
Northouse, P. G. (2016). Leadership: theory and practice. SAGE Publications, Inc., pp. 19-114
Wyld, D. (June 29, 2010). Southern Louisiana University in management. Top ten management on situational leadership theory: An overview of how to match the right leader to the right group of followers. Retrieved from, http://bizcovering.com/management/top-ten-management-on-situational-leadership-theory-an-overview-of-how-to...
Request Removal
If you are the original author of this essay and no longer wish to have it published on the customtermpaperwriting.org website, please click below to request its removal: