B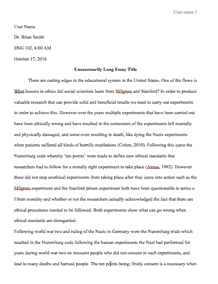 University/College: 
Wesleyan University
This essay has been submitted by a student. This is not an example of the work written by our professional essay writers.
Homelessness is closely linked to healthcare. In the society, healthcare is a big nightmare for both low-income families and the people who are already homeless. Lack adequate financial resources result to both inadequate healthcare insurance and homelessness. Homelessness has been blamed as the cause of poor health. Families without health insurance are usually low-income families and therefore have insufficient resources to pay for their healthcare expenses. Whenever an illness strikes a low-income family, they have to choose between hospital bills or mortgages. Homeless people are more susceptible to illness than housed people. Homeless people lack good nutrition, basic first aid and personal hygiene making their health needs to be even more complex.
Since most of the psychologically sick and homeless individuals cannot pay for healthcare, they utilize resources such as emergency hospital rooms as their primary health care source. Hospital emergency rooms provide little continuity, and therefore it is the most effective healthcare resource for the homeless. However, it is costly to maintain mentally ill patients in hospital emergency rooms for both the healthcare facilities and the government. Other resources available for the mentally ill and homeless individuals are the Community Support Connection and the Supported Housing Initiative. Community support connection offers support and advocacy to mentally ill people whose housing are vulnerable or who are homeless. The supported housing initiative aims at offering long-term housing solutions for the homeless mentally ill people. In this initiative, financial support is given to such families and individuals to enable them to acquire housing (Afifi, Rice, Andersen, Rosenstock & Kominski, 2013). Currently, government-funded programs such as health care for the homeless is designed to ensure healthcare and treatment for the homeless. Healthcare for homeless projects offers primary medical care and treatment for various ailments including mental health, supportive housing among other services.
Just like other ill people, the homeless also need healthcare for check-up and treatment. However, due to some barriers to health care, the sick and homeless people do not have access to healthcare. Some of these medical barriers include lack of knowledge and awareness of the health resources available to them, lack of accessibility to such medical resources and the fact that such individuals lack identification. Additionally, some psychological barriers such as nervousness and embarrassment when filling out necessary forms and answering medical questions as required, and self-esteem or self-consciousness about their physical appearances and hygiene when living on poor street conditions hinder treatment for the mentally ill and homeless people. The high cost of medical expenses and lack of financial resources are the common barriers to healthcare for the mentally ill and homeless individuals. Also, there lack affordable housing making it more complicated to providing healthcare to the mentally ill and homeless people.
The psychiatric nurse helps mentally ill patients to efficiently explore the healthcare system from hospitalization to the community setting (Hunter, 1993). Such help is critical since mental treatment is usually a longitudinal treatment that takes place in outpatient set up. Psychologically ill individuals are also likely to comply positively in an outpatient setting. Psychiatric nurses have the responsibility to offer mental health care and educational support and connect the patients to community services.
References
Afifi, A. A., Rice, T. H., Andersen, R. M., Rosenstock, L., & Kominski, G. F. (2013). Changing the U.S. health care system: Key issues in health services policy and management. San Francisco, Calif: Jossey-Bass.
Hunter, J. K., & State University of New York at Buffalo. (1993). Nursing and health care for the homeless. Albany: State University of New York Press.
Institute of Medicine (U.S.). (1988). Homelessness, health, and human needs. Washington, D.C: National Academy Press.
Request Removal
If you are the original author of this essay and no longer wish to have it published on the customtermpaperwriting.org website, please click below to request its removal: