B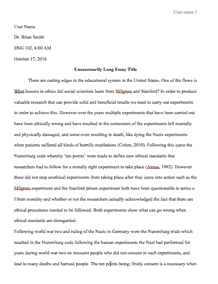 University/College: 
Sewanee University of the South
This essay has been submitted by a student. This is not an example of the work written by our professional essay writers.
Cognitive behavioral therapy is considered to be one of the most effective treatment procedures for people found to be suffering from PTSD. The evidence based interventions in so far as cognitive theories is concerned, have been proven to be useful in the realization of the overall therapeutic processes in ensuring that there is an accurate outcome evaluation. The evidence based intervention in cognitive theories or treatments is known for their effectiveness in the sense that they change the behavior of the target when the entire process is implemented with some form of integrity (Ehlers, Clark, Hackmann, Grey, Liness, Wild, McManus, 2010). CBT is a hands-on process with practical approaches that are problem-solving and are aimed at altering a defined pattern of behavior or thinking that are behind the difficulties people face and thus change the way they feel or perceive of certain things.
Indeed, the CBT treatments are often administered in a range of 7 days or 2-week sessions over a span of several months as this is when it is most beneficial and effective. However, it should be noted that this kind of approach is not always the most ideal especially when the patients live several miles away from the setting of the therapy or if they are under the pressure of getting instant results from the treatment. There are cases when patients also lose the patience and find it difficult engaging in prolonged psychological therapies. Therefore, this task sets out to present a case of Rodrigo who suffers from PSTD. Emotional distortions of trauma-related CBT can be subjected to Rodrigo to help in treating the psychological aspects of PTSD manifested in the patient.
Treatment Plan
It is important for Rodrigo who is the patient in this case study to address the issues of trauma in a bid to undo the acquired infantile behaviors as well as the inappropriate mechanism of coping with the situation. It is also important that he addresses the ideations of suicide, depression and the general lack of self-esteem that come as a result of the reflections of trauma. The patient should ensure that he manages the substance abuse through the socially accepted mechanisms of coping (Linehan, Armstrong, Suarez, Allmon, & Heard, 1991).
Life style changes expected
Recovery is something considered to be much more than just quitting substance abuse. Attempts to maintain abstinence from the addictive behaviors while at the same time keeping up with ones old lifestyle may not work after all. It is therefore important for those in the recovery path to learning ways of learning how to rebuild their lifestyles around recovery and not fitting improvement into their way of life (Wiers, Becker, Holland, Moggi, & Lejuez, 2016). Rodrigos expected lifestyle includes interests, values, behaviors, and opinions. And to ensure that he stays sober and positive, it is important that he adopts a holistic change in his lifestyle such as eating healthy diet, exercising regularly, looking for new hobbies, learning to relax, looking for new friends to hang out with, taking control of his finances, being honest with himself on everything including the progress, and the practicing gratitude among other changes (Wiers, Becker, Holland, Moggi, & Lejuez, 2016).
Implementation Plan
The therapeutic examination of Rodrigo should be undertaken for the next six months whereby the focus will be on the stimuli that are related to the trauma induction as well as on learning how to come to terms with his condition and how to cope with the signs. With this, Rodrigo will be better placed to understand the connection between the drinking problems bedeviling him and the symptoms of PTSD. Besides, a bi-weekly plan for the assessment of the same should be put in place after a 30-day period of therapeutic follow-up, and at each stage, the patient should be involved in the formulation of future goals (Linehan,et al., 1991).
References
Ehlers, A., Clark, D. M., Hackmann, A., Grey, N., Liness, S., Wild, J., McManus, F. (2010). Intensive Cognitive Therapy for PTSD: A Feasibility Study. Behavioral and Cognitive Psychotherapy, 38(4), 383398. http://doi.org/10.1017/S1352465810000214
Linehan, M. M., Armstrong, H. E., Suarez, A., Allmon, D., & Heard, H. L. (1991). Cognitive-behavioral treatment of chronically parasuicidal borderline patients. Archives of general psychiatry, 48(12), 1060-1064.
Wiers, R. W., Becker, D., Holland, R., Moggi, F., & Lejuez, C. W. (2016). Cognitive motivational processes underlying addiction treatment. Addictions: A social psychological perspective, 201-236.
Request Removal
If you are the original author of this essay and no longer wish to have it published on the customtermpaperwriting.org website, please click below to request its removal: