B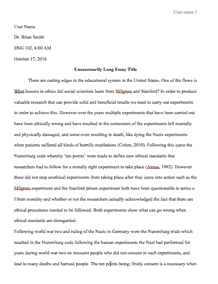 University/College: 
University of Richmond
This essay has been submitted by a student. This is not an example of the work written by our professional essay writers.
Health, nutrition, wellness, and safety are among the vital areas we as adults focus on when it comes to children. We are inclined to active participation among all the families that are part of our fraternity in ways that are considerate of the distinct lifestyles, schedules, structures, and needs. Children need to learn both at school and at home and am certain that a majority of parents/guardians are challenged by their children with what they learned at school. It is in this respect that I write this letter notifying you of a backpack plan to be implemented from next month.
Your child or children will come home with a backpack for a number of days on a rotating schedule throughout the year. The essence of the backpack is to enhance wellness, safety, nutrition, and health at home. The purpose of the backpack plan was the assist parents and guardians to be a part of their childs growth and development and also to play a major role in ensuring the children are safe at all times. The backpack will contain materials, games, parent information, and other resources centred on a teacher-created plan. The materials will make it easier for parent and children to enjoy the lessons in a fun and engaging way.
In case of any queries, please feel free to contact me via email or telephone call. The backpack thematic plan is intended to enhance your childs health and wellness. Your child will get an opportunity to explore the environment freely bearing in mind various safety precautions and the right steps to take to achieve a healthy lifestyle.
Sincerely,
Teacher
Early Childhood Education
Many children in the United States face one or more health, safety, wellness, or nutrition issues leading to the need for additional learning techniques to enhance the childrens lifestyle despite their parents or guardians busy life. To enhance children and parents bonding time at home, teachers are tasked with the duty of creating programs that will ensure parents participate actively in the lives of their children. Some of the techniques used by teachers include the backpack action plan. The backpack is intended to assist parents and guardians interact with their children in learning more about health, nutrition, wellness, and safety. In the paper, I will give an idea or activity the backpack will contain for families to explore. The ideas will fall under their respective topics.
Health
Children can experience various health challenges while at home without the knowledge of their parents or guardians. For instance, television is known to cause health challenges to some children (Ketti, 2011). Too much television can be hazardous to the mental and physical growth of a child. Issues such as eyesight impairment can arise from watching too much television. However, television can have positive impacts on the children in cases such as learning. Various advertisements focus on the importance of washing hands to kill disease-causing germs; children are able to learn the benefits of washing hands.
Washing hands saves one from contracting various ailments thereby guaranteeing ones health. Under the health topic, there would be a game where the parents randomly ask the children on when to clean their hands and when not to. The children too will ask their parents the same questions making the game interactive for both parties. The game can be in a song format where the expected answers will be used to enhance a childs health.
Wellness
Wellness encompasses a childs state of being in good health. Prioritizing wellness reduces the risk of getting unwell thereby ensuring the child participates in all activities and develops to be strong and healthy. Various studies support the need for wellness programs both at school and at home in enhancing a childs development and growth. Some of the practices that promote wellness in children include brushing of teeth. Poor dental hygiene leads to contraction of some preventable dental ailments.
Teeths brushing ensures children are free from dental diseases. The lack of brushing teeth can lead to toothaches, which may affect a child adversely hindering them from their usual routines. To effect brushing of teeth, the backpack could include an activity that requires parents to brush their teeth with their children. Failure to follow the stipulated rules will lead to a loss in the overall score of either the parent or the child.
Nutrition
Food is a basic need to the human population; without food, people would seize to exist. However, not all foods are beneficial to the human body; some foods should be avoided at all costs while some should be consumed in large amounts. Nutrition assists in the understanding of various foods and their impact on the body. For instance, consumption of excessive fatty foods can lead to health issues such as obesity. Nutrition assists the body to develop optimally since the required nutrients are consumed in appropriate proportions.
To enhance a childs understanding of nutrition, the best activity to include in the backpack would be a recipe. Additionally, the children would be required to submit recipes they tried out with their parents at home for close monitoring by the teachers. A recipe will ensure a child understands the right foods to eat and how to prepare them.
Safety
According to Goodenough, Towner, Kendrick, Deave, and Stewart (2010), parents with preschool children should ensure there is safety at home for their children. The article focuses on fire safety practices that parents must abide by. Preschoolers are explorative and chances of fire incidents might occur during their explorative endeavors. As such, parents are advised to ensure the house is a safe haven for their children. Including resources for safety education in the backpack will play a vital role in ensuring both parent and children understand the risk instances of fire outbreaks can have on their children.
A composition book would be an important tool in recording what parents and children learn about safety at home. For instance, in the case of fire, the child can draw a matchstick and a matchbox to illustrate he or she has learned about the dangers of a matchbox and a matchstick. Moreover, the child should be able to communicate what would happen when the matchstick is lit.
Conclusion
Conclusively, child safety, health, nutrition, and wellness should be paramount both at home and at school. There are several ways that safety, wellness, nutrition, and health can be enhanced such as taking the appropriate medication when ill, being inoculated against known diseases, and practicing hygiene. Children need all the support they can get from their parents and guardians as they strive to achieve excellence in their lives.
References
Goodenough, T., Towner, E., Kendrick, D., Deave, T., & Stewart, J. (2010). Keeping children safe at home: interview study of fire safety practices of parents of preschool children. Injury Prevention, 16(Supplement 1), A206-A207. http://dx.doi.org/10.1136/ip.2010.029215.736
Kettl, P. (2011). Exploring the Mental Life and Home Life of Children: The Role of a Television History. Child And Adolescent Mental Health, 16(1), 60-62. http://dx.doi.org/10.1111/j.1475-3588.2010.00573.x
Request Removal
If you are the original author of this essay and no longer wish to have it published on the customtermpaperwriting.org website, please click below to request its removal: