B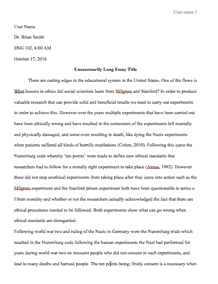 University/College: 
Wesleyan University
This essay has been submitted by a student. This is not an example of the work written by our professional essay writers.
Nurse advocates face numerous obstacles in their line of work. This article will cover some of the findings of the challenges.
Student nurses may find themselves in positions where they need to challenge qualified workmates. Such situations only make it harder for nurses to speak up due to their inexperience regardless of their qualification on the matter. An underweight patient, Linda Baker, found herself in eating disorder unit. A senior member questioned Linda on her eating habits which were against her care's advice that no relation to food is made to Baker. The student nurse was unable to challenge the order and left the room (Stephenson, Merrifield, Ford, & Stephenson, 2017).
Challenging the knowledge of a colleague is also an opposing factor in advocacy. Nurses may find themselves questioning the practice on another physician on a patient. Helen Taylor had a knife slit on the cheek and ambulance took her to the hospital. A nurse took her into a junior doctor. She advised the doctor that Helen needed a plastic surgeon to operate on her wound. Ignorantly, the doctor replied that he too had an inspiration to become a surgeon and performed on Taylor. The operation left Helen with a very visible scar on her cheeks (Stephenson, Merrifield, Ford, & Stephenson, 2017).
Nurses face the dilemma on how to protect vulnerable people from the society. People with disabilities or chronic illnesses like Aids face a lot of stigmatization. It's hard to advocate and protect the patients once they out in the community.
Some family members create barriers for nurses during treatments and diagnosis. Some family members do not believe in vaccinations as they assume that their sibling's health from meals is enough. Such decisions leave nurses in no position to advocate for their patients.
On February 14, 2017, two nurses, Irene Orina and Fatuma Mwacharo appeared before a Kwale court in Kenya after they misdiagnosed Ms. Florah Mwaso of having HIV. Flora was forced to take ARVS for a while before undergoing another diagnosis (DAILY NATION, 2017).
A nurse at a college clinic got a visit from a student experiencing headaches just before final exams. Her diagnosis of the patient led her to subscribe over the counter and migrain medicine. The following day the student was dead, and another diagnosis found that he died from bacterial meningitis (Ann W. Latner, 2017).
Conclusion
The barriers that hold the advocacy for nurses on patients are many. People need to believe in nurses and let them fully advocate for their patients.
References
DAILY NATION Two nurses in HIV misdiagnosis saga charged in Kwale court (DAILY NATION, 2017) DAILY NATION. (2017). Two nurses in HIV misdiagnosis saga charged in Kwale court. Retrieved from http://www.nation.co.ke/counties/kwale/Kwale-nurses-HIV-misdiagnosis/3444918-3813636-be1ayqz/(Stephenson, Merrifield, Ford, & Stephenson, 2017) Stephenson, J., Merrifield, N., Ford, S., & Stephenson, J. (2017). Patient advocacy: breaking down barriers and challenging decisions. Nursing Times. Retrieved 3 June 2017, from https://www.nursingtimes.net/clinical-archive/holistic-care/patient-advocacy-breaking-down-barriers-and-challenging-decisions/7014458.article
(Ann W. Latner, 2017) Ann W. Latner, J. (2017). A case of misdiagnosed meningitis. Clinical Advisor. Retrieved 3 June 2017, from http://www.clinicaladvisor.com/legal-advisor/misdiagnosed-meningitis/article/630608/
Request Removal
If you are the original author of this essay and no longer wish to have it published on the customtermpaperwriting.org website, please click below to request its removal: