B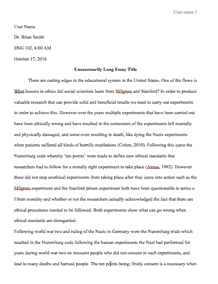 University/College: 
University of Richmond
This essay has been submitted by a student. This is not an example of the work written by our professional essay writers.
Jasmine Nichole Auston, 28, of Springfield, died at 9:00 AM on Sunday, May 7, 2016, at Baystate Medical Centre in Springfield, Massachusetts. The deceased was born on January 3, 1989, in Springfield, Ma. She was born to Latonya Jackson and James Auston.
Jazmine went to Science and Technology high school and graduated from the young parents program in 2008. She went on to obtain an associates degree in general studies from Springfield Technical Community College where she transferred later to AIC for a Nursing degree.
Jasmine worked as a banker and loved selling her own delicious creations. She enjoyed singing, writing music, shopping, spending time with her family and constantly making people around her laughing and keeping it real at the same time. she is survived by her daughter Harmonni Edwards, her mother and stepmother Latonya and Janette Jamison, her grandmother Augustine Woods, her five sisters Ebonee Morris, Shameka, Shalonda, Shanice and Shakina Auston; three brothers James and Dasean Auston and Jahmal Rivera; four nephews Ivarious Downie, Jacion and Dasean Auston and David Sims; ten nieces Emonni Bunch, Aniyah, Davonna, Joshayla, Jayloni, Kaylani, Talia, Dasani, Jniyah Sims and Samaj Auston. Host uncles, aunts and cousins who were more of brothers and sisters to her are also inclusive.
She leaves behind several close friends, Lyanne Torres, Latasha Downie, Crystal Rivera, Kurtis Wilson, Satin Nelson, Kaleigh Rodgers and Kentaya Lowe. The deceased is preceded by her father James Auston, her grandfather John Jackson and grandmother Roslyn Cuffie and her husband Wayne Edwards 2.
Jazmine has been a long time resident of Springfield, where she has had lots of associates that she kept to herself. She was a loving mother, a good listener, and a shoulder to cry on. Everyone seemed to lean to her for advice. She had a strong personality with a tough shell though she was soft under that shell, sweet as candy and goofy all the time. She was a lady who could make sense out of anything and always saw every persons point of view rather than telling them what they want to hear. Her passion for helping the needy and homeless people was out of this world. She regularly spoke about how she wanted to open a safe house in the future. She will truly be missed.
The wake is from 10:30 AM to 11:30 AM. The funeral service will take on later from 11:30 AM until 12:30 AM on Friday, May 12, 2017, at the Henderson Funeral Home. The burial will be at Oak Grove Cemetery.
Analysis of my stage of life.
Im in the early adulthood stage of life, also known as the enterprise stage. It lies between the ages 20 and 35. The stage involves young adults with the need of accomplishing most of their responsibilities including finding a home and mate and getting a family or circle of friends and getting a good job. Its a stage that involves getting out into the world and making a mark. Even though I have already accomplished part of the requirements for this stage, Im still yet to accomplish other tasks to ensure full completion of the stage. I already found my life mate, Wayne Edwards 2 who is deceased. However, we have established a family together and have a daughter, Harmonni Edwards. I work as a baker and love selling my own delicious creations. However, i am passionate towards helping the homeless and needy people and would like to make a mark by setting up a safe house in future.
I like what Ive done so far in my life. Ive become a contributor to the betterment of the society through acts of volunteerism, mentorship and various forms of philanthropy. I like making people around me to be happy, ensuring that they always laugh and feel free while keeping it real. I provide time for my family, friends, and people who need my assistance in any way. I give them room to give their point of view instead of telling them what they want to hear. I enjoy listening to people, providing them with a shoulder to lean on and advising them appropriately to the best of my ability. Im passionate towards helping the needy and homeless people. Im fulfilled through the acts of philanthropy and volunteerism while humanity benefits from benevolence. People can learn from me to bring a change in the society and make it a better place for everyone.
Changes I would like to make.
I would like to teach the world that those people in our lives who are dying or have already died teach us about the value of living. I lost my father James Auston, my grandfather John Jackson, my grandmother Roslyn Cuffie and the love of my life Wayne Edwards 2. The events teach me and the people remaining that we should not take our lives for granted, but instead live each moment of life to the fullest. Teach other people that their own small lives form part of a greater whole, therefore, they should change their attitude towards others and try to make better the lives of their fellow human beings.
References
Armstrong, T. (2008, 06). navigating the 12 stages of life. Retrieved from American Institute for Learning and Human Development: http://www.institute4learning.com/resources/articles/the-12-stages-of-life/
Manson, M. (2015, 05 21). The four stages of life. Retrieved from The four stages of life: https://markmanson.net/four-stages-of-life
Wendy, D. L., & Craig, G. J. (2006). Understanding Human Development, Third edition. Chicago.
Request Removal
If you are the original author of this essay and no longer wish to have it published on the customtermpaperwriting.org website, please click below to request its removal: