B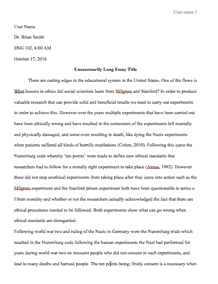 University/College: 
Wesleyan University
This essay has been submitted by a student. This is not an example of the work written by our professional essay writers.
Getting a chance to enroll at the Miami University will be of great importance and value to me. In life, I want to be one of the people who will be remembered for saving the lives of people and also helping those in pain. I want to serve the community as a whole. It is one my personal goals that I want to achieve. Through enrolling in this program, I will get a chance to learn how to cater to the needs of the patients of different ages, whether they are in the pre-operative section as well as when they are in the recovery unit. I will be able to be in a position to save their lives since the program will help me know how to give and as well as administer all types of anesthesia which include the neuraxial anesthesia, as well as the general and the regional anesthesia. The BSN-DNP Nurse Anesthesia program will enable me to be in a position to acquire the knowledge and as well as the skills required so as to be able to implement and also translate evidence into the actual practice of my work while in the line of duty.
Enrolling in this program at the University of Miami will be a great honor. It will be a firm foundation towards the building of my education goals because the University offers a high level of education and the lecturers are well trained. The program is offered on a full-time basis at the University hence it ensures that maximum time allocation is given to the various courses that are related to the BSN-to-DNP Nurse Anesthesia program. My educational goal is also to get certificates about my program which are from a certified institution of learning. The University of Miami has been accredited to offer this program by the Council on Accreditation of Nurse Anesthesia Educational Programs. Through that accreditation, it makes its students be in a position to do the National Certification Examinations so that at the end of the entire program they are considered as Certified Registered Nurses Anesthetist as they are offered with the certificates that prove that one went through the program. The university has also been accredited to provide doctoral level programs this will have a great impact on my education since this is a well-recognized institution hence most people will consider me as being credible and a qualified person to take care of them.
Taking the BSN-to-DNP Nurse Anesthesia program in this University will be of great help towards achieving my professional goals. One of my professional goals after undertaking this program is that I acquire all the characteristics that will lead to a real definition of a successful anesthesia nurse. This program will be a foundation of my career in nursing. I want to commit myself to a life of learning so as to be more professional in my work. I believe that after I graduate, thats not where education comes to an end but any day is considered as a learning day. This program will enable me to be an expert since it entails doing detailed research and this will make me be an experienced nurse. It will help me towards the achieving of my professional goals as I will be able to learn from my colleagues since different people have different skills and different ways of performing their duties. It will increase my level of knowledge and as well as equip me with various skills. The more skills I acquire, the more distinguished I will be from the other nurses.
Request Removal
If you are the original author of this essay and no longer wish to have it published on the customtermpaperwriting.org website, please click below to request its removal: