B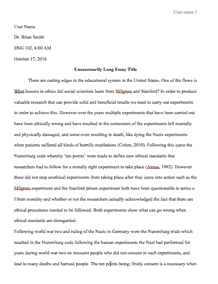 University/College: 
Carnegie Mellon University
This essay has been submitted by a student. This is not an example of the work written by our professional essay writers.
When I begin to look around everyone that surrounds me and how they have impacted my life I realize that my mother is the one that has impacted my life on a daily basis. Various people have passed through my life, but I havent found one whose wish, and love supersedes that of my mother. As I grew up, I watched my mother struggle to run the household as she worked part-time. Her determination, heart, and enthusiasm are things that I would like to possess someday because she had too much workload but she could still support me in my daily activities without giving up. My mother is one of a kind because she understood the essence of extra-curriculum activities and she could take her time and rush me to soccer matches, dancing competitions, karate, and riding. During games, I could spot her cheering me on with a smile on her face. This always made me hopeful and determined in life.
Through my mother, I have learned the virtue of honesty, determination, persistence and perseverance because be she managed the household, worked hard in her job, impacted me with good morals and also taught me how to relate with people in the right way. Whenever I wronged, she was there to scold me and taught me how to go about life without interfering with other people. My mother is one person that is so conscious of time. The aspect of time management is one of the greatest lessons that I learned from her because she would ensure that I do my homework in time, eat my supper in time and also wake up early enough to attend school. She taught me how to prepare my schedule and also how to be discipline in aspects regarding time. Whenever I was late, I could see her put on an unpleasant face and say remember we all have 24 hours in a day. Use time wisely. To date, I prioritize time in everything that I do.
My mother was hardworking, and despite getting her degree, it was difficult to find a full-time job. When she landed on one, she never complained of the challenges she encountered. She could come home in the evening while tired but could afford a smile on her face and showed us much affection. In various instances, she could tell me, Life is never too serious. Always he happy and strive to achieve more. Her advice and encouragements gave me the spirit to move on and strive to achieve my goals despite challenges.
My mother has always been the stepping stone to my bright future. Her unconditional love has made me bold and strong because she was ready to defend me in the uncertainties of life. When I failed in life, she told me never to give up but focus on embracing change. In the various mistakes that I made she could say, We all learn by mistakes, and no one is perfect. She always gave me a chance to differentiate right from wrong, and she was ready to assist me in making critical decisions in life. My mother is the pillar of my success. She is always present to celebrate my accomplishments and ready to support my engagements. She has always strived to make me strong and with an independent mind. In most occasions, I could hear her say, I am proud of you and always know that successful people are just like you. Her encouragements have always made me focused and determined. I thank her dearly for love and guidance and for nurturing the person I am today. Without her presence, would not have made it this far.
References
Giovanni, N. (January 01, 1997). Mothers. Love Poems
Rousseau, P. (April 30, 2013). A mother's love. Palliative and Supportive Care, 11, 2, 173-174.
Request Removal
If you are the original author of this essay and no longer wish to have it published on the customtermpaperwriting.org website, please click below to request its removal: