B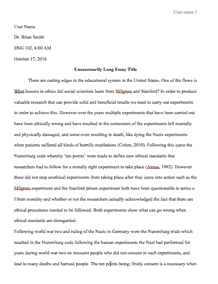 University/College: 
University of Richmond
Type of paper: 
Cover letter
This essay has been submitted by a student. This is not an example of the work written by our professional essay writers.
I am looking for an opportunity to employ my advanced skills and expertise as a university-level educational praxis. I am extremely interested in the lecturer position at ABC University as my academic background in sociology, politics, and online education complements my domestic and international work experience. My passion for teaching and social empowerment, complemented by my commitment to interdisciplinary research, demonstrate that I would be very efficient in meeting the needs and aspirations of the School of Social, Behavioral and Global Studies at ABC. Additionally, my involvement in education has mainly been within the scope of domestic and globalized social praxis. From my upbringing, youthful activism while studying at the University of California, Berkeley, throughout the education of my children and grandchildren, and in my travels abroad, I have continued my lifelong engagement in support of educational, environmental and social justice issues. I have also held several teaching positions which provide relevant experience for the lecturer post at ABC.
I am currently a K-12 tutor working for Professional Tutors of America which serves culturally, ethnically, and educationally diverse populations within the public school systems of Monterey and San Benito counties. To provide effective after-school tutoring to these predominantly ESL students in language, arts and elementary mathematics, I conduct needs assessments through instructional interviews and computer-based academic testing. I develop lesson plans, considering my analysis of student competencies and developmental challenges, based on the results of state and national objectives and standards. The measurements are tempered by the students' personality type, learning styles, and culture. Further, I encourage and facilitate student learning by focusing on direct discussion and cooperative online activities that provide scaffolding between the students' pre-existing knowledge and the desired academic remediation and development.
Most of my students are and have been high-risk youth in danger of failing to pass grades, dropping out of school, or being transferred to continuations school, or who are in foster care or involved in our justice system. The extra-curricular instruction I offer these students allows me to connect in culturally empathetic ways that promote better student communication, as well as foster critical and reflective thinking. Through the application of technology and online instruction, I help empower these students by bridging the digital gap within their lives and connecting them to the world in which they live.
Before my current position, I was a volunteer course assistant, action research team leader, and peer mentor as an undergraduate at the University of California, Santa Cruz. Within these collaborative and interdisciplinary positions involving Sociology, Politics, Humanities and Environmental Studies at the University, I served undergraduate students, university professors, and the adjunct faculty. The first of the two positions as a course assistant in the Education for Sustainable Living Program (ESLP) allowed me to participate in an on-the-job assistant teacher training program and to volunteer as an action team leader for the ESLP Lecture Series. The series was a student-faculty research and innovative project development forum in environmental sustainability and social justice. As I taught, I also learned from the undergraduate students as I facilitated the research, analysis, and development of sustainable, ecological housing alternatives for two local communities, the Family Student Housing facilities at the University of California, Santa Cruz and the Homeless Community of Santa Cruz, California.
My vast experience as an advocate for homeless persons in Southern California combined with my residency in the family student housing complex at the University of California allowed me to share the perspectives and realities of these at-risk demographics with undergraduate students. Through the collaborative exploration, I helped the students develop an interdisciplinary approach to creating housing solutions that involved the intersection of architecture, food science, agriculture, political economy, law, environmental science, sociology, psychology, behavioral science, and the global economy. As a result, this teaching opportunity also informed my research efforts, and subsequently, I received the UCSC Dean's Award for Undergraduate Research on a sustainable alternative for low-income housing.
In my second position as a course assistant at the University of California, I volunteered as an assistant teacher to the instructor of Advanced Research Writing-161 and a lead peer mentor to undergraduate student mentors in the class. Writing-161 was a required subject of the Educational Opportunity Program (EOP) Faculty Mentor Program (FMP) in which I had previously participated. As the course assistant, I modified the lesson plan to accommodate the peer mentor structure and encouraged each peer mentor under my supervision to adjust the instructional model concerning voice, argument, and documentation in research concerning the academic writing competencies of each student within their respective groups. In my position as a lead peer mentor, I was responsible for organizing, coordinating, monitoring, and assisting five peer mentors in support of the student groups within the class.
Recently, I extended my undergraduate studies within the discipline of social science when I attained a Masters of Arts in Sociology. This degree refined my knowledge in political economy, human geography, political science, social demography, indigenous studies, jurisprudence, environmental studies, history, and critical race studies. Additionally, the Master of Arts in Curriculum and Instruction with concentrations in online teaching and course design provided me with the theoretical and practical knowledge that informs my pedagogical approach to the social sciences. Due to the globalized social interactions within the ever-increasing digital contexts of our communities and the world, I have learned that academicians must foster the engagement of students in participatory discovery and critical analysis.
I am confident that as a lecturer in the School of Social, Behavioral, and Global Studies, I will be instrumental in achieving active engagement and enlightenment of the undergraduate students at ABC University. I sincerely believe that my educational qualifications and experience meet your expectations and requirements. I appreciate your consideration and look forward to being in contact with you. Thank you.
Request Removal
If you are the original author of this essay and no longer wish to have it published on the customtermpaperwriting.org website, please click below to request its removal: