B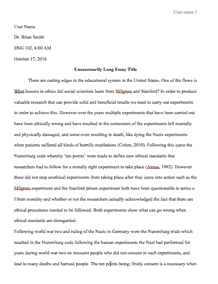 University/College: 
George Washington University
Type of paper: 
Term paper
This essay has been submitted by a student. This is not an example of the work written by our professional essay writers.
Genetic issues in the field of medicine became not only possible, but also applicable after the introduction of DNA technology. The discipline is advancing very rapidly since more human applications have been happening in the current than the former decade. Accordingly, there have been significant developments in practice in healthcare genetics especially the creation of new tasks for nurses who care for persons with genetic conditions. genetic information and testing are being applied in all healthcare centres, and it is becoming an essential part of healthcare. With increased genetic research, it is believed that registered nurses in all sectors of health practice are and will continue to be a crucial part of the provision of information concerning genetic testing. Among their primary roles are to assess and guide families with genetic conditions accordingly before conception (Pillitteri, 2014).
Despite the progress made by researchers in the field of genetic issues have stumbled upon some ethical issues. Accordingly, genetic testing has drawn a lot of attention in the field of health economics as people are willing to pay for the values they get after undergoing the health care procedures (Pillitteri, 2014). The various methods are used for gene screening are intrusive to unborn children, causing an ethical dilemma. To examine the genetic composition of infants, doctors depend on proteins, chromosomes; related products of genes or mitochondrial DNA of both the parent and the unborn child for examination. Preimplantation genetic selection is made by selecting embryos prior being transferred to the uterus for an enhanced success of assisted reproduction. Prenatal genetic diagnostic testing requires a collection of a sample of foetal cells with 10-14 weeks of pregnancy (Ladwig, Ackley, & Makic, 2017). Many people have raised concerns concerning the safety of this technique and view it as intrusive, hence the ethical controversy of genetic issues in medicine. Nonetheless, more than 80% of nurses have been seen to conduct themselves ethically in matter of genetic related treatments and issues. They provide patients with the privilege of autonomy by granting them the power of making an informed medical decision based on the advice they give after conducting various genetic tests and assessing associated risks. Social, moral, and legal norms institute obligations to respects the decisions of the patient as well as that of their agents. There have been countable reported cases whereby nurses failed to deliver quality care and even eliminate the patients pain. Such due care is vital since a patients psychosocial state is affected by the findings of genetic testing and may affect the future health planning of persons life. Also, nurses take due care of families to ensure that the information about genetic may does not affect the relationship that exists between children and their parents as well as the sibling relationship.
References
Ladwig, G., Ackley, B., & Makic, M. (2017). Mosbys guide to nursing diagnosis (5th ed.). St. Louis, MO: Elsevier.
Pillitteri, A. (2014). Maternal and child health nursing: Care of the childbearing and childrearing family (7th ed.). Philadelphia, PA: Lippincott Williams & Wilkins.
Request Removal
If you are the original author of this essay and no longer wish to have it published on the customtermpaperwriting.org website, please click below to request its removal: