B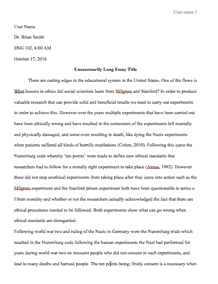 University/College: 
Middlebury College
Type of paper: 
Research paper
This essay has been submitted by a student. This is not an example of the work written by our professional essay writers.
Social License to Operate (SLO) refers to the level of acceptance of extractive companies (oil and gas) companies and their operations by local communities and stakeholders. SLO is based on the understanding that oil and gas companies need local blessings to carry out their activities, apart from government permit. Thus an SLO can be described as the acceptance of extractive companies, their operations, and their contractors within the local community. It is granted by all stakeholders who will be affected by the operations of oil and gas companies (Slocombe & Prno, 2012). It is not a formal agreement or document, but real credibility, reliability and acceptance of the company and their related activities.
The credibility of a company and the type of relationship it develops with the community plays a major role in whether an oil and gas company is given social license to operate or it is denied. An SLO will be given when local communities and all stakeholders feel that the values presented by the company align with the values that they uphold (Meehan, 2016).
Depending on the success of a companys Corporate Social Responsibility (CSR) program, (dis)satisfaction with actualization of promises and commitments, unforeseen environmental changes, and release of new information, the perception of stakeholders may change, (Nelsen & Candidate, 2006). An SLO can be revoked, hence should never be taken for granted. Maintaining an SLO is only possible when local communities feel that they are consulted and their views respected and receiving a fair share of the projects benefits.
To obtain social license to operate, companies must cultivate good relationships with all stakeholders since good relationship is vital to getting SLOs. Government, the company and local communities should undertake trilateral dialogues from the beginning of extractive process (Nelsen & Candidate, 2006). The company must be sensitive to local norms, create realistic expectations develop a solid and fair conflict resolution mechanism, be flexible and foreseeable regarding their ethical behavior and flexible enough to accommodate the needs of that particular local community. The company must be transparent in regards to disclosing oil and gas exploration and exploitation processes (Warhurst, 2001). The SLO is secured when the local community is at ease with the extractive company. More often than not, obtaining social license to operate does not mean that trust has been established.
Though material can be used in some cases to establish a rapport between an extractive company and a local community, this method is not very effective, especially with communities who want to meet objectives of long time sustainability. Avoiding environmental degradation, jobs, social projects and meaningful dialogues are very important for the citizens (Wilson, 2016). The companies must engage the communities on basis of inclusion, respect and meaningful contribution.
To maintain an already obtained SLO, a company must keep their promises, respond to the community requests and concerns and ensure efficient dissemination of information to all stakeholders. The company should be accountable to the community at all stages of the project cycle and desist from dishonesty and irresponsible behaviors. Formal written agreements could also be drafted to gain the trust of local communities, but since SLOs are not dependent on paper, they should not be taken for granted (Thomson & Boutilier, 2011).
According to Thompson and Boutilier, 2011, SLO exists in four levels. The first level is withheld,or withdrawn. Its the lowest level and projects cannot proceed as there is no SLO. The community considers the company illegitimate at this level. This level is followed by acceptance. Acceptance may be grudgingly given by parts of a community, and in most cases there is recurring issues which need to be resolved. This level is basically where the community is tolerating the existence of a company in their midst. The third stage is approval. In this stage, the community perceives the operators to be legitimate and credible. This level requires the operators and contractors to be open and honest with the community. The hallmarks of approval license are support for the project and participating companies, perception of good neighborliness and pride in collaborative achievements. The highest level of social license to operate is the psychological identifications. This level of license can only occur when there is high level of trust throughout the community. It requires consistent communications and execution. The community becomes advocates or defenders of the project as they consider it as their own.
Lack of good governance could contribute to failure of Corporate Social Responsibility (CSR) program. A case study was done in Niger Delta, Nigeria. Shell was spearheading efforts to alleviate poverty to Niger Delta, Nigeria. Lack of government support however led to its efforts not realizing the targeted objectives (Ite 2004), and consecutively, Shell lost its social license to operate. In other words, if the macro-genomics is failing because of the governments ineptitude, there is a likelihood that the contribution of a companys Corporate Social Responsibility (CSR) program could fail to achieve the desired goals.
Furthermore, government political and legal outline is important to a companys capability and inclination to confine its activities within socially conventional standards. Robust institutions with clearly defined social and environmental protocols tend to raise the overall quality and social acceptance of practices so that companies will have incentives to exceed legal expectations and socially acceptable standards.Poor constitutional structure and poor governance encourage companies to abscond from their duties of upholding good practices and obstruct their ability to do so by manipulating loopholes in the framework.
To the local community and other involved stakeholders, granting a social license to operate to an oil and gas company could prove to be beneficial to them. For instance, they get a chance to dictate to the company how they want their land used during extractive processes. The company also gets obligated to provide extractive industry training, education and employment opportunities to members of the local community (Measham and Fleming, 2013). The local community gets a say in setting up of institutionalized long-term engagement to accommodate developments and resolve all grievances arising from affected parties.
Local jurisdiction also gets economic developments as the infrastructure tends to be improved once a company starts its extractive activities (Measham& Fleming, 2013). Workers imported from other regions provide market for the locals produce, leading to economic advancements.
Social license to operate are very important to extractive (oil and gas) companies and their operations. Thisis because for full productivity, oil and gas companies have to carry out their activities without fear of opposition, and sabotage from the stakeholders affected by its activities (Davis and frank, 2011).
Public opposition and criticism arises when the stakeholders feel that their livelihood is endangered by the extraction process of the company, and their fears are not addressed. Opposition may also arise when the local feels that they are not being compensated from the benefits of oil and gas exploitation. Damage to their infrastructure and strain to their local social amenities, such as schools and medical facilities, may also breed resentments, reading to eventual criticism and opposition to its activities. Strain to local social amenities occurs when the companies import technical and other workers from other regions. Opposition to extractive activities may lead to costly delays of operations and possible shutdown, and losses accrued from vandalism of company machinery (Greer et al., 2011).
Social license to operate (SLO) is also needed to get actual operating licenses. This happens when a company needs political support, and in democratic regions, elected representatives are unlikely to endorse unpopular company operations to be carried out in their areas of jurisdiction.
Having an SLO also ensures that a company is effectively utilizing its resources, more so its Corporate Social Responsibility (CSR) program budget (Lockie et al., 2009). A company has to ensure its CSR program runs smoothly and the stakeholders are seeing benefits, otherwise community disappointment may lead to the companys social license to operate being revoked by irate stakeholders.
Opposition from local communities can also damage a companys reputation, hence the need to a social license(Salzmann et al., 2006). Damage to a companys reputation may inhibit its ability to hire skilled workers for its projects. This will further raise the financial cost of the project as the company will have to offer higher salary and allowances package in attempt to attract workers.
The higher costs of extractive project due to lack of Social License to Operate (SLO) increase the interest rate of financing the projects. This may put a companys ability to obtain financing in jeopardy, more so if its competitors have already obtained the SLO, while also reducing the shareholders profits. This means that extractive (oil and gas) companies have compelling financial and logistical reasons to ensure that their operations are ran smoothly, with no unnecessary interruptions or delays.
It is very important that extractive (oil and gas) companies familiarized themselves with all facets of their industries, arguesBoutilier, R. & Thompson, I., 2011. This way, they can effectively and communicate to all stakeholders by giving factual information to them. The companies should also strive to understand the communities values and norms. This way, they will be in light in the context of what the people expect, do not want and what they need. The companies must also desist, al all costs, from demonizing and ignoring the objections and concerns of the local communities. Instead, they should strive to address them and reassure the public, truthfully, as lying to pacify them may not be wise in the context of long term relationship between the company and the stakeholders. The companies must also implement mitigation practices and focus on flawless execution. This is because environmental damage, personnel damage and fatalities will not only hurt the reputation of the responsible company, but also the reputation of extractive industry (oil and gas industry).
Upholding the aforementioned practices will help a company to strengthen and maintain the highest level of Social License to Operate (SLO), and the benefits that comes from having strong relationship with local communities.
References
Hilson, G., 2012, corporate social responsibility in the extractive industries: experience from developing countries, Resources Policy, vol. 37(2) pp.131-137 DOI: 10.1016/jresourpol.2012.01.002
Hall, N., Lacey, J., & Dowd, A., 2015, social license to operate; understanding how a concept has been translated into practice in energy industries, Journal of Cleaner Production vol. 86 pp. 301-310 doi: 10.1016/j.jclepro.2014.08.020
Prno, J., 2013, an analysis of factors leading to the establishment of social license to operate in the mining industry, Resources Policy, vol. 38(4) pp. 577-590 doi: 10.1016/j.resourpol.2013.09.010
Bice, S., 2014 what gives you a social license? An exploration of the social license to operate in the Australian mining industry, Resources, vol. 3(1) pp. 62-80 doi: 10.3390/resources3010062
Prno, J. & Slocombe, D., 2014 a system based con...
Request Removal
If you are the original author of this essay and no longer wish to have it published on the customtermpaperwriting.org website, please click below to request its removal: