B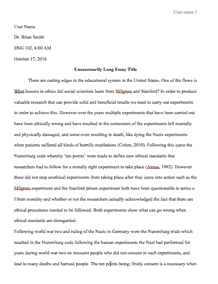 University/College: 
Sewanee University of the South
This essay has been submitted by a student. This is not an example of the work written by our professional essay writers.
People engage in different activities in their day-to-day activities that can make them get the opportunity to lead others based on their personalities. Good traits of a leader include social boldness, emotional stability, confidence, tough-mindedness, commitment, and delegation (Daft, 2014). A leaders encounters in his roles can help him, or her learn the strengths and weaknesses of the personality. A development plan is important in addressing a leaders strengths and weaknesses to improve ones personality in leadership. I have had leadership roles in different jobs and activities I have engaged in. I have worked in a fast food chain as a team leader, in Costco as an admin and I have been a project leader in college. The different roles have enabled me to learn my leadership strengths and weaknesses which will be addressed in the paper. I will also have a development plan to address my strengths and weaknesses.
Strengths
The strengths of a leader are the traits that make a leader effective in his or her roles. I have crisis management skills (Awasthi, 2015). I have successfully managed a supply shortage crisis as an admin in Costco. There was a shortage of groceries on one of the weekends as we had an offer on our products. The firm ran out of perishable groceries, and many customers were demanding them. I contacted various groceries stores owners nearby to sell us their products as we were out of stock. I also contacted some friends for referrals. I managed to replenish our perishable groceries products within 3 hours. Some few customers did not receive the products however most of them managed to buy them. It also made the company have a good image as customers were pleased with the quick response the firm made to meet their demands.
I am a team player and hardworking leader who aims to achieve success in my roles. For instance in college when working on a project, I always assigned each project member different sections to research on hence ensuring that each person participates in the project. During our meetings, I had to make sure that my team members submitted their findings on time and that no one failed to complete the work. I monitored the project from the start to ascertain that all team members responded to the project objectives as expected. When any team member found it hard to understand how to carry out their research parts, I had to explain to them and guide them through their roles, and in the end, we completed a successful project which earned us high grades.
I believe I am a determined and self-motivated leader. I have ensured that I completed my roles in one of the fast food chains I worked in. I took part in hiring and training of new employees. I ensured that the most competitive job applicants received the job. During the training sessions, I handled each employee personally to ensure that they gripped every important skill and knowledge important in handling their roles. I took part in creating and coordinating shift schedules in the firm, and I ensured that each employee had equal time allocation as the rest and job rotation was often carried out to minimise boredom in their work. Rotation and fair treatment of the workers improved their morale at work and during the period I worked in the firm, the fast food chain saw a high increase in revenue which had not happened for some years. I also ensured that I delivered my duties before the deadlines and it eased work in the firm. For instance, making timely shift schedules enabled workers to plan their time both at work and home, and there was a smooth transition when they were being replaced by workers in the next shift.
I am a leader who encourages employee engagement and communication, respects employees rights and encourages them to be creative. As a team leader in the fast-food chain. I hosted informal meetings every month where employees would meet and share their views and how the firm can improve its services. The cashiers and waiters also were involved in offering various suggestions they had on customer feedback on their services. The meetings built a rapport between the employees, and they managed to work better due to a good relationship. I also allowed employees to have the freedom to introduce new menus and implement their suggestions as long as they informed me on time. I often engaged with the human resource manager to enable employees to receive leaves and rewards to motivate them. The best employees were offered an extra week leave every year and would receive a tip on their salary when they improve the performance of the firm.
Weaknesses
There are some weaknesses I have realized in my leadership roles. I am too helpful when guiding employees and fellow team members. I helped my colleagues in some of their research work when I was the project manager in college. I did the research and compiled the results for two of my team members in the project team, and they ended up working on nothing in that week. I have also assisted new cooks and waiters in their duties in the fast-food chain. During the training sessions when I discovered that some of them might fail and make the clients have a negative image of our services, I took the initiative to work on their roles as they improve with time. It is unfortunate that I end up crossing the limit as I help other teammates.
I rarely ask for help from my seniors when assigned leadership roles. I often carefully go through the job roles and responsibilities, learn them and work towards achieving them. There are instances that one encounters challenges when working with reluctant workers or dissatisfied clients. I take the role of calming situations where the management members should be involved, and it makes one overwhelmed with work at times. It is not easy handling complaints in a firm as they often occur however I prefer handling the issue as some managers take time to respond to the matter and I am probably the nearest leader that the employees can approach and share their challenges with.
Development Plan
A development plan is a plan that is important in developing ones personal short-term and long-term goals, handle things in a better way and become better leaders (McCall, 2010). Below is my development plan that will address my strengths and weaknesses.
My main leadership values include respect, integrity, self-motivation, teamwork, empowerment, accomplishment, optimism, persistence and excellence. I take responsibility for my actions, seek self-improvement in my roles, set the example for employees, keep people informed and develop team spirit in trainees and workmates. I also ensure that employees understand their roles before I supervise them. As a leader, I work on ethical boundaries to be a good leader. I empower my employees to do their best in their duties and ensure that there is fairness in the work allocation. I am transparent when communicating to team members and engage all parties in decision making. I also applaud and commend ethical behaviors among the employees to cultivate an ethical culture among them.
My short-term goals in leadership are improving my weaknesses and improving my strengths. My weaknesses deter me to improve my leadership performance in various roles, and I need to work on them. I also need to focus on being a better leader by increasing my strengths and benchmarking leadership performance from the leaders in Costco. I will set limits to new employees on their duties and roles and be accountable for their roles. It will enable me to avoid helping them at work and enabling them to learn fast as they need to prove their ability to meet the requirements of the firm for a long-term job offer. I also plan to communicate the challenges I encounter to the managers and engage them in resolving clients and employees complaints to minimize my workload and have time to focus on my duties.
I plan to review my leadership performance every four months to identify the areas I have managed to improve on, the areas that I am yet to work on and future goals. I will be recording my weekly leadership roles and how successful they are to avoid forgetting some of the issues I handled when reviewing them after four months. During the four months review, I will highlight the areas I failed and focus on them as the next goals that I need to improve.
References
Awasthi, D. (2015). Leadership values and its business impact. Indian Journal of Science and Technology, 8(S4), 268-277.
Daft, R. L. (2014). The leadership experience. Cengage Learning.
McCall, M. W. (2010). Recasting leadership development. Industrial and Organizational Psychology, 3(1), 3-19.
Request Removal
If you are the original author of this essay and no longer wish to have it published on the customtermpaperwriting.org website, please click below to request its removal: