B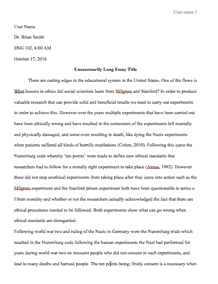 University/College: 
University of California, Santa Barbara
This essay has been submitted by a student. This is not an example of the work written by our professional essay writers.
A career in video game designing entails working in a team to design and develop video games. According to Reuters, the industry is growing with a $30 billion stake in the United States since more people are playing the games on their mobile phones (Bureau of Labor Statistics, U.S. Department of Labor, 2015). Game designers are becoming an important part of a team of developers and designers that manage the composite tasks of creating video games. The game designers have duties such as designing puzzles animation, art, and levels (Rogers, 2014). The designers also use codes and various programming languages and depending on their career duties and they may be responsible for project management tasks and testing of prototypes of the video games.
To become a game designer, one needs to get a curriculum that supports video game design. With the current growth of the industry, more universities are coming up with courses that support the career. Video game designers typically are required to have a bachelors degree in computer engineering, game design or computer science which takes five years to complete. Typical courses in a game design degree program include database management, computer applications, intermediate algebra, fundamentals of computer programming, introduction to computer science, network design and topologies, English composition, and operating systems among others (Rogers, 2014). Game designers also take on managerial roles on video game projects, by helping to manage project timelines, budgets, and work schedules. Attention to details is also vital, as are communication skills, clear writing, knowledge about the video game industry and enthusiasm.
The career outlook for video game designers is promising. There are several companies that are coming up to tap into the increasing demand for video games. The income for video gamers varies depending on the level of education, the geographical area, and the type of employer. Job seekers with a graduate degree earn higher on the entry level jobs than those with a bachelor degree. An entry-level salary for a computer programmer is approximate $5,000 and $8,650 for a person with experience (Bureau of Labor Statistics, U.S. Department of Labor, 2015). Though, to gain experience and recognition in the field, one can opt to work at a low paying position.
Incredible Technologies Inc, a company in Las Vegas, seeks to recruit a game programmer (Incredible Technologies Inc, 2017). The duties and responsibilities include working with sound designers and artists to implement audio and art into the slot game, implementing new features into slot games, contributing ideas for designing new slot games and working with QA testers to resolve the game play issues found in the slot games. The required attributes for this job are that the candidate should have problem-solving skills, prove to be flexible and reliable, a team player, creative thinker, motivated and a self-starter, and be able to exercise good communication skills. The professional requirements are a bachelors degree in Computer Science with one to five years of experience in software development with a focus on Java, and a networking programming experience. Other technical skills required include Java skills, 3D graphics, C++, Linux experience, Shell scripting, game player, and superb debugging skills (Robinson, 2008). The company offers a tremendous benefits package that includes dental, vision, medical, tuition assistance, 401k, paid time off and flexible working hours.
I would be interested in the career for various reasons. Firstly, I will be making money doing what I love; there is job security due to the insatiable demand for gaming and video games, and I will be able to work in a casual environment where I will not be required to wear suits. Finally, because of the complexity of the industry, I can choose the job that suits my talent.
References
Bureau of Labor Statistics, U.S. Department of Labor, (2015) "Occupational Employment and Wage Estimates, May 2013," Computer Programmers, Sept. 24, 2015,
Incredible Technologies Inc, (2017). Game Programmer, Website, Online.
Robinson, M. (2008). Careers in computer gaming. United States: Read How You Want.
Rogers, S. (2014). Level up!: The guide to great video game design. Chichester, West Sussex, U.K: John Wiley & Sons Ltd.
Request Removal
If you are the original author of this essay and no longer wish to have it published on the customtermpaperwriting.org website, please click below to request its removal: