B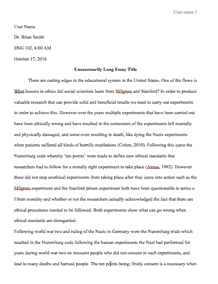 University/College: 
Harvey Mudd College
Type of paper: 
Course work
This essay has been submitted by a student. This is not an example of the work written by our professional essay writers.
In nursing, there are two doctorate degrees: Doctor of Nursing Practice (DNP) and Doctor of Philosophy in Nursing (Ph.D.). The DNP program prepares nurses for advanced roles in nursing practice while the Ph.D. program is designed to prepare nurses to become scientists and scholars (Melnyk, 2012). The doctor of nursing practice is a practice-focused program based on evidence-based practice, system leadership, and quality improvement (AACN, 2006). The program enhances leadership skills for improved healthcare delivery and develops the required competencies in the complex changing clinical roles. The DNP program also improves nursing practice for a favorable patient outcome.
Unique Characteristics of the DNP Prepared Nurse
The main focus of DNP program is the provision of leadership for evidence-based practice (AACN, 2006). The program equips nurses with the competence required to turn medical research into practice. It improves the capability of nurses in the evaluation of evidence, application of research in decision-making and implementation of viable clinical practice in a rapidly changing medical practice (Melnyk, 2012).
The DNP program also emphasizes on the ability of nurses to obtain and properly assess data on population samples. DNP students work intensively on translation research. Translation research can be defined as the scientific investigation of the influence of interventions, methods, and variables on the adoption of evidence-based practice (Melnyk, 2012). This research investigates how research findings are adopted into clinical practice and utilized in improving medical care. Barriers to implementation, facilitators enhancing implementation and interventions accelerating the utilizations of research into practice are key aspects of translational research.
DNP-prepared nurses are likely to be highly self-confident. This confidence enables them to implement new treatment techniques on patients. Lack of this confidence may prevent a nurse from implementing new research findings into practice. In medicine, this confidence develops with practice. Nurses with more experience develop self-confidence and are better in the implementation of evidence-based practice.
Application
As a DNP nurse, I recognize the fact that good analytical skills are vital. Implementation of evidence-based is based on analysis of barriers to implementation, facilitators that enhance implementation and intervention that sustain the use of research findings in practice. Proper analysis of these aspects is vital for the effective and cost-friendly implementation of evidence-based practice. The nurse also has to be capable of manipulation data based on population samples used in research.
Good decision-making ability is a key aspect that I will apply as a DNP nurse. When implementing research findings into clinical practice, unique problems always come up, and they need to be dealt with as fast as possible (Melnyk, 2012). A good DNP-trained nurse should be able to make these decisions as soon as they are required for a favorable outcome on the patient.
I also recognize that a DNP-prepared should be dynamic. Dynamic people should be able to accept rapid changes as they happen. Dynamism allows one to keep tabs in a rapidly changing field. As the medical practice changes rapidly, so should be the nurse.
The Role of the DNP in an Interdisciplinary Team
As a DNP-prepared nurse, one should have good leadership skills. Apart from clinical roles, nurses fill up other administrative and leadership role in public health, informatics, and education (Melnyk, 2012). The DNP course specifically prepares nurses for organizational leadership. These traits make the nurse well suited to administration roles in academic or policy-making roles.
People who have concluded DNP will act in nursing roles as educators. These people need to educate the patients on health management. In DNP programs, teaching and learning are incorporated due to expected interaction between the DNP graduates and patients (AACN, 2006). The DNP curriculum incorporates teaching strategies. However, this knowledge does not focus on education careers. Its main aim is to prepare the DNP student for patient education.
DNP-trained nurses play a vital leadership role in health management. These nurses act as transition leaders in the evolution of the nursing profession. The DNP role advocates for creation and implementation of new methods n nursing practice. In a complex medical field, strong leadership skills are required to play this role. In nursing leadership is recognized by the ability of a nurse to motivate his peers in the work environment (Melnyk, 2012). A DNP-trained nurse is capable of motivating other nurses to ensure they have a positive attitude at the workplace. These nurses are self-confident and have a sense of direction. The DNP program gives them a perception into nursing and using this perception they can motivate their peers.
Most DPN graduates work in healthcare as clinicians in advanced roles. The DNP degree prepares a student for a role in the improvement of healthcare by increasing their knowledge on evaluation, integration, and implementation evidence-based practice (Melnyk, 2012). As a clinician, a DPN nurse should be proficient in health assessment, implementing therapeutic interventions and developing advanced clinical decision-making skills.
DPN graduates also have an important role as a scholar-practitioner. This involves analyzing research findings and determining their practicability in the nursing field. The DPN nurses ability to evaluate evidence-based practice in a team can represent their role as scholar-practitioner (Melnyk, 2012). The scholar component can be attributed to the ability of the nurse to synthesize and apply knowledge on the testing of quality improvement.
Implementation of the Comprehensive Approach
DNP nurses implement a comprehensive approach to their day-to-day nursing practice. The knowledge learned and the practical skills imparted in school enable them to comprehensively analyze different illness and health parameters during the patient care. DNP nurses should be able to maintain cultural competence. Cultural competence can be maintained by ethical application of patients' beliefs. Patients' beliefs should be incorporated into treatment. The DPN nurses should also educate patients on the effects of cultural norms on health. Comprehensive analysis of cultural norms like alcoholism and consumption of junk food will enable nurses to understand the adverse effect of these lifestyles on health.
Therapeutic nursing interventions, on the other hand, are steps taken to increase the comfort of patients by decreasing symptoms, alleviating pain and incorporating holistic care. These interventions are not curative. DNP-trained nurses have a key role in the design, implementation, and analysis of therapeutic nursing interventions. Utilizing experiences, these nurses design the intervention based on a patient's unique circumstances. The designed interventions are implemented on a patient, and their effectiveness is monitored. DNP nursing is based on evidence-based practice, and that is why it is the most appropriate nursing branch to develop therapeutic nursing interventions. For example, while administering medicine a nurse, through interaction with her patients, learns that the patient prefers taking medicine with food. However, some foods reduce the effectiveness of the medicine. The nurse has to determine which food should be served with the medicine to improve the patient's comfort while still maintaining the effectiveness of the medicine.
The Doctor of Nursing Practice is a relatively new program in nursing. However, it is proving effective in improving healthcare by improving patients' experience, minimizing cost and choosing the most effective treatment option. The ability of DNP-trained nurses to effectively implement evidence-based practice is a medical revolution. In a complex and varying medical field, DNP training provides the most appropriate practical skills for nurses.
References
AACN (2006). The Essentials of Doctoral Education for Advanced Nursing Practice. [online] American Association of Colleges of Nursing. Available at: http://www.aacn.nche.edu/dnp/Essentials.pdf [Accessed 2 July 2017].
Melnyk, B. (2012). Distinguishing the Roles of the PhD and DNP Graduate. [online] The Ohio State University. Available at: http://www.nursing.msu.edu/Images_Docs/CE_Images/PDF/3_CIC%20DNP%20MelnykDNPDistinguishingRolesAugust2012.pdf [Accessed 2 July 2017].
Request Removal
If you are the original author of this essay and no longer wish to have it published on the customtermpaperwriting.org website, please click below to request its removal: