B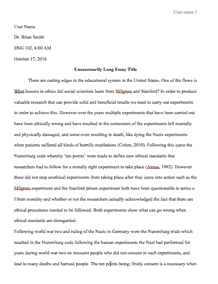 University/College: 
University of California, Santa Barbara
This essay has been submitted by a student. This is not an example of the work written by our professional essay writers.
The commercial sexual abuse of children happens in numerous forms, one of which is child sex tourism. Mainly, child sex tourism is a highly profitable sector, sustained by the rising demand of foreigners from affluent countries. The United Nation defines child sex tourism as tourism orchestrated with the sole purpose of facilitating a commercial sexual association with a child (Svensson, 2006). However, child sex tourism may also comprise the opportunistic utilization of prostituted children while journeying on business or for any other motive. Notably, this commercial sexual abuse of children is a global calamity, ruining the lives of many impoverished children globally, while governments continuously fail to prosecute the perpetrators of these crimes for their despicable conduct. Furthermore, child sex tourists target countries where most child prostitution thrives such as Cambodia, Philippines, and Manila. The main attributes of such countries include an unstable economy, high unemployment rates, and a large underage population. These countries rely heavily on tourism for economic development. Therefore, incomes from sex tourism form a significant portion of their economies.
Bases, for example, inadequate laws, lack of resources, immature legal structures, corruption, and ineffective law enforcement routinely allow child sex tourists to evade prosecution in these nations where the exploitation happens (Svensson, 2006). Nevertheless, to bring these perpetrators to account, numerous countries have passed extraterritorial legislation, which avails a state with jurisdiction to sue its citizens for criminal conduct executed beyond its borders. Notably, extraterritorial legislation is a crucial tool in tackling sexual exploitation of children. While perpetrators may evade criminal liability in the destination nations, the law avails a system through which governments can hold the offenders accountable for their devastating crimes (Svensson, 2006). Therefore, this study seeks to assess the scope and effectiveness of extraterritorial legislation as it pertains to the prosecution of sex tourists.
Scope of Extraterritorial Legislation
Numerous international treaties and systems require states to protect children from commercial exploitation. For example, the Convention on the Rights of the Child and its optional protocols demand member states to fight child sex tourism, for instance, by enacting extraterritorial legislation to prosecute child sex tourists. Nevertheless, the scope of extraterritorial legislation ranges from laws and prosecution in destination nations and sending countries. Apparently, as at June 2008, approximately 40 states had enacted such laws although they had a varying degree of success in implementing them (Beaulieu, 2008).
Various countries have passed the extraterritorial legislation as follows. The United States passed the PROTECT Act in 2003, which makes it a crime for any individual to journey abroad with the intent of engaging in child sex tourism (Caliendo, 2013). Since its enactment, there have been numerous indictments and convictions. Similarly, Australias Parliament passed the Crimes Amendment Act in 1994, which allows prosecution of an Australian citizen or resident for participating in sexual activities with a child under 16 outside of Australia. It stipulates that the crime may result in penalties ranging from 12 to 17 years in prison. Denmark also passed its extraterritorial legislation, and extended criminal jurisdiction to acts committed outside the country by a citizen or a resident provided the act is also punishable under the destination country (Svensson, 2006). Similarly, Canada included in its Criminal Code provisions that permit the prosecution of any Canadian in Canada for offenses committed in foreign nations related to child sexual abuse. The convictions carry a penalty of up to 20 years in prison (Beaulieu, 2008). Finally, the Sexual Offences Act 2003 facilitates the prosecution of British citizens and residents who commit sexual crimes against children in foreign countries to be prosecuted in England, Northern Ireland, and Wales.
Efficiency of Extraterritorial Legislation
Various international and domestic legal systems seek to protect children from commercial sexual abuse. If implemented efficiently, these laws can protect children, avert child sex tourism, and facilitate the prosecution of perpetrators. The current extraterritorial legislation has been an effective mechanism in the fight against child sex tourism (Ireland-Piper, 2017). However, its effectiveness can be enhanced through various ways. There is need to change the laws content, for example, widening its application and removing double criminality stipulations. Additionally, there is a need to address evidentiary hurdles that limit the substantiality of available evidence to prosecute perpetrators (Svensson, 2006). Similarly, currently, the age of children protected under various extraterritorial legislations is inconsistent. Therefore, there is a need to universalize the age.
To conclude, child sex tourism is a heinous act against children, one that should be eliminated. Apparently, countries have put immense effort in enacting extraterritorial legislation towards fighting this vice. However, there is an increasing need for the countries to cooperate to eliminate the obstacles that hinder the effectiveness of the law.
References
Beaulieu, C. (2008). Extraterritorial laws: Why they are not really working and how they can be strengthened.
Caliendo, A. (2013). What Happens Abroad Does Not Stay Abroad: United States v. Pendleton and Congress's Constitutional Authority to Regulate Child Sex Abuse Abroad. Seton Hall Cir. Rev., 10, 375.
Ireland-Piper, D. (2017). Accountability in Extraterritoriality: A Comparative and International Law Perspective. Edward Elgar Publishing.
Svensson, L. (2006). Extraterritorial Accountability: An Assessment of the Effectiveness of Child Sex Tourism Laws, 28 Loy. L.A. Int'l & Comp. L. Rev. 641. Available at: http://digitalcommons.lmu.edu/ilr/vol28/iss3/6
Internet Crimes against Children Task Force
Many young people are experiencing unwanted sexual solicitations that even entail being targeted by perpetrators seeking children for sex. According to a study by the University of New Hampshire and the National Center for Missing and Exploited Children (NCMEC), at least one in five children aged between 10 and 17 received a sexual request over the Internet. Similarly, one in 33 received a hostile solicitation, in particular, the offender sought to meet them somewhere, contacted then via the telephone, or sent them a regular e-mail, gifts, or money (United States Department of Defense, 2010). Regrettably, the Internet is an excellent platform for solicitors seeking children for sex. Moreover, it avails privacy, anonymity, and a large pool of unmonitored children and teenagers who may be vulnerable to manipulation. The sex offenders capitalize on the curiosity of children and look for victims with minimal risk of interdiction.
Additionally, the Internet is quickly becoming the marketplace for sex solicitors seeking to obtain material for their child pornography collections (Wortley & Smallbone, 2006). Unlike the exchange of pornography among adults, child sexually explicit material depicts the sexual molestation of a child and is often utilized by child molesters to recruit, seduce, and control their victims. However, it is paramount to note that while not all molesters gather child pornography and not all child-pornography collectors abuse children sexually, significant connection exists among law enforcers about the extreme role pornography plays in recruiting and controlling new sex victims (Acar, 2016). Additionally, they believe that the warrant and nearly continuous stimulation the Internet affords sex solicitors put children at a significant risk for sexual extortion (Acar, 2016). By generating a demand for new material, the Internet also creates a need for more victims. However, there is an effort to eliminate these crimes, and this study seeks to assess the impact of the Internet Crimes against Children Task Force (ICAC Program) and its effectiveness in reducing these crimes.
The Impact of ICAC Program
The ICAC Task Force program aids state and local law enforcement entities to create an effective response to technology-perpetrated child sexual abuse and Internet offenses against children. The programs help entails legal and investigative aspects, training and technical aid, victim initiatives, and community education (Medaris & Girouard, 2002). The program was started to curb the rising number of minors using the Internet, the extent of child sexual abuse images accessible online, and increased online activity by solicitors seeking unmonitored contact with potential young victims. It comprises 61 coordinated task forces working on behalf of approximately 4,500 federal, state, and local law enforcement and prosecutorial bureaus. Notably, these agencies engage proactively in investigations and criminal prosecutions.
Since its inception in 1998, the ICAC program has trained more that 500,000 law enforcement officers, prosecutors, and other professionals on ways to investigate and prosecute Internet crimes against children related cases. Additionally, it has reviewed approximately 580,000 complaints of alleged child sexual molestation resulting in the arrest of around 60,000 solicitors. In 2015 alone, the task force performed nearly 54,000 investigations and 61,000 forensic exams, which led to the arrest of approximately 8,500 people. In the same year, it trained 34,000 law enforcement officers, about 3,600 prosecutors, and around 9,400 other personnel working in the ICAC field (Medaris & Girouard, 2002).
Under a different appropriation, the National Center for Missing and Exploited Children supports the ICAC Task Force program to protect children in cyberspace. In particular, it helped create the CyberTipline, a one-stop reporting spot for individuals concerned about suspicious activity on the Internet, a platform designed to avail information to enforcement agencies for investigative follow-up. Notably, since its inception, the platform has received over 40,000 reports (United States Department of Justice, 2010). Many of these reports have commenced successful investigations, which have led to the arrest of offenders and rescue of victims.
To conclude, the task force is a vital mechanism for protecting children in this information age. Notably, it has played a significant part in the arrest of many sexual offenders, rescued victims, and availed training and education to prosecutors and law enforcers who are crucial players in the operations of the task force. Additionally, the program has successfully reached thousands of children, teenagers, parents, and other people through publications, public service, and presentations regarding safe Internet practices for minors. However, despite this growing awareness, the task force still has a huge audience yet to be informed sufficiently about dangers and possible consequences of releasing private information or agreeing to meet strangers encountered online.
References
Acar, K. V. (2016). Sexual Extortion of Children in Cyberspace. International Journal of Cyber Criminology, 10(2), 110.
Medaris, M., & Girouard, C. (2002). Protecting children in cyberspace: The ICAC task force program. US Department of Justice, Office of Justice Programs, Office of Juvenile Justice and Delinquency Prevention.
United States Department of Justice. The National Strategy for Child Exploitation Prevention and Interdiction, A Report to Congress, (August, 2010); pages 1-41. http://www.justice.gov/psc/docs/natstrategyreport.pdfWortley,...
Request Removal
If you are the original author of this essay and no longer wish to have it published on the customtermpaperwriting.org website, please click below to request its removal: