B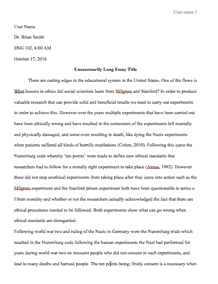 University/College: 
George Washington University
This essay has been submitted by a student. This is not an example of the work written by our professional essay writers.
In nursing, conflicts are resolved using three main strategies which are collaboration, compromise, and accommodation. (Baddar, Salem & Villagracia, 2016).
Collaboration
This strategy aims at reaching a solution which will satisfy all the parties of concern. It views the conflicts as the problem which needs to be solved through digging into the issue so as to identify the main issue, testing assumptions and understanding views of both parties (El Dahshan, & Keshk, 2014). This style of conflict resolution fosters trust and respect and at the same time builds relationships. Showing willingness to offer both parties best verdict through addressing the conflict directed is what the collaborative environment needs so that it will be resolved faster using less energy. The nursing policy authorizes this style because it will improve cooperation of nurses in the wok.
Compromising
This style involves sacrificing goals where one party gives up on one thing while the other party does the same so as to reach an agreement (El Dahshan, & Keshk, 2014). This helps to maintain relationships and is a faster way of managing a conflict. However, this is a shortcut means of solving a problem since it limits the use of creativity to come up with new options and the culture of splitting the differences can reduce the outcome than what is should have been. Nursing policy adopts this style because it makes nurses feel they are appreciated and loved in their working places thus doing work in harmony.
Accommodating
This style involves shelving one party personal needs so as to please the other party for the sake of peace because it emphasizes on preserving relationships (El Dahshan, & Keshk, 2014). This strategy, however, results in the false solution to the problem and can create different feelings among the conflict parties in that one can be happy while the other will be sad. The nursing policy also requires the use of this strategy because it encourages teamwork between the nurses it minimizes the loss which could have been incurred.
References
Ahanchian, M. R., Zeydi, A. E., & Armat, M. R. (2015). Conflict management styles among Iranian critical care nursing staff: a cross-sectional study. Dimensions of Critical Care Nursing, 34(3), 140-145.
Baddar, F., Salem, O. A., & Villagracia, H. N. (2016). Conflict resolution strategies of nurses in a selected government tertiary hospital in the Kingdom of Saudi Arabia. Journal of Nursing Education and Practice, 6(5), 91.
El Dahshan, M. E. A., & Keshk, L. I. (2014). Managers conflict management styles and its effect on staff nurses turnover intention at Shebin El Kom Hospitals, Menoufiya Governorate. World J Med Sci, 11(1), 132-143.
Pines, E. W., Rauschhuber, M. L., Norgan, G. H., Cook, J. D., Canchola, L., Richardson, C., & Jones, M. E. (2012). Stress resiliency, psychological empowerment and conflict management styles among baccalaureate nursing students. Journal of advanced nursing, 68(7), 1482-1493.
Request Removal
If you are the original author of this essay and no longer wish to have it published on the customtermpaperwriting.org website, please click below to request its removal: