B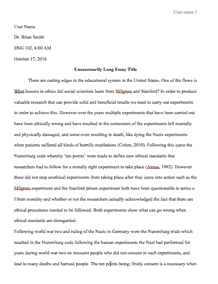 University/College: 
Carnegie Mellon University
This essay has been submitted by a student. This is not an example of the work written by our professional essay writers.
Based on my first field of education practicum at the Good Shepherded Hospice and particularly fruitful interactions with my supervisor, the entire staff, including nurses, doctors, LVN, and office staff, as well as patients, I have realized that social work can be a demanding, rewarding and dynamic profession (Garthwait, 2014). On any single day, a social worker has to assume many different positions, such as advisor, therapist, caretaker, administrator, and clinician among many others. Effective and culturally competent practitioners who maintain a strengths perspective in working with clients at micro, mezzo and macro levels exhibit the following professional attributes (Garthwait, 2014).
First, empathy is what the social work profession is all about. Compassion, particularly for patients, is, without a doubt, a critical attribute of a successful social worker (Green & Bently, 1994). Second, organization and resilience are essential because this profession involves dealing with all sorts of people and handling a lot of paperwork like case files and medical records (Garthwait, 2014). Exhibiting neatness,organization and job commitment can make one be successful. Also, remaining objective and ethical especially when dealing with patients is a critical attribute I observed among social workers and in myself. I realized that clients expect one to keep a level head so as to assist them to handle their sensitive situations. This necessitates avoiding personal feelings to override the ability to make impartial, informed decisions on behalf of clients (Green & Bently, 1994). Furthermore, successful social workers demonstrate social perceptiveness. I communicated and related effectively with my supervisor and the entire staff. To read between the lines, the staff often observed with skill and listened actively. Other important attributes I observed among the social workers include being courage, patience, self-care, and flexibility.
The first important consideration when preparing for a career in social work is career goals or level of education. Social workers practice at three specific levels Bachelors, Masters, and Doctoral levels (Garthwait, 2014). For instance, a person who holds a bachelors degree in social work or related work may be eligible for certain entry-level positions in this profession. Second, time is a critical factor because obtaining a masters degree requires a considerable amount of time and efforts since many institutions prefer full-time enrolment. Third, some people pursue careers in social work because of personal reasons, such as positive experience with social workers. Cost is another important factor because graduate school is not cheap especially where an individual fails to secure a scholarship or other financial support. Besides that, the reputation of a social work program and available options in class instruction and training (such as clinical training, internship opportunities, and mentorship).
The major factor that influenced my selection of practice in Hospice Care is personal reasons. I developed a strong desire for helping terminally ill patients when I was still young. In addition to that, my career goals becoming a Licensed Masters Social Worker (LMSW) inspired to consider this particular area and setting of practice.
Nonetheless, it is important to balance personal and professional aspects to promote ones physical, emotional, and spiritual life. The social work profession is challenging and dynamic as it involves handling a lot of case files and medical records, among other client information. In addition to this serious paperwork, social workers have personal priorities like spouse, family, personal and physical, growth and spiritual enrichment. Failure to balance these two sides of life can cause burnout, which may manifest through emotional fatigue, problems relating to patients, colleagues, the work and family, negative self-evaluation, and reduced job performance, among other negative outcomes (Baral & Bhargava, 2010; Garthwait, 2014).
References
Baral, R., & Bhargava, S. (2010). Work-family enrichment as a mediator between organizational interventions for work-life balance and job outcomes. Journal of Managerial Psychology, 25(3), 274-300.
Garthwait, C. (2014). The social work practicum: A guide and workbook for students. Boston, MA: Allyn & Bacon.
Green, R. G., & Bentley, K. J. (1994). Attributes, experiences, and career productivity of successful social work scholars. Social Work, 39(4), 405-412.
Request Removal
If you are the original author of this essay and no longer wish to have it published on the customtermpaperwriting.org website, please click below to request its removal: