B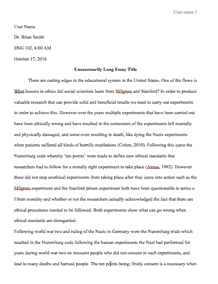 University/College: 
Wesleyan University
This essay has been submitted by a student. This is not an example of the work written by our professional essay writers.
I am a divorced mother. My son is 28 years old, and we spend significant quality time together. Am currently studying a course in the field of Human Service with a minor in Criminal Justice. My hobbies include going to church, traveling different parts of the world, going on shopping sprees, and having good moments with the members of my family and my friends during my free time especially on the weekends.
Currently, am working for the state of Arkansas as a specialist in health services and am obligated to provide my services mainly to the individuals who cannot afford to go to hospitals where they can get medical services. Although my plans after graduation are to shift to the Human Services, I will continue helping the needy population but at a different capacity from my position as I get satisfaction from giving a helping hand.
My set goals in my career life are to work in the Human Service sector though in another capacity. Further my education in the course am currently undertaking while minoring in Criminal Justice. As it is what I enjoy doing even after retirement I will continue lending a helping hand to my family members, people from the community where am working currently and finally but not least the church where I worship during the weekends.
I have been married before and the man who married me we spent approximately 18 years of our lives together before the culmination of our marriage into divorce. However, am currently engaged to a wonderful man and we looking to get married someday hopefully. This way I will get a second chance to enjoy the benefits of being someone's wife as other individuals who are already in the institution of marriage.
The marriage and the family class was fascinating. I learnt more on what it takes to have a healthy relationship and how to identify it quickly as it has distinct characteristics, how to be an excellent communicator, how to resolve matters when it comes to the relationship aspect of life, how to be a keen listener and be mature when discussing serious issues with people and finally how to set boundaries in any relationship be it sexual or in the workplace. My conception on marriage and family also changed as a consequence of taking the Human Service course as its emphasis on communication as a solid foundation in any relationship and the application of the 48- hour rule when it comes to handling disagreements as there is no perfect relationship in this world.
There are various ways in which the information garnered in the course will be useful in my professional life. First is on communication skills when talking to my supervisors and colleagues at work and the value of love for other individuals and not just myself. Secondly, is the application of the 48- hour rule when it comes to handling disagreements this is a sign of maturity and composure, and at the end of the day, no one will be hurt. Finally, the information obtained in marriage and the family class will assist me when it comes to boundaries and giving other human beings space and respecting their opinions during discussions in my professional life.
In conclusion, there are some improvements I would want to be made in this class for future students. This is on the use of the web-enhanced class discussion. It should frequently be used, and students should be given an opportunity to speak their mind and instructors should be willing to give learners feedback. Besides that, the class was enjoyable and makes me look forward to other classes in the Human Service course.
Request Removal
If you are the original author of this essay and no longer wish to have it published on the customtermpaperwriting.org website, please click below to request its removal: