B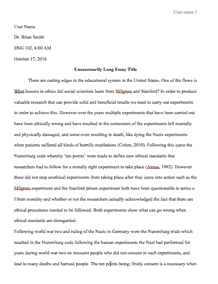 University/College: 
Middlebury College
This essay has been submitted by a student. This is not an example of the work written by our professional essay writers.
Law enforcement agent constantly finds themselves at a cross road when confronted with the idea of whether to use force or not. Pollock (2012) describes force as the authority to coerce a subject and to overcome his or her will. Provisions from the law give the right to police use of force when necessary in instances of self-defense or in defense of others in preventing escape or overcoming resistance from a lawful arrest. On the other hand, excessive force is that which is greater to compel compliance from a willing or unwilling subject (IACP, 2001). But before we explore ethical violations it is necessary to briefly look at legal parameters that such use of force is justified and when it not.
Law enforcement officers are both public servants and guardians of law and order. In this case, they are arguably the most powerful state agents. Eliot & Pollock (2012) sheds light on this by arguing that as public servants, they are sworn to protect the community and as guardians of law and order, they are mandated to remove any detrimental character from the community that poses threat. For law enforcement officers to achieve their objectives it can be said that from the latter that the community in a way gives up their rights in exchange for protection by the police. As discussed before the definition of the use of force is vague largely because courts are there to apply standards, whereas law enforcement officers use ethics and policies in their line of duty. In return, ambiguity looms on the use excessive force which leaves it to the discretion of the law enforcement officer and hence prone to violation by the same officers sworn to protect the law.
One of the ethical violation that an officer can commit is the use of force discriminatory to target special groups, for example, low-income earners, certain races or gender. If proved that the officer used force base on personal prejudice against certain groups this can constitute an ethical violation of the police code (Blair et al, 2011). Another ethical violation occurs when force is used not as the lasts result. In such an instant, Elliot & Pollock (2012) argues that other ways of taking control of the situation are explored by the officer without causing physical or mental harm. Lastly, the use of excessive force to a subject who is compliant and does not pose danger to the officer or others constitutes an ethical violation. For example shooting a suspect who did not resist arrest would question the law enforcement officer to justify the use of force, which in this case is unnecessary.
Policies are crucial to curbing excessive use of force by police at the same time, these policies should not impede the officers from performing their duty effectively. Police should embrace such policies do avert possible legal actions by victims. They include; Use of less lethal technologies; it may include the use of rubber bullets, electromagnetic guns or thermal guns to attain result rather than the use of deadly force. In addition, initial training of recruits on the lawful use of force as well as training on other ways to take control of the situation.in this case the inexperienced officer will not act base on emotion but rather laid down ethical codes. Community policing is another policy that can avert the use of excessive force. Here, the community cooperates with law enforcement officers by providing information willingly.
In summary use of force should be applied in totality within the law, department policies, situations and individual discretion variables. However, law enforcement officers should be aware of moral and ethical implications of their actions to the agencies and community at large.
References
Eliot, k., & Pollock, j. (2017). Retrieved 24 July 2017, from http://uk.sagepub.com/sites/default/files/upm-binaries/54407_Chapter_11.pdfPolice Use of Force | National Institute of Justice. (2017). National Institute of Justice. Retrieved 24 July 2017, from https://nij.gov/topics/law-enforcement/officer-safety/use-of- force/Pages/welcome.
U.S. Commission on Civil Rights (2017). Retrieved 24 July 2017, from http://www.usccr.gov/pubs/sac/wv0104/wv0104.pdfU.S. Department of Justice (USDOJ), Civil Rights Division. (2011). investigation of the Seattle police department. Washington;
Request Removal
If you are the original author of this essay and no longer wish to have it published on the customtermpaperwriting.org website, please click below to request its removal: