B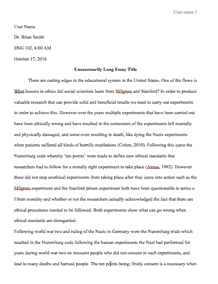 University/College: 
Carnegie Mellon University
This essay has been submitted by a student. This is not an example of the work written by our professional essay writers.
Jack Ma is the co-founder and executive chairman of Alibaba Group, one of the world's largest e-commerce businesses (Forbes, n.d.). The success of Alibaba can be attributed to Mas excellent leadership qualities. First, Ma is a firm believer in gender diversity in leadership. His management team is better than those of many companies in the Silicon Valley. In the company, women make up almost 34% of high-level managers. Additionally, women make up 40% of the workforce. According to Ma, Men think about themselves more; women think about others more. (Kokalitcheva, 2015).
Second, Ma is a highly ambitious person. In fact, Mas past career as an English teacher was a major accomplishment. His knowledge of the language can be traced to his childhood. At a tender age of nine, he took an initiative to learn English by befriending foreign tourists and working for free as a tour guide (Allen, 2014). This is one of the very first acts of ambition, focus, and determination that propelled him to his current position. It shows that he already had a vision and saw a future far beyond anyone around him. Currently, Ma has an ambition of making Alibaba a global giant by expanding its reach beyond China. Today, 5% of the companys business is outside China, but he expects to increase the companys global presence to over 40% in ten years. In the next two decades, he believes that the value of commodities handled by the company will be $1 trillion; double the current value (Murray, 2016).
Ma is also highly innovative. He came up with creative ways of outcompeting eBay in China. While eBay was charging sellers and buyers on its website, Alibaba did not charge. It appeared crazy at first, but that is what made Alibaba what it is today. His innovativeness can also be seen in the naming of his company, Alibaba. He chose the name because it sounded global (Allen, 2014). Fourth, Ma is a visionary leader. He started his company in an apartment and built it into a global giant worth about US$500 billion. In 2015, he laid out his vision for the companys future where he explained his intention to expand the Alibabas business reach outside of China (Eadicicco, 2015).
Fifth, Ma is a risk-taker. In 2004, eBay entered Chinese online business and planned to dominate the market. At that time, Alibaba was a small company and operating in China alone. Sensing the danger of losing its customers to eBay, Ma decided to start an auction site free of charge for clients buying and selling any consumer goods. Even though he did not make any profits, he brought down eBay and fended it off from taking away its customers. Lastly, he is a committed leader. He has proved his commitment to his business by crafting the companys vision and retaining a leadership position to help steer the business to its goals.
Why Jack Ma is a Great Leader
Jack Ma can be regarded as an overachiever in multiple facets. First, Ma was the first person to establish the first internet business or online marketplace in China. Through his leadership, the company is now worth about $500 billion. In 2015, Alibaba launched the biggest IPO ever on Wall Street. The company is currently Asias most valuable company by market capitalization. Ma great leadership is also manifested by his willingness to incorporate more women in leadership positions as well as in the workforce. Unlike other giant corporations, Alibaba boasts a near gender parity in its workforce.
References
Allen, F. E. (2014). What makes Alibabas jack ma a great innovator? Retrieved from https://www.forbes.com/sites/frederickallen/2014/05/07/what-makes-jack-ma-a-great-innovator/
Eadicicco, L. (2015). Jack Ma reveals his plan for Alibabas future, and why his company is nothing like Amazon. Retrieved from http://www.businessinsider.com/jack-ma-on-future-of-alibaba-2015-6
Forbes (n.d.). Jack Ma. Retrieved from https://www.forbes.com/profile/jack-ma/Kokalitcheva (2015). Executives are Alibabas secret sauce, founder Jack Ma says. Retrieved from http://fortune.com/2015/05/20/alibaba-jack-ma-women/
Murray, A. (2016). Jack Mas grand ambitions. Retrieved October 29, 2017, from http://fortune.com/2016/09/20/jack-mas-grand-ambitions/
Request Removal
If you are the original author of this essay and no longer wish to have it published on the customtermpaperwriting.org website, please click below to request its removal: